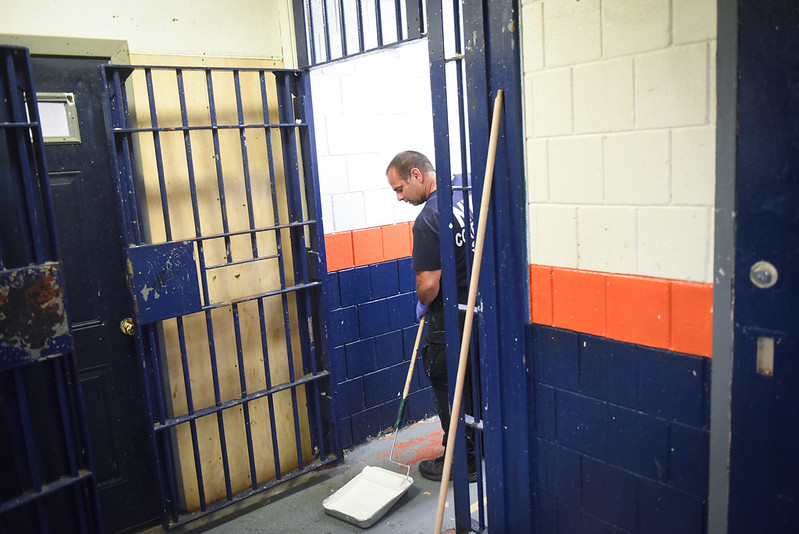 Cleaning up at Rikers (photo: Michael Appleton/Mayoral Photography Office)
---
The United States is the world's largest jailor. As a result of our criminal justice system, we regularly put innocent people behind bars. Conservative estimates say 20,000 people are currently in jail or prison throughout the nation for crimes they did not commit.
Wrongful convictions can occur for many reasons: police and prosecutors fail to turn over exonerating evidence; police threaten and intimidate vulnerable people who falsely confess; eyewitnesses mistake innocent people for actual culprits; defense lawyers ineffectively represent innocent defendants; and, prosecutors prejudice juries with improper arguments. 
We often hear the adage "it is better to allow 10 guilty people to go free than to convict one innocent person," but DNA evidence and revelations of police and prosecutorial misconduct far too often reveal that is not a reflection of how our system of criminal justice actually works.
When our system convicts the innocent, it fails us all. The least lawmakers can do is ensure victims of flawed prosecutions, once exonerated, are justly compensated — even though no amount of money can get their lives back.
Take the case of David Bryant. He was 17 years old in 1975 when an eight-year-old girl in his neighborhood was raped and killed with a knife. The crime scene was a blood-soaked stairwell where an officer had seen David months earlier. On this basis alone, hours after the murder, David was roused from bed by police and taken in for questioning. Officers brutally interrogated David for 10 hours. All in the name of getting a confession, they knocked David to the floor several times, repeatedly screamed at him, and left him, a minor, alone and without food for the duration. Exhausted and starving, David finally told his interrogator what he wanted to hear. He confessed. 
David was convicted at trial where the primary evidence was his "confession," which he denied making voluntarily and was evidently made to simply end his inappropriate interrogation. The other evidence was manufactured by officers who intimidated other kids to provide false information about what David did the day of the murder. And, at trial, his lawyer never had his blood type compared with the blood type of the murderer.
After 43 years in prison for a crime he did not commit, David is finally free. New blood evidence exonerated him. After reading about David's case in a newspaper in 2013, the only witness who at trial linked him to the young girl came forward to describe how cops had intimidated him to lie at David's trial.
Shockingly, under New York's unjust conviction statute, David cannot be monetarily compensated. It is overwhelmingly clear that David was innocent, railroaded into a confession, and falsely convicted at just 17 years of age. However, our current flawed law disqualifies David for compensation on the technical ground his lawyer provided deficient representation by not presenting the blood evidence which would have cleared him. Under the current law, this disqualifies him from compensation and is considered a "technical" basis for reversing his conviction.
The law also does not recognize situations where an innocent person has their conviction vacated because of the government's failure to turn over evidence which favors the defendant.
This is wrong. Therefore, along with Assemblymember Dan Quart, I am proposing amendments to our unjust conviction statute that will fix this injustice by allowing for fair compensation whenever any exonerated person can prove by "clear and convincing evidence" that they are innocent. 
This is the least we can do to redress wrongful conviction travesties is to ensure adequate financial compensation.
***
State Senator Brad Hoylman represents parts of Manhattan. On Twitter @bradhoylman.
***
Have an op-ed idea or submission for Gotham Gazette? Email This email address is being protected from spambots. You need JavaScript enabled to view it.