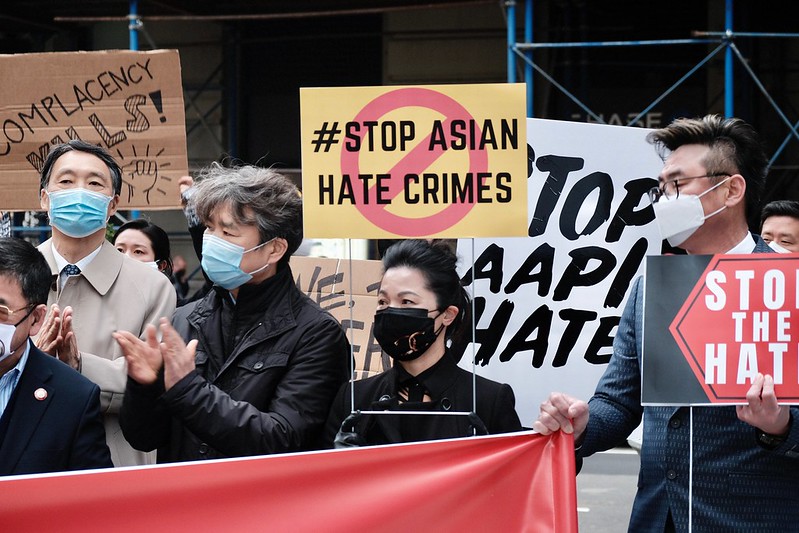 Stop Asian Hate rally (photo: Gerardo Romo/City Council)
---
As doctors, we have seen the horrific impact of COVID-19, including the adverse effects of our society's socioeconomic divides, social injustices, and widespread racism during this same period. These social ills coupled with the profound health impact the pandemic has had on our nation have intensified the mental health crisis facing Asian Americans and Pacific Islanders (AAPI). Xenophobia in the United States exploded in the early months of the pandemic and has shown us that what followed the onset of the pandemic was a plague of racial prejudice.
Racism, which results in mental and physical trauma, is a primary cause in the rise of mental health issues across AAPI communities.
In a recent national survey by AAPI Data and Momentive, anti-Asian hate crimes have increased during the pandemic: 1 in 6 Asian American adults reported experiencing a hate crime in 2021, up from 1 in 8 in 2020. Cities across the country are experiencing sprees of hate crimes targeting the AAPI population and other communities of color. According to preliminary analysis, reports of hate crimes skyrocketed in 2021 in more than a dozen of America's largest cities, with a record number of Asian Americans saying they were targets. In New York City, the NYPD reported a 361% increase in anti-Asian hate crimes. And in a recent national poll, 71% of Asian Americans said they felt discriminated against in the U.S. today.
This disturbing increase in hate is taking a significant toll on an already troubled mental and behavioral health care approach in demographics that identify as Asian American and Pacific Islander.
We know that approximately 77% of the AAPI population speaks a language other than English at home. From a medical perspective, telephonic interpreter services are available to patients; however, many Asian patients feel uncomfortable using these services when discussing sensitive issues regarding mental health. Discussing mental health may also be considered culturally taboo within this demographic, making it even more difficult to identify symptoms and treat depression or anxiety. Additionally, roughly two-thirds of U.S. psychologists say their waitlists have gotten longer since the pandemic started. The trouble of finding a therapist or psychiatrist who understands specific AAPI cultural backgrounds adds further barriers to care.
With the rise of Asian hate and the lasting physical and emotional scars of COVID-19, we as medical professionals are charged to help care for the AAPI community in its greatest time of need.
Beyond legal and policy changes, we have the intel, tools, access, and obligation to act now to best serve our patients and communities where they are. Listening to and understanding the community's needs are at the core of what is required to deal with trauma. Physicians need more educational training that highlights overlooked medical issues in the AAPI community, including mental health, early hepatitis screenings, addictions, food insecurities, and foods unique to specific ethnic groups and their relationship to chronic diseases.
For instance, at AdvantageCare Physicians (ACPNY), we are tackling the psychosocial aspects of delivering healthcare services to the AAPI community head-on with cultural competency courses for our healthcare providers. We also formed an AAPI-based employee resource group for our staff to offer in-house insight and support.
Many of our offices are strategically located in neighborhoods with strong cultural identities and diverse needs, including sites in Flushing and Elmhurst, Queens, Crown Heights and East New York, Brooklyn, and Manhattan's Chinatown. Co-located with centers of our partner, EmblemHealth Neighborhood Care, these locations treat community-specific health care needs, offer translations for written materials, and employ staff who mirror the local communities' language, cultural competency, and backgrounds.
We also work with local elected and public health officials and community leaders to increase awareness of the mental and physical health needs and challenges among AAPI populations.
As New York assesses measures to improve and deploy mental health initiatives, our medical community needs to ensure there is an open dialogue in the process that includes diverse voices. We also need to implement comprehensive plans to enhance clinical practices' ability to care for all communities' unique behavioral health needs, especially during these difficult times. It is our time and responsibility to unite against racism, and the toll bigotry leaves on our communities.
***
Qian Gu, DO, is ACPNY Flushing North Medical Office Director. Raymond Xu, MD, is ACPNY Astoria Medical Office Director. Seth Resnick is ACPNY Psychiatry and Behavioral Health Department Chair. On Twitter @ACPNY.
***
Have an op-ed idea or submission for Gotham Gazette? Email This email address is being protected from spambots. You need JavaScript enabled to view it.