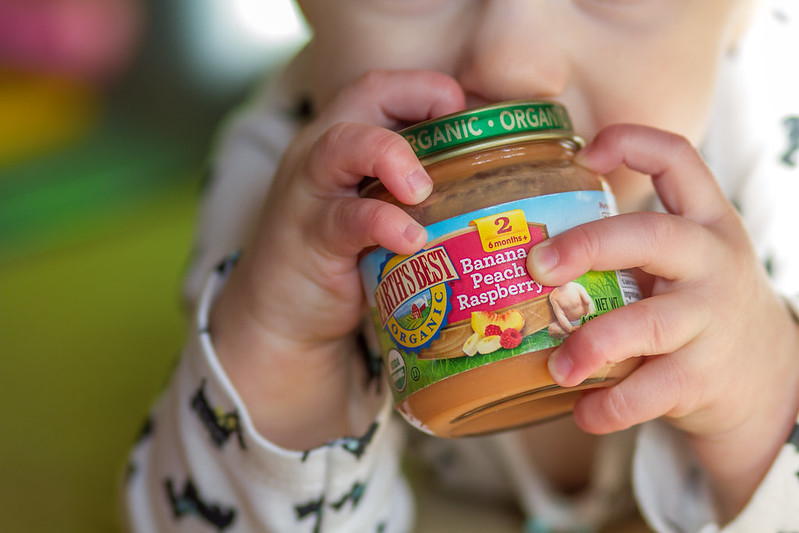 Baby food (photo: @kgregory)
---
On February 4, 2021, a congressional report exposed four major baby food companies for allowing tremendous concentrations of arsenic, cadmium, lead, and mercury in their products. Naturally, shortly after finding out about the sheer carelessness of the manufacturers, parents nationwide became outraged and began filing lawsuits against the responsible companies. 
Among the most recent lawsuits, there is one concerning HolleUSA, a European baby food company founded in 1934. This manufacturer's products are sold in the United States by Jet Set Go Baby, headquartered in New York City. As is the case of multiple other baby food companies, the class-action lawsuit alleges several products by HolleUSA are contaminated with dangerous heavy metals. 
At the request of the New York State Attorney General's Office, Brooks Applied Labs tested 18 samples of HolleUSA's products in December of last year for the presence of heavy metals. The lawsuit states that all 18 baby food samples had "varying high levels" of heavy metals. "Not a single sample from Defendant did not contain heavy metals," the case states. The lawsuit accuses the company of "deceptive representations and omissions" for products such as Holle Goat Milk Toddler Drink and Holle Organic Panda Peach, Fruit & Grain Puree. 
Three Other New York Based Baby Food Companies Disregard the Safe Limits for Heavy Metals  
Three companies whose baby food was found contaminated with mind-blowing concentrations of heavy metals by the U.S. House of Representatives Subcommittee on Economic and Consumer Policy are also headquartered in New York – Beech-Nut, Hain Celestial Group, and Nurture. However, once Beech-Nut issued a recall on one lot of Beech-Nut Stage 1, Single Grain Rice Cereal, it also exited the baby food market. The baby food company used to have its headquarters in Amsterdam, New York, and one of the most disturbing findings is that it used ingredients with over 900 parts per billion (ppb) arsenic, while the safe limit is 10 ppb. 
Another baby food company that agreed to participate in the congressional investigation, Hain Celestial Group, is headquartered in Lake Success, New York. It sells baby food under the brand name Earth's Best Organic and was discovered to allow products containing 352 ppb lead to go on the shelves when the maximum limit is 5 ppb. Nurture also has its headquarters in New York. According to the congressional report, this baby food company, which sells products under the brand name HappyBABY, used ingredients with 641 ppb lead. 
Exposure to Heavy Metals and Child Development  
Exposure to such enormous concentrations of heavy metals from infancy is associated with a risk of autism, among other neurodevelopmental disorders and problems. Once inside developing children's bodies, arsenic, cadmium, lead, and mercury act as neurotoxins, wreaking havoc on their brain and nervous system. Children are more vulnerable to experiencing the negative health effects of exposure to heavy metals because they have a greater nutrient uptake rate by the gastrointestinal tract and underdeveloped detoxification systems. 
Since 2007, the incidence of autism has increased by roughly 1%, and 1 in 44 children born in or after 2010 will develop the disorder. Exposure to heavy metals from a young age is also linked to cognitive damage, a lower IQ, behavioral abnormalities, ADHD, learning disabilities, and speech, hearing, and visual impairment. New York ranks third among states with the highest special education rates, with 17.3% of children enrolled in special education.
The FDA's Closer to Zero Plan, Not Radical Enough  
Soon after the Subcommittee on Economic and Consumer Policy made available the congressional report, the Food and Drug Administration (FDA) came up with the Closer to Zero plan, which is meant to "reduce exposure to arsenic, lead, cadmium, and mercury from foods eaten by babies and young children to as low as possible." Nevertheless, the agency's strategy is quite problematic and has numerous shortcomings. Perhaps the most frustrating thing about the Closer to Zero plan is that it would be finalized in 2024 or later, in the context in which infants and toddlers urgently need clean, non-toxic food. 
The Closer to Zero plan has four steps, out of which the first two – "evaluating the scientific basis for action levels" and "proposing action levels" – can be skipped. The FDA already knows the safe limits for the four heavy metals from the Baby Food Safety Act of 2021. The bill was proposed on March 25, 2021, by Congressman Raja Krishnamoorthi. It will immediately set maximum limits for arsenic, cadmium, lead, and mercury in baby food throughout the United States if it becomes law.  
Only the third step of the Closer to Zero plan yields some worthwhile action – assessing the achievability and feasibility of the action levels. The FDA should make sure all baby food manufacturers across the country have the means to implement measures that minimize the content of heavy metals in their products, such as sourcing their raw ingredients from crops grown on soil with a low arsenic content and using food strains that are less likely to absorb heavy metals.  
Other notable shortcomings of this strategy include failing to consider the cumulative impact of heavy metals on children's neurodevelopment and not being consistent in making parents aware that there is no safe lead concentration in children's blood. Many people, as well as authorities, are discontent with the Closer to Zero plan. On October 21, 2021, 24 Attorneys General petitioned the FDA to prioritize establishing safe limits for heavy metals in baby food. They also expressed their dissatisfaction with how the agency is tackling the problem, saying that the FDA should take more aggressive measures. 
The Baby Food Safety Act of 2021 - A Glimpse of Hope for Parents
The Baby Food Safety Act of 2021 would be a much more effective and viable alternative to the Closer to Zero plan, as the safe limits for heavy metals would become effective immediately, and it would also make it mandatory for the FDA to become more involved in supervising the baby food industry. This bill would also oblige facilities that handle baby food to have controls and plans to ensure their products comply with the safe limits on heavy metals. Finally, the Baby Food Safety Act of 2021 would have the Centers for Disease Control lead awareness campaigns on the risks of heavy metals in baby food. 
*** 
Jonathan Sharp is Chief Financial Officer at Environmental Litigation Group, P.C., Headquartered in Birmingham, Alabama. The law firm specializes in toxic exposure and represents clients across numerous other mass torts nationwide. On Twitter @ELGBirmingham.
***
Have an op-ed idea or submission for Gotham Gazette? Email This email address is being protected from spambots. You need JavaScript enabled to view it.