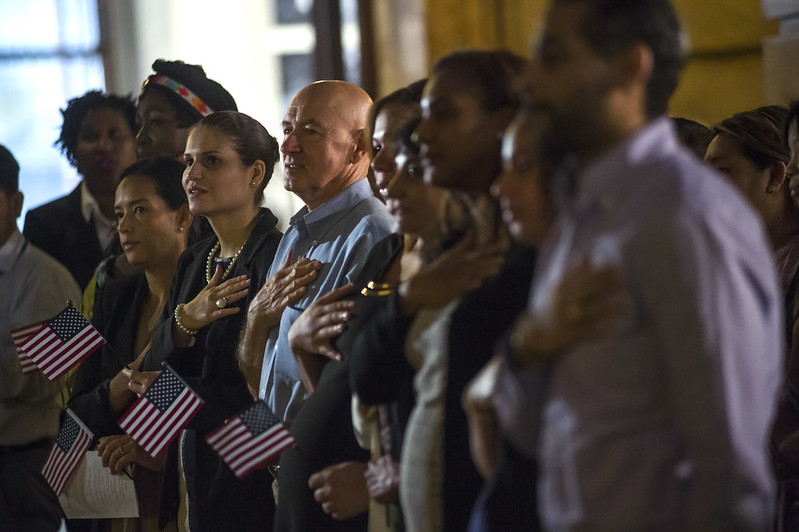 A naturalization ceremony (photo: Ed Reed/Mayoral Photography Office)
---
Ten years ago, the Obama administration announced that people who came to the United States without documentation as children could apply for basic protection on their immigration status. Since then, hundreds of thousands of people have received Deferred Action for Childhood Arrivals (DACA), including an estimated 30,000 DACA recipients in New York City. Without DACA, these young people would be stuck on the margins of American life as undocumented immigrants. I know, because I'm one of them.
On my 12th birthday I awoke before dawn and gathered my belongings. The streets of my home town in central Mexico were quiet as my mom walked with me. My uncle and I left that day to join my father in New York City. As we walked, my grandfather greeted us. He bid me farewell, and it was the last time I ever saw him.  
The journey took two weeks. I was nearly kidnapped in the Arizona desert when we crossed the border in the dark of night. For a young child, it was a harrowing experience, compounded by the culture shock of a crowded South Bronx apartment and enrolling in middle school without speaking any English. 
Amid the hardships I was still able to make progress. My dad signed me up for extra classes and took English lessons with me on weekends. Working long hours in construction, he put me through college, and I graduated at the top of my class. 
Despite that success, I was still an outsider. I was a young college graduate with hopes and ambition. But on paper, I was nobody. Most employers wouldn't hire me. I couldn't get a driver's license or a passport. I could not visit my mom and family in Mexico. Any small mishap could lead to arrest and deportation.
Then DACA was created in 2012. When my application was approved, everything changed. I said "I'm a human here in this country now; I didn't feel like I was before." The New York Times printed the quote. 
As a DACA recipient, I have been able to do things I could only dream of before the policy was introduced. I earned a Master of Public Administration degree and worked in government helping people access the same services that I was once denied. Eventually I became a U.S. citizen and in 2020 I voted to elect a president of the country I call home. Most importantly, I was able to visit my family in Mexico after 15 years away and spent time with my remaining grandparents in their last days.
Looking Ahead
Democrats in Congress pledged to rebuild a better future for all communities. Despite this, immigrant communities have yet to see substantial action as the Biden Administration is now in its second year in office.
President Biden ran on the promise of a more humanitarian immigration system. He ran on a platform of opposing Trump's actions, establishing our asylum system, protecting and expanding DACA and TPS, and offering a road to citizenship for 11 million undocumented immigrants. President Biden has deported and expelled nearly 1.8 million people in his first year in office, despite his vows to safeguard immigrant communities and end deportations.
Across the country, millions of undocumented immigrants face imprisonment and deportation without a path to citizenship, many of whom have risked their lives as essential workers to keep us safe, nourished, and healthy throughout this pandemic. With deportations and expulsions on the rise under the Biden administration, President Biden must choose between helping Americans and providing a path to citizenship or leaving millions susceptible to the Department of Homeland Security.
For hundreds of thousands of people like me, DACA changed our lives for the better. It gave us a voice. It provided a bright path forward for us after years in the shadows. It recognized our potential to make a difference in this country, and we have. But still there are millions more undocumented immigrants who have been left behind. They need a path forward too. With positive, innovative policies like DACA, there is no telling what opportunities might lie ahead.
***
Luis Rey Ramirez is a Mexican-American immigrant from Queens. He is an active public servant, artist, designer, and videographer with experience as a leader in the nonprofit sector and supporting state and local government, and a champion for LGBT issues.
***
Have an op-ed idea or submission for Gotham Gazette? Email This email address is being protected from spambots. You need JavaScript enabled to view it.