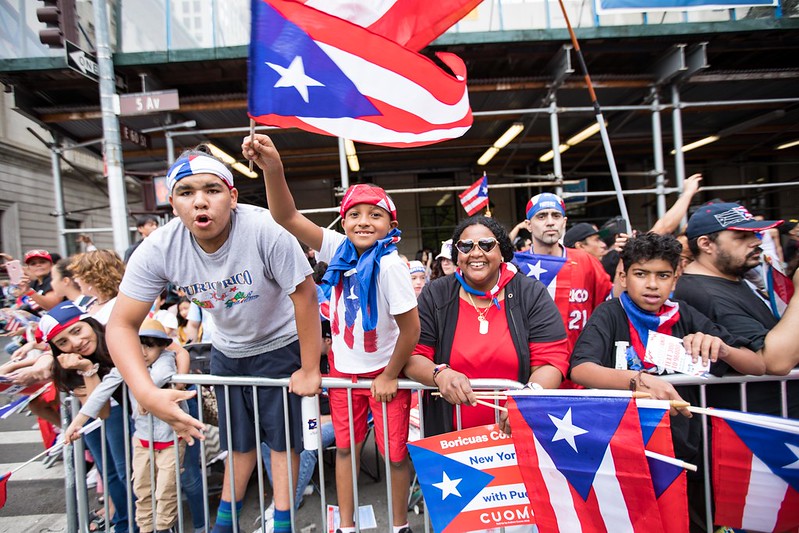 Puerto Rican Day Parade (photo: Benjamin Kanter/Mayoral Photo Office)
---
Though the governor and lieutenant governor races are getting the most buzz this state election cycle, a number of state legislative races—both Assembly and State Senate— are also surprisingly competitive.
Five of those competitive races happen to be in Latino-majority or Latino-plurality Assembly districts of New York City: two in the Bronx, two in Queens, and one in Brooklyn.
These are the five to watch as the Assembly primaries are decided on Tuesday, June 28: 
The Bronx
Jose Rivera has represented the 78th Assembly district in the Bronx since 2000, when he won a seat previously occupied by Roberto Ramirez. Prior to winning this seat in 2000, Rivera served on the New York City Council, and before that, a five-year stint in the New York State Assembly. (Disclaimer: I have informally advised Rivera on his campaigns.)
Rivera represents the last of a generation of pioneering Latino politicians that are in elected office. He rose to power in 1982 after defeating the incumbent Sean Walsh. This was a time of rapid demographic change in the Bronx as Puerto Ricans spread to areas beyond the South Bronx. Rivera took on the powers-that-be of the time, mostly Irish and Italian, and after years of organizing, won his seat exactly 40 years ago.
Now, Rivera has a fight on his hands as he seeks to fend off challenges from George Alvarez and Emmanuel Martinez.
Alvarez has the support of Congressman Adriano Espaillat and this endorsement has led to that of two others — Bronx City Council Members Oswald Feliz and Pierina Sanchez. By strategically endorsing Alvarez, it is clear that Espaillat is attempting to solidify his hold in the West Bronx, opting to depart from the unwritten rule of incumbents supporting other incumbents.
Martinez, who served as chairperson of Community Board 7 in the Bronx and was also elected a Democratic State Committee member, has received the support of the Moving NY Forward PAC, which is largely funded by a wealthy hedge-funder who, according to the Albany Times Union, is the "co-founder of a secretive Wall Street firm." 
The Alvarez and Martinez challenges are the toughest Rivera has faced in years. Yet Rivera has a solid and loyal base, is a formidable campaigner, and is known to frequent events with his ever-present camera on hand. Labor unions and the Bronx Democratic Party are solidly behind him, and Mayor Eric Adams has now endorsed Rivera too.
Moving northeast in the Bronx, the 82nd Assembly district is also home to an intense primary race. Assemblymember Michael Benedetto faces a strong challenge from Jonathan Soto.
Benedetto has served in office since 2004. The demographics of the 82nd district have changed significantly over the last two decades, and that district now has a Latino plurality. Among the Democratic electorate, Latinos make up 45% of all voters and their turnout has been consistent over the years. Evidence of this demographic change is Marjorie Velazquez's City Council victory last year. The 82nd Assembly district represents 54% of Velazquez's district, and Velazquez won her race handily, including in the 82nd Assembly district portion of the district.
In this district, however, Latino votes alone will not push Soto to the victory line. Black and white voters are a significant chunk of the electorate, and to win a candidate will need to form a multi-racial coalition.
Alexandria Ocasio-Cortez's PAC, the Working Families Party, and other progressive groups are backing Soto. He is also receiving support from the Move NY Forward PAC mentioned above. Soto is charismatic, whip-smart, and presents Benedetto's biggest challenge yet. 
Queens
In Queens, two Assembly districts are ones to watch in terms of the Latino vote—the 30th and the 35th. 
As a result of Assemblymember Brian Barnwell's decision not to seek re-election, the 30th Assembly district is an open seat and pits Steven Raga, a former Barnwell aide and a Filipino, against Ramon Cando, a Latino of Ecuadorian descent.
The district's demographic makeup in many ways represents the diversity that is Queens. Of the potential Democratic electorate there, 29% is Latino, 24% Asian, and 22% white. Several voter data experts (including the renowned Jerry Skurnik), deem  another quarter of Democratic voters in that district as "other" since modeled demographic data cannot precisely match their ethnicities. Interestingly enough, when factoring in voting participation, the ethnic makeup of the voters remains the same; no particular ethnic group dominates when it comes to turnout.
 The Queens Democratic Party apparatus and a number of labor groups are supporting Raga, but for some reason Barnwell, his former boss, is not. Cando is supported by Rep. Tom Suozzi, City Council Member Robert Holden, and Hiram Monserrate's Democratic club. While Raga has received critical establishment support, Cando's seeming support among Latinos and white voters appears to make him formidable.
Cando has presented himself as a more moderate "common sense" Democrat, eschewing the "defund" movement to divest police funding for community investments that Raga has espoused. Election day will demonstrate whether message trumps establishment support in this district.
In the 35th Assembly district, Monserrate is taking on the incumbent, Jeff Aubrey, in a rematch of 2020. Aubrey won that race but Monserrate is presenting a formidable challenge in what is a Latino plurality district. Latinos are 43% of the Democratic electorate, compared to 21% of the electorate that is Black and 9% that is Asian.
While Monserrate will always have to contend with his controversial and criminal past, his support among many Latinos in the district remains solid, and his Democratic club is a formidable force, having helped to elect other candidates in East Elmhurst and Corona.
Aubrey has the support of the Queens Democratic organization, in addition to numerous elected officials in surrounding districts, many who are mobilizing behind him and, sometimes more so, in opposition to Monserrate. Aubrey also has been able to maintain the support of a large number of African American voters who have been in the Elmhurst neighborhood for many years.
Brooklyn
Brooklyn is also experiencing primary rumbles of particular significant to the Latino vote, in this case in the 54th Assembly district. Progressive Samy Nemir Olivares is challenging Assemblymember Erik Dilan, son of former State Senator Martin Dilan, who lost to a progressive challenger himself in the 2018 primary when he was defeated by now-Senator Julia Salazar.
The two Latina congressional representatives in New York, Alexandria Ocasio-Cortez and Nydia Velazquez, are backing Nemir Olivares, as is Senator Salazar, the Working Families Party, the Democratic Socialists of America-New York City, and other progressive individuals and groups. By beating Tommy Torres for the district leader position, Nemir Olivares has already shown an ability to take on the Brooklyn machine and win.
This race is a particularly interesting one as a new test of the progressive-moderate split under the latest larger political context. Perhaps the race can show glimpses of where some Latino voters stand on the ideological spectrum, particularly in an area of the city where progressives have been on the rise but not necessarily because of the Latino vote. When Salazar defeated Martin Dilan in 2018, he won the most votes in the 54th Assembly district portion of the Senate district. Will the last vestiges of the Dilan dynasty fall? We're about to find out.
***
Eli Valentin is a political analyst and author of the forthcoming book, Reinhold Niebuhr: A Political Life. On Twitter @EliValentinNY.
***
Have an op-ed idea or submission for Gotham Gazette? Email This email address is being protected from spambots. You need JavaScript enabled to view it.