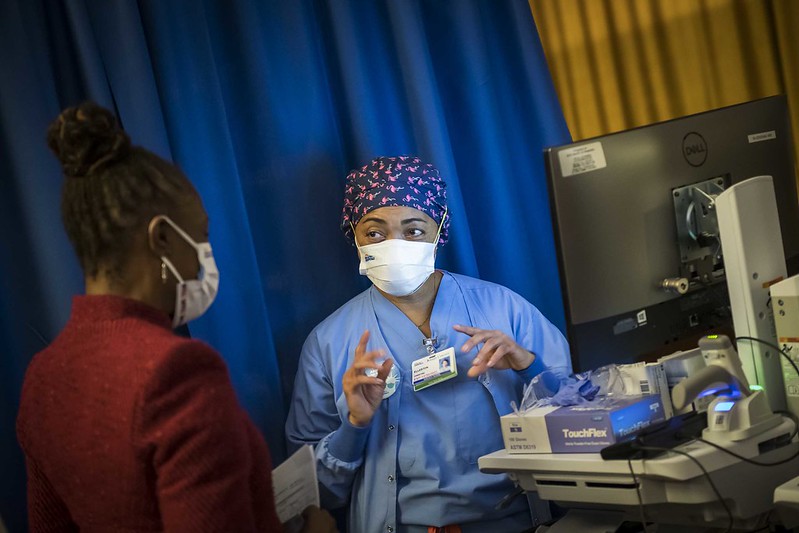 Health care (photo: Ed Reed/Mayoral Photography Office)
---
The Supreme Court's decision to overturn Roe v. Wade is an affront to the key principles of United States citizenry by failing to protect the life, liberty, autonomy, and health of those who can become pregnant. The recent cascade of total bans or severe restrictions on abortion is not based on science, but ideological biases, and is clearing a legislative path to a draconian future in reproductive freedom and health.
The ramifications of this decision on health and society, not just women, will be devastating. A recent study projected that a total ban on abortion in the U.S. would increase maternal death by 21% in the second year following such a ban, with Black women the most affected with 33% more deaths. Maternal mortality and morbidity is already a crisis in the U.S. – higher than most developed countries – and disproportionately affecting Black mothers due to institutional racism and socio-economic inequities. When mothers die or are unable to care for their families, all of society pays the price.
New York City and State are valiant safe havens protecting the reproductive rights and health of all Americans. On June 13, Governor Kathy Hochul signed a six-part legislative package to immediately protect the rights of patients and empower reproductive health-care providers; and Friday she announced the Abortion Access Always public education campaign supporting safe, legal abortions for all. In May, she announced a $35 million investment, the largest in the nation, to support abortion providers serving more patients including low-income people. Such services are guaranteed to all New York residents.
At the same time a national ban on abortion and curtailing of reproductive health should be expected if Republicans control Congress and the White House, as promised by House Minority Leader Rep. Kevin McCarthy on Friday with the posit of a national ban on abortion after 15 weeks.
This erosion of health rights is a dire outcome that we as a state and a nation must not allow.
As a public health professional and pediatrician who has worked in vastly under-resourced maternal clinics in the U.S. and all over the world, I have seen first-hand the personal anguish and loss facing those for whom preventive health services and family planning are not available. In the wake of this court decision, I now contemplate how detrimental the impact will be for so many, especially those without the financial or family resources to access comprehensive reproductive health care, including abortion services if they choose it.
What protections are there from illness and death when a woman has a troubled or ectopic pregnancy? What effect is there on her mental health and ability to work and care for a family, when carrying an unwanted pregnancy to term?
Perhaps even more dystopian, when politicians are permitted to rule on conception, what is to stop them from banning birth control, IVF treatment, pre-conception planning, and other services that help women and families make proactive decisions to prevent or enable pregnancy based on their own needs and free will?
As the dissent stated, "Taking away the right to abortion, as the majority does today, destroys all those individual plans and expectations. In so doing, it diminishes women's opportunities to participate fully and equally in the Nation's political, social and economic life."
Studies cited in a "friend of the court" document accompanying the dissent show that access to abortion has reduced teen motherhood, and increased the probability that women attend college and enter professional occupations. Research has long demonstrated that children's ability to thrive is linked to maternal well-being, education, and economic status.
In the wake of this ruling, those of us in the public health arena must act to fiercely protect the public health and rights of those who are now put at risk.
We must open and proliferate clinics offering comprehensive reproductive health care, online education, and physical and mental health hotline access. We must redouble our work in preparing public health professionals to widen, not narrow, these options. And we must educate voters on how their legislators and judges can protect the right to public health that is now unthinkably in peril.
***
Dr. Ayman El-Mohandes, MBBCh, MD, MPH, FAAP, is Dean of CUNY Graduate School of Public Health and Health Policy.
***
Have an op-ed idea or submission for Gotham Gazette? Email This email address is being protected from spambots. You need JavaScript enabled to view it.