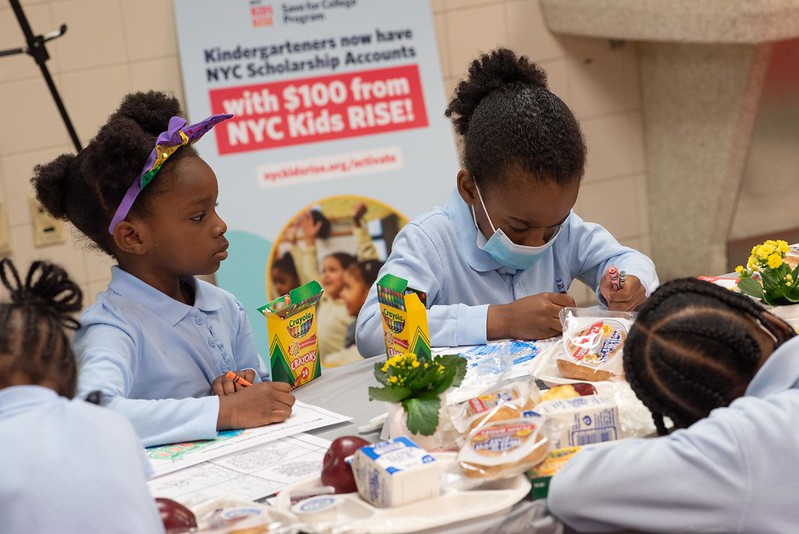 Children get support from NYC Kids RISE (photo: Michael Appleton/Mayor's Office)
---
Across the five boroughs this graduation season, students are closing out the school year and beginning a new chapter in their educational journeys. But we're not just talking about the students eager to throw their caps in the air. For the first time in our city's history, the vast majority of New York City public school kindergarteners are stepping up to first grade with NYC Scholarship Accounts that have an initial financial investment through NYC Kids RISE and the City of New York.
The inaugural, citywide class of the Save for College Program may not be graduating until 2034, but their toolbox now includes a financial asset for college and career training, opportunities to gain more over time, and reinforced expectations of success from across the city's neighborhoods and institutions along the way. 
Higher education is a critical component of increasing economic mobility and reducing inequality, but for too many, the prospects of higher education have remained out of reach. For others who do pursue higher education, their decision comes at a high price. Today, 45 million Americans have $1.7 trillion in student debt. This reality can deter young people from accessing higher education, exacerbating a widening wealth gap in New York City and across the country, with communities of color shouldering most of the burden. 
There are so many different factors that impact a child's chance of future success, and many of these factors come into play outside a student's school. We also know that neighborhoods differ dramatically in investment and the ingredients that promote economic mobility and income growth. And research suggests that social capital -- the strength of social networks and community involvement -- plays as important a role as financial capital. 
As the White House and Congress continue to debate solutions to address the student debt crises and college affordability, New York City isn't waiting. The Save for College Program was created to not only provide public school students with a financial asset for their higher education, but to tap into and support the set of individuals, organizations, businesses, and institutions that make up the neighborhood ecosystems and social infrastructure around a child's life. 
Consider how Sunnyside Community Services -- a community-based organization serving students and families in western Queens -- took some of our youngest students in pilot communities on college trips, reinforcing the idea that you have to "see it to be it." Or how Make the Road NY's Parent Committee organized parent-to-parent education sessions so that families could hear and understand the rewards structure from a trusted source. How Seamless got its diners from across the five boroughs to "Donate the Change" directly into students' NYC Scholarship Accounts, or how tenant leaders in Queens organized their community to raise $1,000 for each participating student that lives in Astoria Houses. Consider how the School Team led by the Parent Coordinator at PS 212 has already worked with over 85% of families in her school to help families activate and view their account for the very first time -- a critical step in helping families plan for a child's future. In our latest example, just this month Flushing Bank is contributing $15,000 to the NYC Scholarship Accounts of 140 kindergarteners in their local community. 
Through the Save for College Program, we've not only created a means to invest in our students from their earliest days in school, but we've created a way to invest in the financial and social resiliency of New York City neighborhoods, through a platform that recognizes and supports other stakeholders and their critical and connected roles as part of an ecosystem.
Last month, Mayor Eric Adams joined NYC Kids RISE and local elected officials in the Bronx to celebrate that 97% of the city's public school kindergarteners now have an NYC Scholarship Account and each year this number will grow. Whether you recognize your role or not, every New Yorker is already playing a part in the systems that either support or impede a student's chance of success.
You now have an opportunity to support students in and across your community, and to get involved in building out this platform to its full potential. If you're a parent of a kindergartener, you can activate your child's account and learn more about the reward structure. If you're part of a community-based organization, consider integrating the Save for College Program into your services, and if you're part of a business or corporation, your employer can organize or contribute to a community scholarship. The opportunities to plug in are truly endless, and we can't wait for you to join us. 
***
Sideya Sherman is Commissioner of the NYC Mayor's Office of Equity. Debra-Ellen Glickstein is the Founding Executive Director of nonprofit NYC Kids RISE. On Twitter @NYCKidsRISE.
***
Have an op-ed idea or submission for Gotham Gazette? Email This email address is being protected from spambots. You need JavaScript enabled to view it.