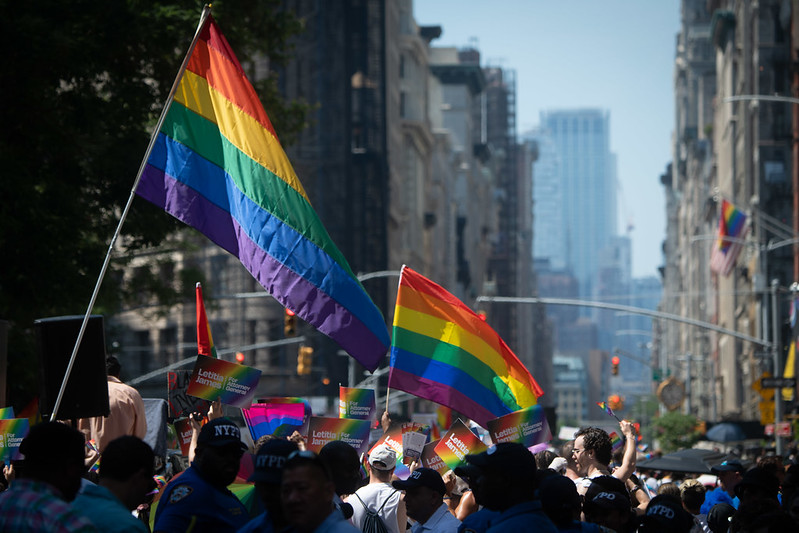 Pride (photo: Michael Appleton/Mayoral Photography Office)
---
This June in New York City unfolded with a welcome, if not obviously connected, set of events: Pride Month, and the new Housing Blueprint from the administration of Mayor Eric Adams. As two transgender advocates who worked together last year on an LGBTQ+ housing plan, we see a number of ideas that our community has championed reflected in the new Housing Blueprint – a plan that will directly benefit LGBTQ+ New Yorkers.
First, it's important to note the disparities that LGBTQ+ people in New York face when it comes to housing and poverty. As a recent report from the New York State Department of Health shows, LGBTQ+ adults are more likely than non-LGBTQ+ populations to experience low educational attainment, incomes below $25,000, unemployment, and disability. All of these factors contribute to a greater need for safe and affordable housing for members of our communities. As our housing report highlighted, LGBTQ+ community enclaves, the very neighborhoods that make New York City the LGBTQ+ haven that it is, are dependent on the availability of affordable housing.
A cornerstone of the LGBTQ+ housing plan, and the administration's blueprint, is the dire need to eliminate bureaucratic barriers that both limit the city's ability to create affordable housing and get people placed once that housing is built. When convening LGBTQ+ homeless community members last year to devise our housing plan, we heard heart-rending testimonies about decreasing availability of affordable units and how difficult it has been for homeless LGBTQ+ New Yorkers (disproportionately Black, Indigenous, and people of color, and transgender, gender non-conforming, or non-binary) to get from shelter to housing placement. 
The blueprint includes a number of regulatory changes that would help create more affordable homes: easing burdens on legalizing basement apartments and smaller-sized apartment units and ridding ourselves of archaic parking space requirements that reduce the number of affordable units that can be included in new development. The blueprint also commits to tracking and reducing the amount of time it takes to place New Yorkers into affordable homes. For a community in desperate need of affordable housing, these are changes LGBTQ+ New Yorkers need to see. 
We noted before that LGBTQ+ enclaves can only exist where housing is affordable. Our community, disproportionately low-income as it is, finds affordable housing stock and builds strength and safety in numbers. This has been the trend for over a hundred years in New York City, and it still exists in neighborhoods like Bed-Stuy, Jackson Heights, and communities in the South Bronx. But affordability in these neighborhoods is in peril.
The new blueprint's emphasis on equitable zoning changes to distribute affordability means LGBTQ+ people can maintain footholds where they're living now, but also find other safe neighborhoods to move to and build the kind of critical mass that has always been key to LGBTQ+ communities.
As advocates and people who talk to community members about politics and government, we also know how disinvested and jaded many LGBTQ+ people can be about government processes, especially as it relates to housing. We, the authors, have long promoted, individually and collectively, political education work. So, it is profoundly heartening to see an emphasis in the administration's blueprint on tenant democracy – along with new capital commitments to affordable housing and incoming support for NYCHA developments. All of this – tenant democracy informing how to spend money and improve communities – means that low-income LGBTQ+ people in public housing will have real power to improve their lives.
The first Prides were celebrations of new political possibility. We see so much in this Housing Blueprint that's aligned with our own visions of LGBTQ+ community housing needs that we're taking a page from our forebears and, coming out of June's Pride month, celebrating new tools that empower our communities, and keep New York City as the LGBTQ+ mecca it has historically been.
***
Andy Bowen is Founder of Bowen Public Affairs Consulting. Sean Coleman is Founder and Executive Director of Destination Tomorrow, the Bronx LGBTQ+ Center. On Twitter @AndyMBowen & @RamblinRantic.
***
Have an op-ed idea or submission for Gotham Gazette? Email This email address is being protected from spambots. You need JavaScript enabled to view it.