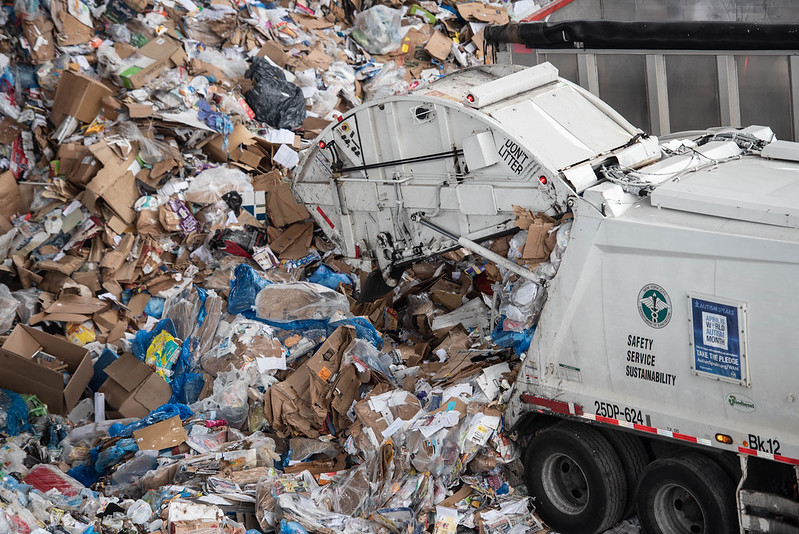 Garbage (photo: Michael Appleton/Mayoral Photography Office)
---
In a recent TikTok video, a woman opens a giant cardboard box and pulls out layers and layers of bubble wrap, only to reveal four more tiny cardboard boxes, each of which contain a single napkin ring. The caption reads, "Am I on PUNK'D? Ashton… Sweetie… you can come out now…" 
Videos regularly circulate on social media that demonstrate these kinds of egregious examples of excess packaging from online retailers. To make matters worse, these types of materials are often either not recyclable or aren't accepted in most curbside recycling programs. While some companies have been taking steps to create more sustainable packaging, this viral shaming hasn't been enough to enact meaningful change. 
Policymakers in Albany have sought to make companies accountable for the packaging waste they create by forcing them to cover the cost of recycling the materials they ship out. But as the legislative session ended and officials returned to their home districts, bills from State Senator Todd Kaminsky and Assemblymember Steven Englebrigh that would do just that failed to work their way through the Legislature, and that was after a similar policy had already been stripped from this year's final State Budget.
These bills would have brought New York in line with states like Maine, Colorado, and Oregon that already have policies like this called Extended Producer Responsibility (EPR). Those states have seen positive results: local governments can afford to provide recycling services to residents and companies are encouraged to cut back on the amount of packaging they introduce into the waste cycle in the first place. 
On the national level, the EPA recently announced $375 million in funding from the Bipartisan Infrastructure Law to be dedicated towards grant programs for public service announcements, education, and other initiatives that will support a circular economy. This funding will further incentivize the adoption of responsible recycling practices across the nation — a blueprint on how government should tackle our most pressing challenges. The urgency for advancing recycling practices is being heeded by states across the country and our partners in the federal government; New York should not hesitate to follow suit.
Many may be thinking: how will this work? After all, this is a drastic — and needed — change to a practice that touches the lives of almost every single New Yorker. How will this be enforced efficiently, especially for companies like Amazon that ship out millions of packages on a daily basis? In short, through direct or indirect reimbursements, companies will pay the state for carrying out the recycling process; the government will also incentivize the use of environmentally-sound packages by offering a lower fee to those who use or decide to implement sustainable packaging.
Here at Recycle Track Systems, we provide haulers, corporations, and professional sports organizations with actionable metrics and education to improve their diversion programs for recycling and organics (or food waste). We've found the large companies we work with, similar to the many who would be impacted by policies around Extended Producer Responsibility, have not been resistant to refining their waste management practices; most simply need some direction and the tools to execute on their plan.
This leads me to believe in the companies who do business here, and that they will be receptive to this piece of legislation that benefits the state, environment, and even their operations in the short and long term.
At the same time, it has become abundantly clear that we haven't been able to rely on industry as a whole to adopt a more sustainable approach to packaging — nor do we have the time to wait for such an epiphany. The climate crisis is arguably the biggest challenge facing New York, the United States, and the world; it is incumbent upon us to adopt an all-hands-on-deck approach to meet this challenge.
Although EPR legislation didn't make it over the finish line in Albany, it rests on the shoulders of our elected leaders to continue to push for this legislation so they can work alongside packagers to lead New York towards a cleaner, more sustainable, and prosperous future.
***
Gregory Lettieri is CEO of Recycle Track Systems.
***
Have an op-ed idea or submission for Gotham Gazette? Email This email address is being protected from spambots. You need JavaScript enabled to view it.