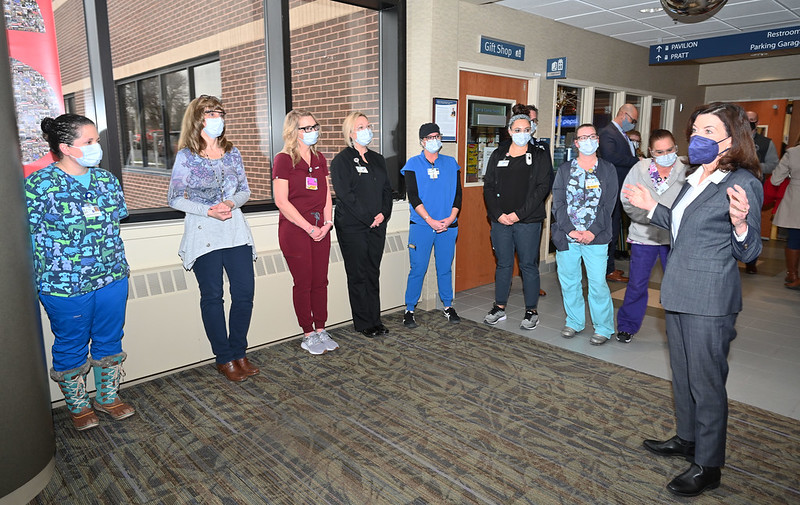 Gov. Hochul visits health care professionals (photo: Kevin P. Coughlin/Governor's Office)
---
Preventive health and primary care are the key to a healthy population, and programs like Medicaid are essential for New York State's most vulnerable people to access this care. Unfortunately, in New York, physician assistants (PAs) are not recognized as primary care providers (PCPs) for Medicaid managed care patients.
And while I personally provide this care daily to this very patient population, this lack of recognition prevents me from being able to provide comprehensive care and makes me invisible if a Medicaid patient tries to search for a PCP through their health plan. While Medicaid managed care does not recognize PAs as PCPs, Medicare and commercial insurances, like United and Cigna, do.
To match the current realities of primary care in New York State, lawmakers have passed legislation permitting physician assistants to serve as primary care practitioners for purposes of Medicaid managed care plans—and now it awaits Governor Hochul's signature.
At my institution, a Federally Qualified Health Center (FQHC), PAs provide a significant amount of primary care. We work with the healthcare team, including physicians and nurses, but we often serve as the PCP. A looming shortage of primary care physicians that was prevalent before the pandemic has turned into a severe healthcare workforce shortage in the state, which is expected to worsen in coming years. In Health Provider Shortage Areas in the state, PAs are more likely than physicians to serve as primary care providers.
Like many PAs, my passion is caring for underserved populations, including LGBTQ+ and people living with HIV. These populations suffer lifelong health disparities ranging from increased mood and anxiety disorders, substance use, obesity, cardiovascular disease, certain cancers, and infectious diseases. The National Institute on Minority Health and Health Disparities identifies the LGBTQ+ community as a "health disparity population" largely due to their difficulty in finding accessible, unbiased care. Culturally competent providers are rare and desperately needed.
Following my PA education, I pursued certification as an HIV Specialist through the American Academy of HIV Medicine (AAHIVM). Here in New York, most people living with HIV with Medicaid are required to join a Medicaid Managed Care Plan, and through these plans, PCPs coordinate the individual's entire care. Despite a health emergency and a worsening healthcare workforce shortage, a highly skilled, AAHIVM-certified PA cannot currently serve as a PCP for our most vulnerable people. Yet I could if the individual were insured by their employer. It's time for that to change.
New York State is poised to sign into law legislation that will increase access to care by allowing physician assistants to serve as primary care providers to the communities who need it most. It is time for New York to support our healthcare workforce. Governor Hochul should sign this bill into law.
***
Daniel Mulcahy, PA-C AAHIVS, lives in Queens.
***
Have an op-ed idea or submission for Gotham Gazette? Email This email address is being protected from spambots. You need JavaScript enabled to view it.