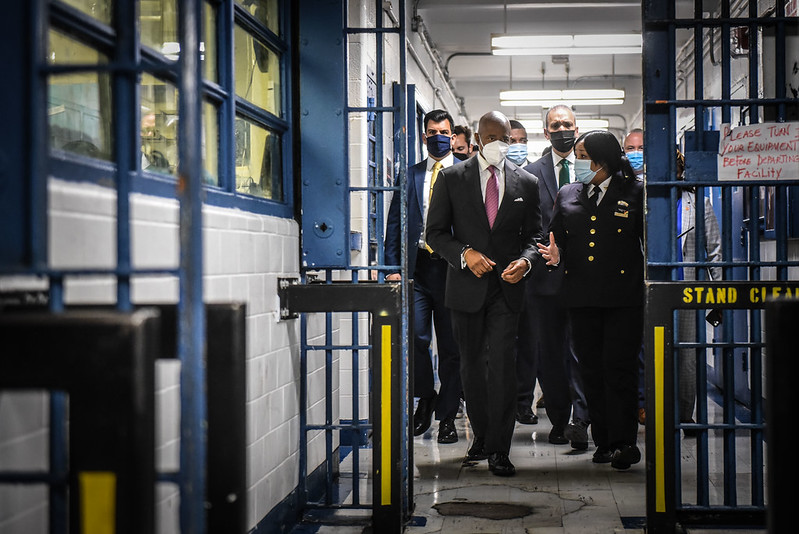 Mayor Adams visits Rikers Island (photo: Michael Appleton/Mayoral Photography Office)
---
The U.S. criminal justice system is at a crossroads. After the killing of George Floyd, there were bipartisan calls to address the failures of a historically unequal justice system. Across the country, reform candidates won office for District Attorney, Judge, and Sheriff. But the pandemic era uptick in crime has brought backlash. The recent recall of San Francisco's progressive prosecutor Chesa Boudin is upheld as evidence of the decline of American support for justice reform, and one indicator that elected officials should slow their support for reforms.  
The reality is more complicated: Most Americans are both worried about crime and safety, and support criminal justice reform. This is true particularly for the communities of color who are disproportionately victims of crime and overrepresented in America's jails and prisons.  
In the words of New York City Mayor Eric Adams, "public safety and justice are the prerequisites to prosperity.. He is right – these concepts go hand in hand. Achieving both benefits everyone.
In New York City, little exemplifies that more than closing the irredeemable jails on Rikers Island.
Half of the people jailed at Rikers Island have a mental illness, including over 80% of women. 27 people jailed at Rikers have died in the past year and a half, and an improving but still profound staffing crisis has denied people access even to basic medical care. The dilapidated jails themselves provide the main source of weapons in the facilities. It is no wonder that people who spent time at Rikers have a higher rate of rearrest than similarly situated individuals; exposure to violence has real repercussions – for all of us.
This crisis is not new, but as Mayor Adams recognizes, addressing it could not be more urgent.
These considerations led to the decision to close Rikers in 2017. It was a realization made after heeding the calls of people who had been incarcerated at Rikers, families of those whose loved ones had died inside, people who worked there, and countless officials, including former Commissioners of Correction.
Transformation cannot occur on an island isolated from public transit, families, attorneys, and the courts. Nor would staying on Rikers make fiscal sense: trying to rebuild jails on the decaying landfill that makes up three-quarters of Rikers Island would cost significantly more and take far longer than the new system of borough facilities being built to replace Rikers and other existing jails.   
Mayor Adams and Correction Commissioner Louis Molina have embraced the moral imperative to make change in the jails. The mayor has visited Rikers Island four times since taking office, reflecting this as a serious personal priority. Work is underway to demonstrate progress regarding staff absenteeism, violence, and broken cell doors.
The mayor and commissioner have also endorsed closing Rikers for good. They now have the historic opportunity to demonstrate that they can do both of these things – address the crisis at Rikers today, and execute on the mission to close it altogether. With a jail population and correctional staff that is over 90% Black and Latino, this is a matter of not just safety, but also of racial justice. 
A key piece of the answer is ensuring that the new system of borough facilities is not limited by the de facto practice of U.S. correctional agencies, or vulnerable to the same failures. New York City can draw inspiration from international models such as Norway, places demonstrating that it is possible to have secure buildings that are humane and dignified while minimizing violence. Commissioner Tom Foley of the Department of Design and Construction has visited European facilities; there is reason to be heartened about the possibility for change.
A path to both safety and justice in New York also includes continuing to reduce the jail population. Since the high point of incarceration in New York City in the 1990s, the city has witnessed a significant decline in both the crime rate and the jail population, making it both the safest large city in the country and the one with the lowest rate of incarceration. We can build on and continue this legacy. 
Almost 1,400 people have been at Rikers more than a year waiting to go to trial, keeping both them and victims in limbo waiting for resolution of their cases, including accountability and justice. Case processing reforms alone, some of which are underway, could reduce the jail population in New York City by well over a thousand people.
Sufficient funding for supportive housing (affordable housing and wrap-around services for people with serious mental illness and substance use disorders) and enhancing diversion programs like supervised release would cut waitlists, boost effectiveness, and increase safety. This would also give judges better options for people who lack stable housing, who often feel they lack safe alternatives to the streets or Rikers. 
Stopping violence, and gun violence in particular, of course goes beyond Rikers Island. But there is no path to a safer New York City, and no path to a city that is more racially just and fair, that does not include ending the incubator of violence that is Rikers. 
In the recent words of Mayor Adams, "If we get it right in New York City, it gets right across the whole country." Now is the time to demonstrate that in New York City and nationally, justice and safety can go hand in hand. And on the urgent task of closing Rikers Island, safely reducing the jail population, and transforming the city's jails, New Yorkers must support the mayor's leadership in getting this done.  
***
Dana Kaplan is senior adviser to the Independent Commission on New York City Criminal Justice and Incarceration Reform, is an Art for Justice Fund fellow and former deputy director of the Mayor's Office of Criminal Justice.
***
Have an op-ed idea or submission for Gotham Gazette? Email This email address is being protected from spambots. You need JavaScript enabled to view it.