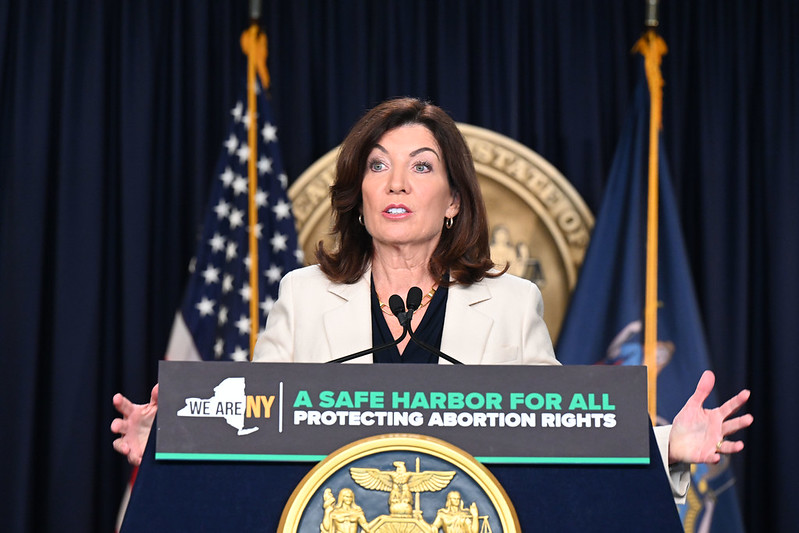 Gov. Hochul makes an abortion access announcement (photo: Kevin P. Coughlin/Governor's Office)
---
Since March 2020, health-care workers in New York have been on the front lines. Resilience, service, and a fierce commitment to delivering high-quality care to our patients guided us through the darkest days of the pandemic.
Due to the heroism of my co-workers and with the support of Governor Kathy Hochul's administration, two years later we now stand ready to continue providing abortion care and set an example for the nation after the Supreme Court overturned Roe v. Wade.
Today, women in America find themselves in a time of new crisis. In the aftermath of Dobbs v. Jackson, eight states have already massively rolled back women's reproductive rights by banning abortion entirely, while several other states have severely restricted abortion access.
The public health consequences of this legislation are grave: Women undergoing high-risk pregnancies will be put in an untenable position where they will be forced to decide whether to seek illegal care or put their own lives in danger. Because of these draconian policies from the far right, New York providers will pick up the slack, and they deserve to be supported, not vilified by extremists like Lee Zeldin, the congressman and Republican nominee for governor. Democratic organizers, legislators, and voters across the country know this, and they are taking a stand.
A few weeks ago, Kansans voted in droves against removing the right to abortion from the state constitution. Their overwhelming rejection of this attempt to disenfranchise women should serve as a wake-up call for the nation: voters are ready to stand up against the ultra-conservatism of the Republican Party.
Here in New York, Governor Hochul announced a nation-leading $35 million investment to support abortion providers. In concert with Democratic state lawmakers, she has pushed to codify the right to abortion in our constitution, helping medical providers give the best care we can by budgeting for the recruitment and retention of nursing professionals while also allocating bonuses for frontline health-care workers.
Zeldin, on the other hand, is hostile to women's autonomy and reproductive rights. He has said that if elected governor he will look to appoint an anti-abortion health commissioner and promised "open-door" access to anti-choice advocates. In Congress, Zeldin voted for abortion bans and co-sponsored legislation that would ban abortion without exceptions for rape, incest, or the life of the mother — placing him among the most extreme, fringe members of his party.  
Voters in a swing state like Kansas flatly rejected these policies, proving that the national right-wing GOP and its acolytes like Zeldin are woefully out of touch with the American voter.
Abortion providers and health-care workers in New York will not be intimidated by Lee Zeldin and his extremist views on who can and cannot receive reproductive care in New York.
The right to choose abortion is a matter of basic bodily autonomy and health.  As a frontline nurse, I see every day just how important it is for this right to be upheld and for reproductive services to be provided legally and safely.
With a woman's right to make her own health-care decisions on the ballot, we must mobilize to protect New Yorkers and vote for Democratic candidates statewide.
***
Nordia Baxter Rivers is a nurse practitioner at a reproductive health center in New York City and a member of 1199SEIU United Healthcare Workers East.
***
Have an op-ed idea or submission for Gotham Gazette? Email This email address is being protected from spambots. You need JavaScript enabled to view it.