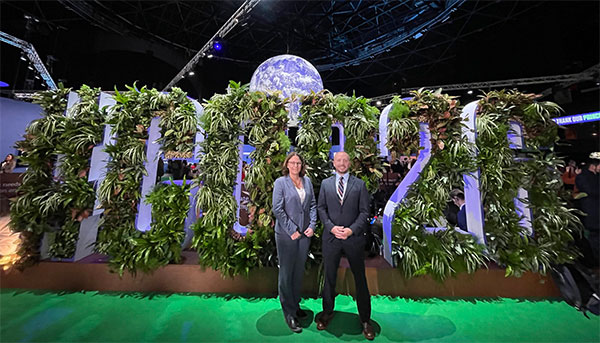 Doreen Harris & Basil Seggos, the authors, at a climate conference (photo: NYS DEC)
---
One month ago, national progress on climate change collapsed on the heels of an adverse Supreme Court ruling, followed by apparent withdrawal of Congress from meeting this urgent moment. In a dramatic turn, however, President Biden, Majority Leader Schumer, Speaker Pelosi, and Democrats in Congress achieved the signing of the historic Inflation Reduction Act (IRA).
This game-changing new law, committing a record $369 billion in investments and tax credits to combat climate change, is by far the largest climate package in U.S. history. The IRA directs critical resources to just about every sector of the economy and restores American leadership at the forefront of this global challenge. What a difference a month makes. 
As leaders of New York's clean energy and environmental protection agencies and co-chairs of the state's Climate Action Council, we have known that the best chance for the state's bold ambitions to succeed depend upon strong alignment with federal policy and support. Now, we have that.
The federal actions taken this year alone through the IRA, the Infrastructure Investment and Jobs Act, and the CHIPS and Science Act collectively represent a $500 billion investment in a green economy, tripling the federal government's average annual climate spending.
This breakthrough action not only establishes a national framework for the country to address the challenges of climate change, but it also provides a significant financial reinforcement to our efforts already underway in realizing the aggressive goals of the state's Climate Act. New York, long recognized as a national leader in advancing clean energy solutions across all sectors of our economy, is uniquely poised to capitalize on these federal investments for the benefit of all New Yorkers. 
The climate crisis is already costing our nation with record droughts, severe weather damage, and impacts to the health of our people and economy. From Superstorm Sandy ten years ago to Hurricane Ida last August, severe weather events that are a result of the climate crisis are fueling nearly $100 billion in property damage in New York alone. Based on recent trends, every second we fail to act on climate comes with a $4,700 cost from extreme weather impacts. And we know that disadvantaged communities, those who have lower incomes, immigrant communities, people with underlying health conditions, and other vulnerable populations, are often impacted first and worst. Doing nothing is not an option. 
New York's detailed analysis has revealed that the cost of inaction exceeds the cost of action by more than $90 billion. Thankfully, we're among the national leaders on renewable energy development — first in offshore wind and first in community solar. Our renewable pipeline of projects will deliver over 14,200 megawatts of clean power to the grid, powering over 66% of New York's electricity.
These investments are supporting nearly 158,000 clean energy jobs, with an expected 250,000 additional jobs created by 2030. Significant investments will be required to achieve the New York Climate Act's greenhouse gas emission limits, but these investments are accompanied by even greater external benefits and the opportunity to create hundreds of thousands of good-paying, middle-class, and union jobs. Under the leadership of Governor Kathy Hochul and with support and partnership from the federal government, we can work to reduce potential challenges of this transition for New Yorkers.  
The alignment between the state's Climate Act and the federal IRA will create even more leverage for the clean energy projects that are advanced here in New York. The IRA provides unprecedented funding to reduce consumer energy costs, slash carbon emissions and pollution, ensure energy security and resilience, increase energy innovation and domestic manufacturing, and expand the economy and advance environmental justice. 
There are so many sectors of the economy and society that stand to benefit from these federal dollars. The bill includes billions in financial incentives aimed at making clean energy options more affordable for consumers, with a particular focus on those who are lower- to middle-income, an important tenet of our Climate Act. The IRA includes tens of billions to support clean energy manufacturing in the U.S., with the goal of easing inflation and reducing the costs associated with clean energy options in the longer term while bringing forward parallel commitments to ensure we are creating good paying green jobs, also key priorities for New York.
And, critically, the IRA provides more than $60 billion for programs in disadvantaged communities. These investments will build upon similar frameworks in New York that are prioritizing and bringing forward investments in underserved communities. Importantly, New York's commitment ensures that disadvantaged communities experience our goal of 40% of the benefits of our investments as part of the clean energy transition. 
The IRA represents a generational opportunity for New York to partner with the federal government on near-term actions that will reduce greenhouse gas emissions 40% by 2030. However, our collective efforts can't stop there. In New York, we are focused on pushing even further with a goal of an 85% reduction in greenhouse gases by 2050. New York has a head start, and this is only the beginning. Together, we will make certain America does not miss the mark to preserve and protect our planet and our people. The future is clean, green, and bright.
***
Doreen M. Harris is President and CEO of the New York State Energy Research & Development Authority. Basil Seggos is Commissioner of the New York State Department of Environmental Conservation. They are the Co-Chairs of New York's Climate Action Council. On Twitter @Doreen_M_Harris of @NYSERDA & @BasilSeggos of @NYSDEC.
***
Have an op-ed idea or submission for Gotham Gazette? Email This email address is being protected from spambots. You need JavaScript enabled to view it.