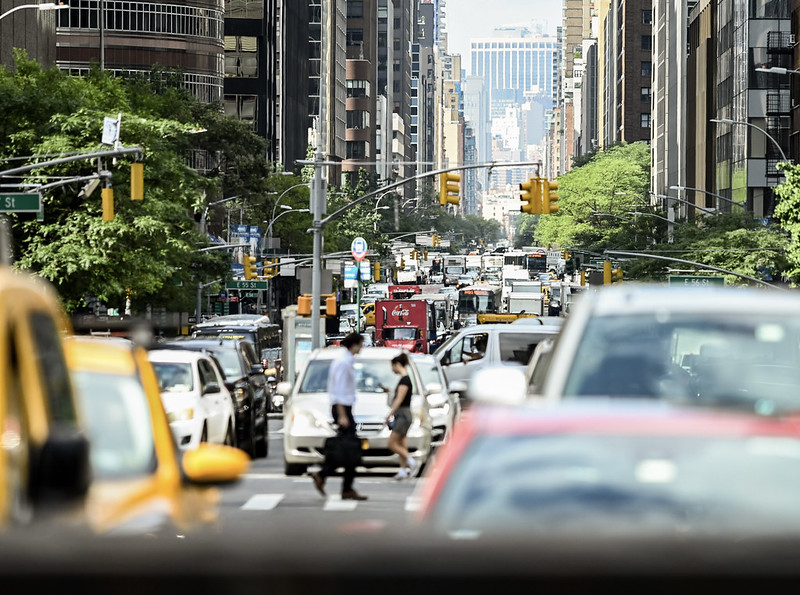 Manhattan traffic (photo: Marc A. Hermann/MTA)
---
Traffic pollutes, and air pollution results in poorer health. This means higher rates of asthma, lower birth weights, and a greater risk of maternal health problems.
As health and transportation policy experts, we see that congestion pricing in New York City will be a win for our region – not only for transportation flow, but also for air quality and public health.
Vehicle emissions are a major source of nitrogen oxides (NOx), volatile organic compounds (VOCs), and particulate matter in urban areas. In addition to polluting the air, these emissions also increase surface pollution, especially in the summertime. Reducing traffic will immediately improve air quality. That, it turns out, can also result in rapid improvements in health – a fundamental reason why we are eager to see the congestion pricing plan move forward.
Formally known as the Central Business District Tolling Program, congestion pricing places a fee on vehicles entering Manhattan south of 61st Street in order to reduce traffic and raise revenue for public transportation. The Metropolitan Transportation Authority (MTA) is holding public hearings on the proposal now.
Environmental studies predict clear traffic reduction benefits – estimates suggest that driving will decline by almost 10% in Manhattan south of 61st Street, and the number of vehicles entering Manhattan will drop 15-20%. Air quality will also be improved – Regional Plan Association estimates show a decline of 7.5% for particulate matter in the congestion zone and the MTA's studies show about a 1.2% drop regionwide.
Only a few other major cities around the world have mounted congestion pricing policies, including London and Stockholm. These cities have reduced congestion, controlled emissions, and created funds for public transport systems.
Studies found substantial reductions in pollution levels after the policies were implemented. For example, shortly after the implementation of a congestion pricing policy across much of Stockholm, nitrogen dioxide (NO2) concentrations and particles with an aerodynamic diameter ≤ 10 μm (PM10) dropped by 15-20% and 10-20%, respectively. Such declines did not occur in parts of the country that had no congestion pricing policy.
​​The New York City congestion pricing policy may result in even greater air quality and health improvements than seen in Europe, in part because the city is more densely populated and has greater health inequality. But the extent of improvement depends greatly on how the policy is implemented, and those details are being worked out now.
For example, environmental documents suggest that traffic could rise on specific highway segments in the Bronx and Staten Island. The Governor, MTA, and city leaders should take this seriously and advance a series of proposals to reduce – or even eliminate — localized traffic concerns. These include transitioning the Hunts Point food hub to electric vehicles and facilities, focusing electric vehicle infrastructure dollars to the South Bronx, boosting bus service, and directing electric bus facilities. The State Department of Transportation has billions in federal infrastructure resources from the Infrastructure Investment and Jobs Act that could be used for these investments. Many of them should be made regardless of congestion pricing – for too long certain communities have been overburdened by polluting infrastructure.
Another issue to address is so-called "toll shopping." This describes drivers who go out of their way for the cheapest route, or "shopping" for the cheapest toll sum. A smart toll credit policy that encourages drivers to use the most direct routes will have substantial local benefits – for example, our studies have found that 25% of morning rush hour traffic on the BQE bypasses the tolled Hugh Carey tunnel to use a free East River crossing.
Congestion pricing is a win for transportation, air quality, and health. If designed well, the policy could not only surpass air pollution reductions and health impacts of any other city to date, but it could also achieve important and tangible health equity impacts in underserved communities. All while raising significant sums to fund public transit improvements for the long-term.
Let's do this right.
*** 
Kate Slevin is Executive Vice President at the Regional Plan Association. Lorna Thorpe, PhD, MPH is a Professor of Epidemiology and Director of the Division of Epidemiology at NYU Langone. Rachel Weinberger, PhD is the Peter Herman Chair for Transportation at Regional Plan Association. On Twitter @RegionalPlan & @nyulangone.
***
Have an op-ed idea or submission for Gotham Gazette? Email This email address is being protected from spambots. You need JavaScript enabled to view it.