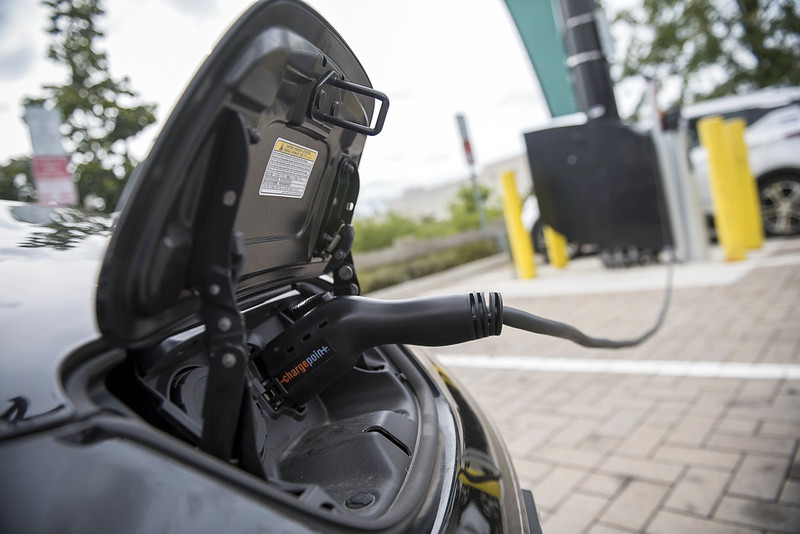 Electric vehicle charging (photo: Ed Reed/Mayoral Photography Office)
---
It's Climate Week but you don't need to be an environmental expert to see the devastation and daily effect that fossil-fuel driven climate change has on our communities. 
Whether it's the oppressive heat waves rolling over our cities, families being washed away by deadly flash floods, or any of the other extreme weather events we have to contend with now as part of our day-to-day lives, the immediate and irreparable impact of the quickening pace of climate change is all around us.
This scary scenario begs the question, what are we doing about it? Unfortunately, the answer is not nearly enough and not fast enough. Aside from failing to achieve a decrease in carbon emissions, we are nowhere close to reaching steady-state emissions goals and clearly losing the battle to even stop annual increases in carbon dioxide (CO2) emissions with the CO2 global average reaching another record high in 2021 at 415 parts per million (ppm).
Last year New York City committed to having a fleet of zero-emission vehicles by 2035. This effort would help the City actually reach its climate goals, reduce toxic air pollution that disproportionately harms communities of color where child asthma rates are well above the citywide average, and, as an added bonus, strengthen the city's economy with new construction and renewable energy infrastructure jobs.
But this "commitment" alone isn't enough. New City Council legislation – "Zero Emission Vehicles for NYC" – would greatly accelerate the city's adoption of zero-emission vehicles. Instead of city agencies continuing to buy or lease traditional internal combustion engine (ICE) vehicles for years to come, we can fast-track the purchase of zero-emission vehicles that will allow us to finally set a course towards meaningful climate goals.
In 2019, New York City passed the Climate Mobilization Act, the most ambitious legislation in the country to reduce building emissions. Emissions from stationary sources, which are mostly buildings, accounted for 70% of New York City's emissions in 2020. The second biggest source of emissions is transportation: 25% of emissions. New York City's lack of progress in addressing transportation emissions is deeply troubling. It has the largest municipal fleet in the country, approximately 30,000 vehicles, yet it has purchased or leased fewer than 750 light-duty battery electric vehicles (BEVs) and has not deployed significant numbers of medium-duty or heavy-duty BEVs. However, zero-emission choices exist in all relevant vehicle types, including general purpose vehicles, ambulances, fire trucks, pursuit-rated police vehicles, sanitation trucks, school buses, and street sweepers.
The new bill would require New York City to purchase or lease only zero-emission light-duty and medium-duty vehicles beginning July 1, 2025; and heavy-duty and specialized motor vehicles beginning July 1, 2030; and require the city's entire fleet be converted to zero-emission vehicles by July 1, 2035.
Transitioning the New York City government fleet to zero-emission vehicles is a critical step towards safeguarding the health of New Yorkers, especially those who live in environmental justice communities that have historically borne the brunt of environmental racism, including disproportionate pollution burden. For example, Bronx residents are besieged by the air around them, particulate matter levels two-and-a-half times higher than the state average, and in the South Bronx, children and teenagers visit emergency rooms with asthma-related illness at rates twice the city average, and nearly 20 times the frequency of neighborhoods with the lowest rates. Tackling emissions by reshaping the city fleet is a critical first step towards fixing this injustice.
States and cities that take real action will experience the most job creation as the world transitions from oil to electricity. New York businesses and consumers spend over $20 billion each year on gasoline and diesel fuel produced in other states and countries. As electricity is substituted for oil, this money will increasingly stay in-state, creating livable wage jobs in renewable energy production, both at utilities and in construction. The bill will accelerate this state-wide trend and also strengthen the prospects of New York City-based mobility and energy infrastructure firms such as Charge Enterprises, Gravity, Ideanomics, NineDot Energy, REV Renewables, Revel Transit, Tarform Motorcycles, and others.
While many city government leaders have expressed support for emissions reduction policies, good intentions alone do not result in meaningful action. It is clear we need to speed up our clean energy efforts if we are serious about addressing the climate catastrophe facing us.
This new bill will do just that, expediting progress while also offering smart flexibility in making the transition to zero-emission vehicles achievable. Communities on the frontlines of climate change and at the epicenter of the devastating impacts of the fossil fuel economy simply cannot afford any more delays and inadequate measures. 
***
Wayne Arden is Sierra Club NYC Transportation Chair. Arif Ullah is Executive Director of South Bronx Unite. On Twitter @scnycgroup & @SouthBronxUnite.
***
Have an op-ed idea or submission for Gotham Gazette? Email This email address is being protected from spambots. You need JavaScript enabled to view it.