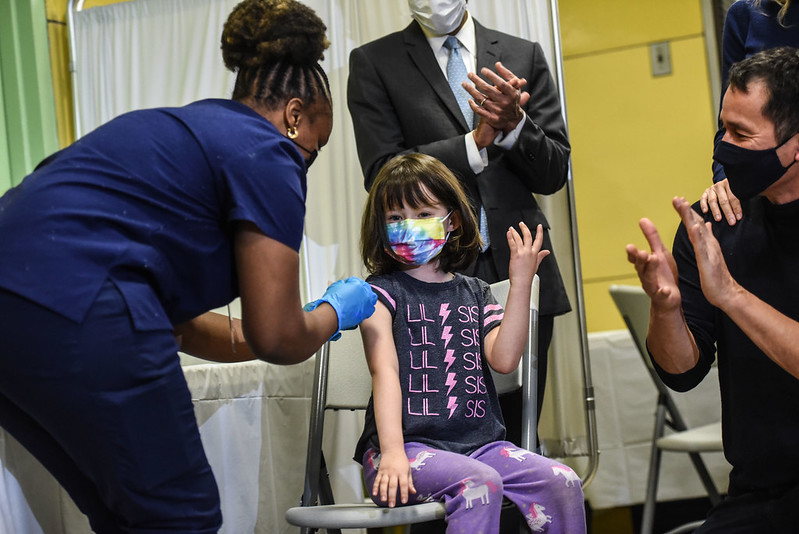 Getting vaxxed (photo: Michael Appleton/Mayoral Photography Office)
---
Back-to-school is traditionally an exciting time for parents, teachers, and educators. With New York City returning to school this month after COVID-19 kept children isolated from classmates and, in many instances, interrupted routine medical visits, experts fear the population will have lower immunity and be behind on routine vaccines.
The city continues to work its way out of the pandemic and encourage "back-to-school checkups." Let's ensure the whole family is up to date with their vaccinations and healthcare needs.
If your child has not had a checkup in the past year, you should schedule an appointment with your pediatrician. We not only ensure that the child is up to date on immunizations but also evaluate growth and development, nutritional status, and behavioral, developmental, and psychosocial issues that may impact school performance. Schools and public health officials are reminding parents to get their kids caught up on recommended childhood vaccinations or risk the genuine threat of the return of illnesses once mostly eliminated.
Since the Pandemic, vaccination rates have plummeted and not yet rebounded, leaving school-age children vulnerable. During the 2020-2021 school year, vaccination coverage decreased by one percentage point for U.S. kindergarteners compared to the prior school year, the CDC found, and infant vaccination rates also dropped between 2019 to 2020.
New Yorkers remember that in 2019 there was a measles outbreak in Brooklyn, and we're seeing the case numbers rise around the country and worldwide; we are seeing the return of this and other diseases once thought eradicated. Worldwide measles cases increased 79% for the first two months of 2022 compared to 2021. Additionally, New York State health officials confirmed the first case of polio in the U.S. in almost a decade in Rockland County and another in New York City.
Pandemic restrictions and virtual education reduced kids' risk of contracting measles, mumps, rubella, and other communicable diseases, and masking, testing, and contact-tracing helped keep covid and other illnesses from spreading through classrooms at higher rates. However, the arrival of the more infectious Omicron subvariant underscored how quickly things could change significantly since schools can be breeding grounds for community spread. For example, in March, Los Angeles Schools saw a spring flu outbreak that resulted in school administrators closing school for in-person attendance.
Covid vaccination rates lag in teenagers and children. Unfortunately, we are now contending with more vaccine hesitancy. Vaccinations are more crucial than ever, especially as we see polio detections. A Kaiser Family Foundation survey found that more than four in ten parents will not vaccinate their children under five years old against the COVID-19 virus. However, to protect against measles, 95% or higher herd immunity is necessary, and if vaccination rates dip, especially in local communities or schools, outbreaks are possible. 
When our schools start to return to normalcy, our city cannot handle a massive polio outbreak that could disrupt our children's education. However, according to a CDC analysis, vaccination coverage against measles for kindergarteners nationwide in the 2020-2021 school year was 93.9%. Public rates show that almost 14% of young New York City children haven't received a polio vaccination. To protect our schools and our children, parents must ensure their kids are vaccinated. 
We all want a "normal" school year after the last two-plus years of living in a pandemic, but we need everyone to do their part. That's why we urge families to remember to vaccinate their children to keep them and their families safe from outbreaks. It will take all of us working together to make this school year magical. 
*** 
Dr. Andrea Perry, MD, MBA Pediatrician, is Medical Director at EmblemHealth. On Twitter @EmblemHealth.
***
Have an op-ed idea or submission for Gotham Gazette? Email This email address is being protected from spambots. You need JavaScript enabled to view it.