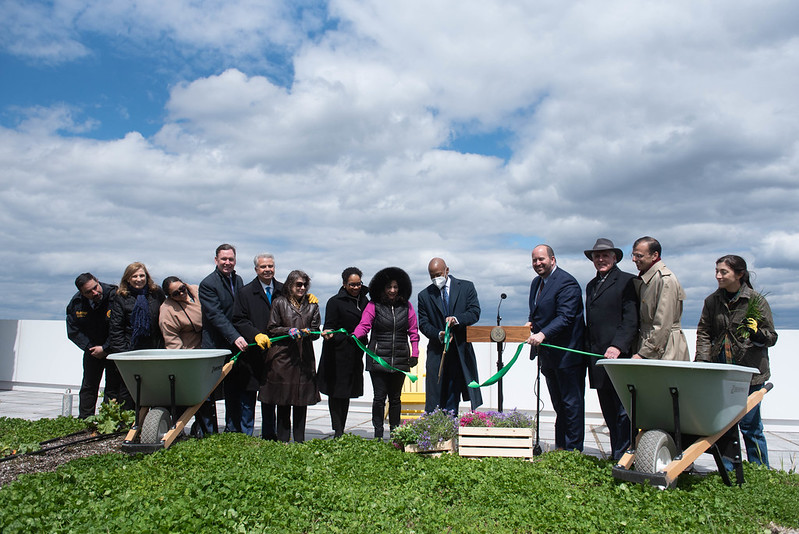 Resilient planning (photo: Michael Appleton/Mayoral Photography Office)
---
Ten years ago, New York City received one of the biggest wake-up calls in its history – climate change was here, and we were not ready.
Superstorm Sandy, which killed 44 New Yorkers and caused $19 billion in damages and lost economic activity, was the first massive climate-change-driven storm to hit the five boroughs — and, as we are now well-aware, it wouldn't be the last. We did learn some very important lessons.
First among them: if we are going to build, and rebuild, we need to build resiliently. That is because newer structures built under modern construction codes are standing up to powerful storms much better than older buildings. This fact is underlined again and again, most recently in Florida as Hurricane Ian swept up the Gulf Coast.
So, what are we doing about this? Alongside resiliency work New York City government agencies are undertaking from our shores to our streets, the Department of City Planning and the Department of Buildings are today pushing forward Mayor Adams' City of Yes for Carbon Neutrality. This wide-ranging zoning proposal will make it easier to green our grid, reduce our carbon emissions, and protect our homes, parks, and job spaces.
Since Sandy, the City has worked to protect our 1 million buildings. We've done this by updating construction and zoning codes to make certain that newly-constructed homes and businesses can stand up to and recover faster from more intense weather events – including by allowing property owners to move boilers out of their basement and to raise living space up and out of harm's way. In a few days, stringent new construction codes related to critical facilities in the floodplain, such as hospitals and fire stations, will go into effect. Just 30% of municipalities in the United States have taken on this work to bake resiliency into construction codes.
Because these codes are only half the battle, we are also fully focused on the second battleground: reducing New York City's carbon contribution to climate change.
Some ways that we propose to do this are to make it easier to install energy efficient building façades and solar panels on roofs and allow electric vehicle charging in and on many more structures. Today, for instance, we generate about 300 megawatts of electric energy per day through rooftop solar panels. The City of Yes for Carbon Neutrality proposal would eliminate barriers and more than triple the amount of electricity the sun would generate for New York City over the next eight years. That alone is enough energy to power over 70,000 homes.
Our carbon neutral work is more expansive than solely updating construction and zoning codes, but they are important building blocks for a healthier city. Further, this work will help landlords introduce retrofits into existing buildings and make new buildings greener, as required under Local Law 97.
If we want to achieve carbon neutrality, home and business owners need as clear a path as possible to making investments that reduce their energy costs. City of Yes is intended to help large and small landlords to get green and help us meet our carbon emission reduction goals.
As we remember the destruction Sandy caused and celebrate our progress on creating climate-related infrastructure and rules, let's not be complacent. It continues to be essential to say yes to a greener, more resilient future, and we hope all New Yorkers will support our plans to get there.
***
Dan Garodnick is Chair of the New York City Planning Commission and Director of the New York City Department of City Planning. Eric Ulrich is the Commissioner of the New York City Department of Buildings. On Twitter @DanGarodnick & @Eric_Ulrich.
***
Have an op-ed idea or submission for Gotham Gazette? Email This email address is being protected from spambots. You need JavaScript enabled to view it.