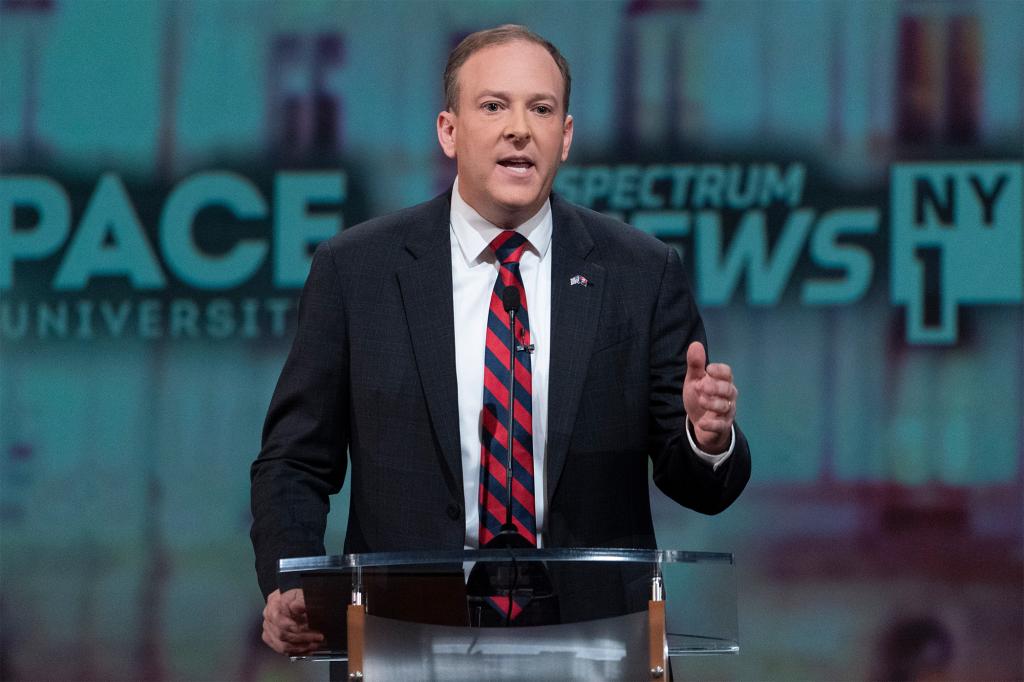 Lee Zeldin at the Spectrum News debate (photo: pool)
---
In 2020, I ran for Congress in Suffolk County on a platform of facts, truth, and evidence-based solutions for my local community. My opponent was Republican Rep. Lee Zeldin, who already had a long history in Congress of denying facts and relying on soundbites to take the place of real accomplishments. With the gubernatorial election happening now, New Yorkers need to look beyond Zeldin's shallow rhetoric, and instead look at his record to truly understand the harmful agenda he will bring if elected to the highest office in the state.
Mr. Zeldin claims a mantle of "bipartisanship." Unfortunately, as a member of Congress he accomplished little and voted with President Donald Trump almost 90% of the time. To hide this reality, Mr. Zeldin likes to claim credit for actions that are important to his voters, without doing the real work to make things happen.
For example, in 2020, Brookhaven National Lab (BNL), which lies within our district, was selected as home for the U.S. Department of Energy's Electron Ion Collider (EIC), a $2 billion project that will bring jobs to our community. An independent panel of scientists had chosen BNL as home for the future EIC because it had the best combination of expertise and existing facilities to support the project. Yet Mr. Zeldin sent out a press release with the headline "Rep. Zeldin Steers Electron-Ion Collider Project to Brookhaven National Lab." The release conspicuously did not include any mention of what Mr. Zeldin did to support BNL's bid. 
Meanwhile, Mr. Zeldin's extremism includes serving as a staunch supporter and passionate defender of former President Trump. In Congress, Zeldin served as Donald Trump's "point man" during both impeachment trials, and planned with White House Chief of Staff Mark Meadows on how to undermine the 2020 election results. If you want to understand who Lee Zeldin is, listen to the speech he gave on the night of January 6, 2021, after the Capitol insurrection, to justify his vote against certifying the election results. Each sentence is carefully crafted to be true in its narrowest sense, but taken as a whole, the speech is one big lie. 
To this day, Zeldin skirts around the facts and fails to give direct answers so as not to upset his base. Asked recently by The New York Times editorial board whether he agrees that Joe Biden won in 2020, Zeldin avoided answering, instead saying, "I don't know how to quantify nationwide what happened. All I know from the most personal of experiences was what we went through in the 1st Congressional District in New York." Ironically, I lost to Rep. Zeldin in 2020, and he has never questioned that result. 
To make matters worse, Zeldin has aligned himself with far-right ideologues. In 2015, Zeldin hosted a town hall with members of the Oath Keepers, an organizing group behind the January 6, 2021 insurrection. Likewise, he has welcomed the enthusiastic support of the Long Island Loud Majority, which has been identified as an anti-government extremist organization by the Southern Poverty Law Center. 
Mr. Zeldin's voting record is similarly extreme, including voting against the bipartisan infrastructure bill, against the John Lewis Voting Rights Act, against the Assault Weapons Ban, and for repealing the Affordable Care Act, to name just a few. Staunchly anti-abortion with a long record to prove it, he now says he will not try to overturn New York's legislation protecting reproductive rights, but he has made no similar promise to continue critical state funding to protect those rights. Once again, Zeldin is crafting his message carefully, yet overall it is a giant lie, trying to trick more pro-choice people into voting for him.
Mr. Zeldin wants to be our Governor – a position of tremendous power and consequence for each of our day-to-day lives. I implore New Yorkers to judge him not by his big claims or promises, but by what his record and choice of friends tell us he would do if we hand him the keys to the governor's mansion. Then, vote like our state depends on it.
***
Nancy S. Goroff is a Long Island resident and former congressional candidate. On Twitter @ngoroff.
***
Have an op-ed idea or submission for Gotham Gazette? Email This email address is being protected from spambots. You need JavaScript enabled to view it.