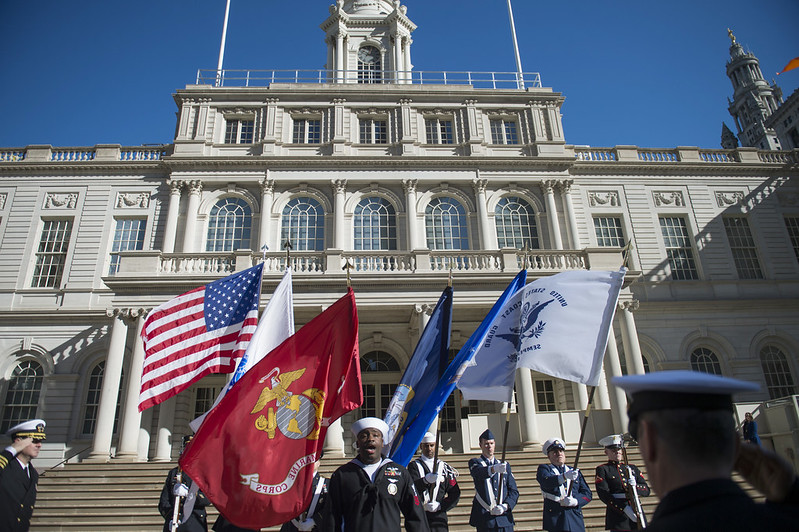 Veterans Day at City Hall (photo: Ed Reed/Mayoral Photography Office)
---
Democracy is an ideal that is central to who we are as Americans, but it's an ideal that must be advanced and defended by each generation. While we are fortunate to have the freedom to choose our elected leaders and have a voice in our government, this freedom has been secured and defended by our military veterans. Their willingness to serve and sacrifice represents the highest calling in public service, and we owe these heroes an enormous debt of gratitude.  
Over a quarter million veterans live in New York City and each has contributed to the peace and security we all enjoy. This Veterans Day, we express our sincerest thanks for their contributions. We thank them for being public servants and for answering the call of duty.
One small way the City of New York is acknowledging the service of our veterans is by creating career pathways for them to continue their service in city government. DCAS — the New York City Department of Citywide Administrative Services — offers fee waivers on civil service exams so that eligible veterans can take exams free of charge. To account for their unique skills and experience, veterans can also earn bonus points on those exams. Now, to further say thanks to our veterans and military families, we will be extending fee waivers for one exam to spouses of veterans. 
At DCAS, public service is central to our mission. We manage the civil service system, the gateway to careers with the City of New York. As the largest local government employer in America, the career opportunities we offer to New Yorkers through civil service hiring helps us marry an individual's interests with their passion for public service. Through the civil service system, applicants are afforded opportunities to demonstrate their fitness for jobs based on an objective assessment of their knowledge, skills, and abilities.  
It is among our chief responsibilities to ensure that our civil service process develops a steady stream of qualified candidates who are ready to serve their city. When we think about the caliber of talent we need to lead our agencies, contribute to our city's growth, and play a role in planning the future, there are few as worthy as our veterans. So, this Veterans Day as we celebrate their achievements and their sacrifice, we invite them to answer the call to service again – serving the City of New York. Our civil service pathways provide a wealth of career options, opportunities for advancement, and great benefits. 
An effective government hinges upon having a workforce that is passionate about serving others. Our veterans embody this commitment, and we want to create pathways for veterans to join our ranks and make a difference in our city. 
To learn more about upcoming civil service exams and careers with the City of New York, visit nyc.gov/dcas and nyc.gov/jobs.
 ***
Dawn M. Pinnock is the Commissioner of the NYC Department of Citywide Administrative Services (DCAS). On Twitter @NYCDCAS.
***
Have an op-ed idea or submission for Gotham Gazette? Email This email address is being protected from spambots. You need JavaScript enabled to view it.