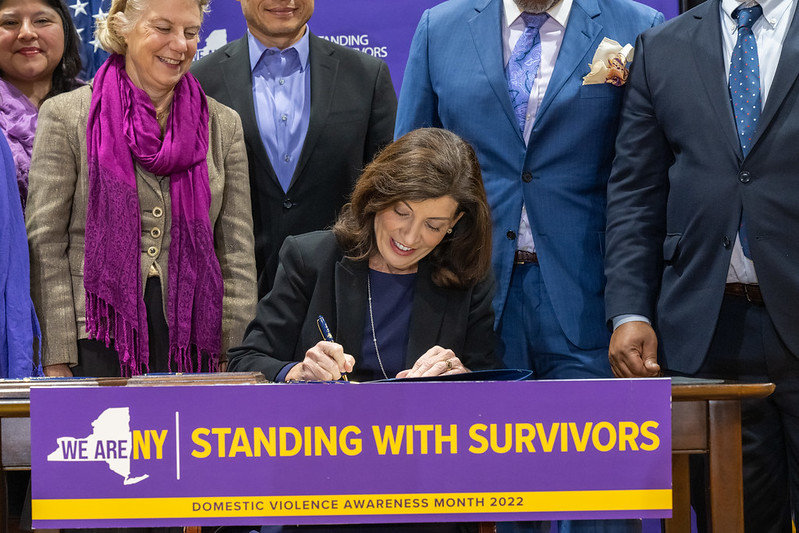 Gov. Hochul signs legislation (photo: Darren McGee/Governor's Office)
---
Although it might sound counterintuitive to some, sentencing reform is necessary to effectively address intimate partner violence and support victims.
To start with, sentencing reform benefits criminalized survivors, victims of violence convicted of crimes related to their own victimization. Sometimes the victims of these crimes are their abusive partners; sometimes the crimes are committed at the behest of, or under duress from, their abusive partners.
Mandatory-minimum sentences are partly to blame for the substantial number of survivors who choose to plead guilty rather than face trial. Confronting the possibility of long terms in prison and "trial penalties" assessed for failing to plead guilty if they are convicted, women take pleas even in cases where they might have credible defenses. They take pleas so that they can get home to their children sooner, to protect their children from having to testify, and because they think they will not be believed.
The Domestic Violence Survivors' Justice Act (DVSJA), passed in 2019, provides some relief from harsh mandatory minimums and creates a mechanism for reconsidering draconian sentences in some cases. But the DVSJA does not reach all of New York's criminalized survivors.
For example, in November 2020, a 48-year-old woman who filed a DVSJA application was denied relief despite an extensive history of documented abuse from infancy through early adulthood and despite the fact that her abusive partner (who was the person harmed in the offense) supported her release. The court found she wasn't a victim of domestic violence "at the time of the offense" (a criterion that must be met to qualify for relief) because it didn't recognize the psychological abuse by her partner or the cumulative effects of childhood trauma. Since her incarceration she has come to better understand how trauma has affected her life and helps women on the inside grapple with the same issues she's had to overcome. She is now entering her seventh year of a 16-year sentence.
Cases like this demonstrate why criminalized survivors are calling for sentencing reform, particularly the passage of the Eliminate Mandatory Minimums Act and Second Look Act, both under consideration by the New York State Legislature.
The Eliminate Mandatory Minimums Act would allow judges to consider mitigating circumstances - like abuse and trauma - rather than requiring them to impose a lengthy prison sentence regardless of circumstances. The Second Look Act would allow judges to review and reconsider excessive sentences. Right now, there is no mechanism outside of the DVSJA in New York State to reassess those sentences.
As a law professor who directs a Gender Violence Clinic providing direct representation to incarcerated survivors of intimate partner violence, sexual assault, and trafficking, it is abundantly clear to me that we have spent decades pursuing the wrong solutions to gender-based violence.
There is no evidence that harsh criminal sanctions like lengthy periods of incarceration or mandatory minimum sentences, which require judges to impose specific sentences for particular crimes without enabling them to use discretion in individual cases, decrease or deter intimate partner violence. But there is reason to believe that such sanctions make future violence more likely.
Intimate partner violence is highly correlated with economic hardship. Male under- and un-employment is strongly associated with perpetration of intimate partner violence (and with domestic violence homicides), as is experiencing other economic stress. People with criminal records, especially those who have spent years or decades in prison, have more difficulty finding and keeping work, are often employed in jobs with high turnover and little potential for growth, and earn less than people who have not been criminalized. They frequently live in economically distressed areas, and living in such neighborhoods is also correlated with higher rates of intimate partner violence.
Criminalization also causes trauma. It's ironic that people who are being punished for violence are sent to places where they are likely to be victims of or witnesses to violence. There are few resources to help incarcerated people recognize and process the trauma that they have experienced, both before and during their incarceration. As a result, when they are released, formerly-incarcerated people take that unprocessed trauma with them back into their communities and their intimate relationships. That trauma can lead to post-traumatic stress disorder, which is highly correlated with the perpetration of intimate partner violence.
Prisons aren't the way to end intimate partner violence. Yet we continue to pour resources into the criminal legal system, hoping, despite the best available evidence, that somehow incarceration will lead to positive outcomes for people who use violence and for their partners. And we do that despite the knowledge that not only is incarceration not working, but that it is harming those it was meant to protect.
We need to invest in the things that might end violence rather than continuing to throw money at prisons, even "gender responsive, trauma informed" prisons. We need to redirect the billions of dollars that currently go to the criminal legal system into economic stimulus, public health prevention, and communities. And we need to get people out of prison and back into communities, where they can heal, work, parent, and thrive. Yes, even for intimate partner violence, communities not cages is the right policy choice.
***
Leigh Goodmark is a law professor at the University of Maryland where she co-directs the Clinical Law Program, teaches Family Law, Gender and the Law, and Gender Violence and the Law, and directs the Gender Violence Clinic, a clinic providing direct representation in matters involving intimate partner abuse, sexual assault, trafficking, and other forms of gender violence. On Twitter @LeighGoodmark.
***
Have an op-ed idea or submission for Gotham Gazette? Email This email address is being protected from spambots. You need JavaScript enabled to view it.