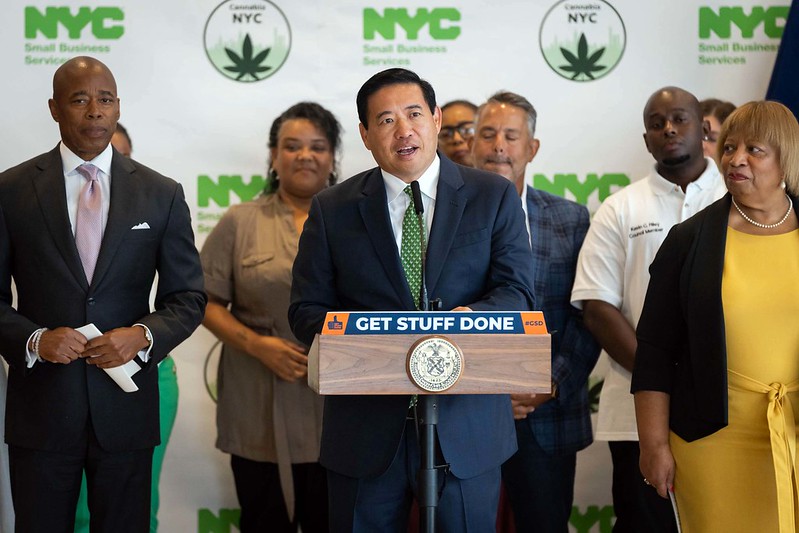 Announcing 'Cannabis NYC' (photo: Ed Reed/Mayoral Photography Office)
---
It's no secret that the War on Drugs has disproportionately impacted people of color in the United  States, leading to the scourge of mass incarceration. In 2010, the ACLU released an analysis on  cannabis convictions, showing that Black people in New York state were 4.5 times more likely to  get arrested for possession of cannabis than white people even though both groups use it at the  same rate. Ten years later, this phenomenon hasn't changed. In 2020, the NYPD's crime statistics data reported that people of color in NYC made up 94% of arrests and summonses issued for low level cannabis violations.  
It has been over a year and a half since cannabis was legalized in New York. Heralded as the most  equitable cannabis legalization effort in the United States, the Marijuana Regulation & Taxation  Act (MRTA) focuses on groups that were impacted the most by cannabis prohibition – namely  black and brown communities. However, NYC's program, Cannabis NYC, has not invested nearly  enough into communities that have been hurt the most by cannabis prohibition. As New York state  implements its recreational cannabis licensing process with the first 36 licenses, and NYC provides  a meager $4.8 million investment through its program Cannabis NYC, we must ask ourselves: is  this really the best we can do?  
In theory, New York state has instituted impressive measures to uplift social equity entrepreneurs,  or individuals with prior cannabis-related convictions seeking to open a recreational cannabis  business. Some of these initiatives include setting aside 50% of licenses for social equity  entrepreneurs to open recreational dispensaries and a $200 million investment fund that will  underwrite costs associated with leasing retail spaces and loan assistance. Despite the support on  paper, the administration is moving too slowly in practice. The aforementioned retail spaces have  not yet been secured and the fund has not raised the promised $150 million in seed funding. With  Governor Hochul's announcement that only 36 legal cannabis dispensaries will be in operation by  the end of the year, there is reason to worry about how social equity entrepreneurs will be supported  in this disorganized plan.
On the city side, there have been insufficient investments in social equity entrepreneurs. The  Adams administration created and tasked Cannabis NYC with providing services including license  application assistance, outreach to communities that are eligible to apply for social equity licenses,  and workforce development training for the cannabis sector. Even with these minimal  responsibilities, Cannabis NYC barely fits the bill. Since Cannabis NYC was only established three months ago, most of the application support was falling on the shoulders of nonprofits and  law firms, sometimes costing individuals up to $10,000 in fees.
Additionally, cannabis businesses are a costly endeavor with a $2,000 application fee for a  recreational license and high-cost barrier to enter the industry. Start-up costs for retailers can range between $250,000 - $750,000. The Drug Policy Alliance found that in 2019, the city spent almost  $100 million alone on policing drug arrests and violations. As reparations for these egregious  oppressive measures, Cannabis NYC must expand its supportive services to provide financial  assistance to social equity entrepreneurs to cover the recreational cannabis license fee of $2,000
and underwrite a fraction of the start-up fees when the state inevitably moves too slowly to provide assistance. Cannabis NYC must also bolster their application assistance for all New Yorkers seeking their services.
The recent increase in crime may make New Yorkers less sympathetic toward those with prior  convictions, leading them to object to additional supportive measures. In a recent poll, 70% of  New Yorkers reported concern about feeling less safe since the pandemic due to increased crime  rates. However, research has shown that access to employment is the most important factor in  reducing recidivism. Even for individuals who do not support cannabis usage, an investment in  communities with past convictions will keep them out of the cycle of crime and the prison system,  thereby reducing crime rates across the city.
The NYC Comptroller office projected that revenue from cannabis sales in NYC could reach as  much as $336 million per year. In a city where the operating budget is $101 billion, this may seem  like a drop in the bucket. However, when put into perspective, this amount shows how much NYC  will gain from the cannabis industry, while investing just over 1% of projected revenues in social  equity entrepreneurs who have been harmed by the city's criminalization of cannabis. As  reparations for the damages that cannabis prohibition ravaged upon Black and Brown communities  in NYC, the mayoral administration must ensure social equity entrepreneurs make their mark in  this highly profitable industry. One small step is by increasing financial support to social equity  entrepreneurs through underwriting their start up business costs and covering the $2,000 retail  dispensary license application fee.
***
Arielle Kaye is an MPA student at NYU specializing in International Development Policy & Management.
***
Have an op-ed idea or submission for Gotham Gazette? Email This email address is being protected from spambots. You need JavaScript enabled to view it.