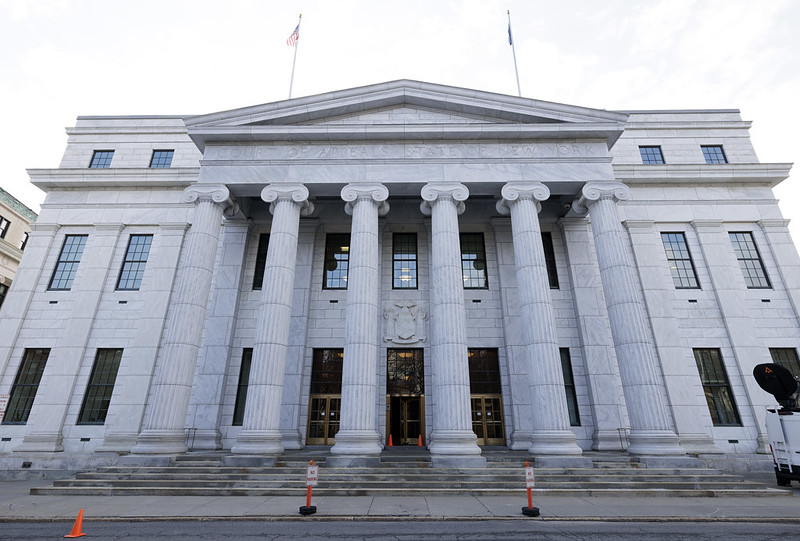 The Court of Appeals (photo: Mike Groll/Governor's Office)
---
The past few years have put into stark relief our inability to predict the future. Virologists, epidemiologists, and related medical professionals repeatedly reevaluate their views regarding COVID-19 and its variants. Economists daily revise their opinions about inflation, interest rate hikes, and the likelihood of a recession. Political pundits and pollsters are scurrying to explain why their election prognostications were off the mark. No one can gainsay the limited ability of meteorologists to accurately forecast the weather beyond a few days. 
And yet in our criminal courts, judges act as if they have the power to see into the future. It is commonplace for judges to hand down maximum sentences as they emphatically proclaim that the person in front of them is irredeemable and will forever be a threat to society. 
In apparent recognition of and response to this judicial hubris, the American Bar Association's House of Delegates approved a resolution that encourages legislation to provide for judicial "second look" review of all criminal sentences. Such legislation would mandate a reevaluation of sentences where individuals have been incarcerated for ten years, regardless of original sentence or crime of conviction. Notably, the resolution received the unanimous support of the ABA's Criminal Justice Section Council, a group comprised of judges, prosecutors, and academics, as well as defense attorneys.
The resolution is a recognition that people, including those convicted of serious and often violent crimes, can and do change. Public attitudes about crime also change as evidenced, for example, by the movement to legalize marijuana. Our understanding of behavior evolves as neuroscience now reveals that brain development and the corresponding ability to control impulses and consider consequences continues into our twenties. It is also appropriate, if not imperative, to re-examine sentences simply because it is illogical to think that a sentence once imposed remains just, necessary, and appropriate in perpetuity.
It is also becoming increasingly clear that not all victims or family members of a victim demand lengthy prison terms for the person who caused harm. The restorative justice movement is shining light on innovative approaches to harm and trauma and the needs and desires of those who have been harmed by violence. "Second look" reviews can amplify the burgeoning restorative justice movement by promoting conversation about alternatives to relentless punishment. 
Further, second looks are not just about beneficence or mercy. There is much talent that is wasted behind bars. People languish on the inside when they could contribute on the outside as mentors to young people who might end up making the same mistakes that they did at similar ages. They could help repair families and communities that have been devastated by the draconian sentencing of the past several decades. More directly, second look sentencing can return fathers and mothers to support their sons and daughters, and restore sons and daughters to act as caregivers to aging parents. Returning citizens can and do revitalize communities and promote public safety. 
To be clear, the American Bar Association resolution does not call for automatic resentencing. It is not a guarantee that anyone will be released. Rather, the potential for resentencing will provide hope for those serving long sentences that they are not necessarily consigned to die in prison. Second looks provide a powerful incentive for incarcerated people to take whatever steps they can to grow and improve, and to confront and address the confluence of factors that led them to where they are, the harm they caused, and what they can do to try and atone. 
The ABA resolution is by no means an outlier.
Senator Cory Booker and Representative Karen Bass introduced the Second Look Act in 2019 to permit people who have served ten years in federal prison to petition a court for resentencing. In the meantime, federal court judges are using the First Step Act and compassionate release to find compelling reasons to resentence people given long sentences. Some states have taken steps to rectify past decades of massive sentences that were often motivated by racist tropes like "super predator," "wolfpack," and "wilding," by passing legislation authorizing the right to seek resentencing for those convicted when they were young. 
New York is among the states that presently do not provide any mechanism for sentencing review beyond the immediate direct appeal. A bill, the Second Look Act, addresses that omission by allowing judges to review and reconsider excessive sentences. It is long overdue as there are more than 7,500 people serving life and very long-term sentences in New York prisons.
Consider just one example. When Bryon was a young man, he and friends made the rash decision to rob some local drug dealers in upstate New York. In the ensuing chaos, one person was shot in the leg. At sentencing, the judge expressed his view that Bryon was irredeemable, stating, "You should be locked up for a very long period of time to protect other God-fearing, law-abiding citizens . . . you should be kept under lock and key for the absolute maximum period of imprisonment of the time they can keep you there." Bryon was ultimately sentenced to 50 years.
The passage of time has proven the judge wrong – 21 years later, Bryon has grown into a mature, thoughtful, and accomplished adult. He has not received a single disciplinary ticket for violent conduct. He serves as a GED tutor and is taking college classes. He facilitates alternatives to violence and related programs. He has written apology letters to his victims to take full responsibility for his actions and to express his heartfelt remorse. Recently, he and his wife organized a bookbag giveaway as an effort to try and repair the harm he caused to his community. Without the Second Look Act, Bryon will remain behind bars for decades to come.
Many are familiar with the sentiment expressed by Sister Helen Prejean and civil rights lawyer Bryan Stevenson that no one should be judged by the worst thing they ever did. It seems appropriate to amend the statement – no one should be judged in perpetuity for the worst thing they ever did. It is exactly the "in perpetuity" that forecloses the recognition of redemption and mandates the need for second looks.
***
Steven Zeidman is a professor of law at CUNY School of Law. On Twitter @SteveZeidman.
***
Have an op-ed idea or submission for Gotham Gazette? Email This email address is being protected from spambots. You need JavaScript enabled to view it.