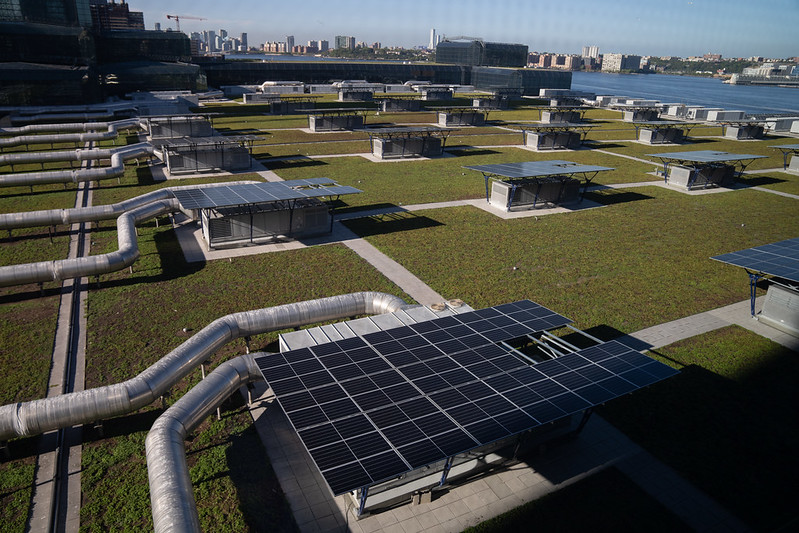 Rooftop solar (photo: Governor's Office)
---
It's beyond dispute that the fossil fuel industry has perpetrated a multi-decade misinformation campaign that has led some policymakers, the media, and much of public opinion down a rabbit hole of climate denial. Now they've got their sights on New York State's climate legislation and initiatives. 
The cynically dubbed front group "New Yorkers for Affordable Energy" has paid for attack ads against several key bills moving through the State Legislature, including the All-Electric Heat in New Construction bill, which would mandate electric heat in new buildings starting later this decade, and the Gas Transition and Affordable Energy bill, which would end customer subsidies for gas industry expansion and create cost protections for low- and moderate-income households. 
The New Yorkers for Affordable Energy website describes the group as "dedicated to supporting access to cleaner, reliable and affordable sources of energy for residential and business consumers." However, in a filing with the Internal Revenue Service, the group describes its purpose as "to expand natural gas service [and] keep energy prices lower for consumers." 
In the last six months, New Yorkers for Affordable Energy has released ads with misinformation that tell homeowners that retrofitting their homes would cost more than $20,000 and electric heating would cost 40% more than gas. The All-Electric bill creates a mandate for new construction only, not for existing buildings. Recent studies, like one by Win Climate, show that electric heat is cheaper than heat produced by propane, gas furnaces, or gas boilers in new homes. New Yorkers for Affordable Energy's messaging stokes fear among consumers of higher energy bills, which is especially effective because of inflation and rising energy prices. 
A recent investigation by Little Sis found that ten fossil fuel companies and lobbying groups have spent more than $15.5 million on lobbying since 2016 and more than $1.4 million on campaign donations opposing climate action in New York. The American Petroleum Institute, an architect of climate denial, is on the steering committee of New Yorkers for Affordable Energy. Other New Yorkers for Affordable Energy members include utilities like National Grid, National Fuel Gas, and Central Hudson, as well as power plant lobbyists the Independent Power Producers of New York. 
Besides opposing the previously mentioned bills this legislative session, New Yorkers for Affordable Energy and its partners have also been working to thwart New York's efforts to advance its vision for a clean energy future, pursuant to the Climate Leadership and Community Protection Act (CLCPA), New York's nation-leading climate law passed in 2019. That law requires, among other mandates, that New York reduce greenhouse gas emissions by 40% by 2030 and 85% by 2050; and have a zero-carbon power sector by 2040.  
The ads released by New Yorkers for Affordable Energy are part of a larger disinformation campaign targeted at New Yorkers. For example, home fuel retailers have sent emails to their customers attacking electric heating and the CLCPA. Utility provider Central Hudson published explicit concerns regarding New York's proposed plan for implementing the CLCPA, stating it would "significantly raise costs" and "potentially jeopardize grid integrity." And opinion pieces opposing the state's climate plan have popped up in the Times Union, Crain's NY Business, Newsday, NY Daily News, and Utility Dive – that spread misinformation about higher bills, job loss, and increased outages.
A range of essential state actions over the next several years — financed by a mix of ratepayer, state, and federal funds, along with sufficient subsidies and tax breaks — would make the transition feasible for consumers in existing buildings. Accordingly, Governor Hochul has already announced the creation of a dedicated green electrification fund to electrify low-income homes and advance the state's goals of creating green affordable housing. 
New York State must transform its power, transportation, and building sectors to meet the goals of its landmark climate law. These actions will improve air quality, protect public health, and reduce greenhouse gas emissions that exacerbate climate change. New York cannot allow the oil and gas industry, under the guise of front-groups, to undermine efforts and investments that address climate change. 
***
Richard Schrader is the New York Legislative and Policy Director for the Natural Resources Defense Council and Isabel Friedman is Program Coordinator for the Natural Resources Defense Council. On Twitter @NRDCNY_Rich & @NRDC.
***
Have an op-ed idea or submission for Gotham Gazette? Email This email address is being protected from spambots. You need JavaScript enabled to view it.