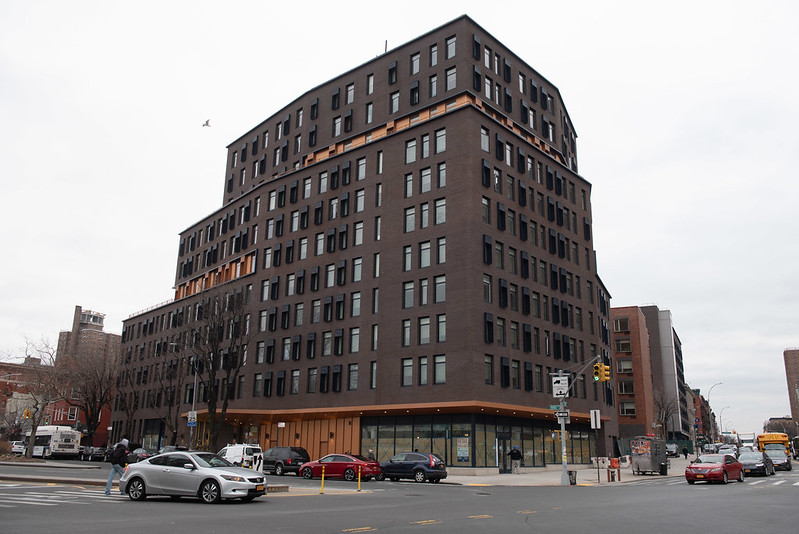 Housing (photo: Michael Appleton/Mayoral Photography Office)
---
If Mayor Eric Adams wants to solve New York City's housing crisis, he must challenge some of the city's most powerful players: landlords. The absurd demands that landlords place on renters is one major part of New York City's housing crisis that simply does not get enough attention. The standards many landlords use to confirm whether prospective tenants qualify for housing need massive reform and are often as much of a concern – and barrier – as rental prices.  
Ambiguous or absent laws governing the apartment application process are detrimental to New Yorkers and to solving the housing crisis. If most landlords continue to require a perfect financial profile and massive down payments for renters, there will always be a large population of New Yorkers unable to meet the demands of the application process. 
The unwritten rules for New York City's housing applications are in desperate need of regulation: landlords typically require tenants to make 40 times the rent, have a minimum credit score of 700, and provide upfront payments of first month's rent and a security deposit — while also paying an exorbitant broker fee that is pushed onto tenants by landlords.
Tenants typically need several thousand dollars upfront to rent an apartment, sometimes approaching what could be a down payment on homeownership. The paperwork required for renting an apartment is comparable to buying a home. Landlords demand an employment verification letter, recommendations from past landlords, three months of full bank statements, a year or more of tax returns, three pay stubs, among a list of other documents. The current housing application process is unsuitable to lower-income New Yorkers because they usually lack the documents and resources to compete with a wealthier applicant's financial profile.
As long as tenants continue to jump through hoops to obey property owners' demands and legislation doesn't help minimize invasive requirements and protect tenants' privacy, landlords will continue to have no incentive to stop considering working and lower-class New Yorkers a threat to their status quo.
The average rent in New York City is about $3,000 per month. Using landlords' 40 times the rent income standard, New Yorkers need to make about $120,000 per year to qualify for average rental housing. Obviously, hundreds of thousands of New Yorkers' don't earn that much — the 2020 Census reported the median household income in New York City at $67,046. Income requirements prohibit an enormous population from participating in the whole rental housing market, even when they can afford it. With high income and extensive documentation requirements put in place by so many landlords, it is impossible for many New Yorkers to not feel pushed out of most of the rental market. 
Wealthier applicants exclusively benefit from the current housing rental application process and many hardworking New Yorkers and seniors don't get the decent housing they need and deserve. Landlords are seemingly looking to find ways to discourage lower-income tenants from applying for housing and for reasons to reject them if they do — the application requirements for many apartments are nearly impossible for lower-income residents to meet. It becomes disturbingly worse once you factor in the high broker fees that are pushed on to tenants.
Broker fees in New York City are typically 15% of the annual rent, which means tenants must fork over several thousand dollars on top of the first month's rent and security deposit. Landlords hire real estate brokers to aid their rental process, yet they somehow evade the price of this service and make the tenant responsible for the bill.
In 2020 legislation was enacted that protected tenants from being responsible for the landlords' broker fees. But, after the efforts of a powerful real estate lobbying group, the decision was quickly reversed the following year. The brokers do the leg work for the landlords, often listing the property, filtering through applicants, showcasing the property, collecting fees, and essentially ensuring that there is a smooth application and leasing process for the landlord and tenant. Yes, it is true that brokers need to be paid for their work, but the question is, should the tenant be responsible? 
To expand access to housing, reduce homelessness, and create a new standard of living for many New Yorkers, new rental application regulations must be established. This includes laws prohibiting property owners from charging tenants for their broker fees, laws related to preventing the disqualification of tenants based on their financial profile, and laws to limit how much landlords can require from tenants.
Additionally, New York should examine its affordable housing policies and increase eligibility for income-restricted housing to mostly benefit long-time residents of the community where new housing is built. This would require increasing the 50% threshold for community district residents in affordable housing lotteries and increasing the length of time that a resident must live in New York City to be eligible for affordable housing.
Meanwhile, the development of new affordable housing is often prolonged and dysfunctional, and officials are simply not ensuring we are building anywhere near enough of it.
But while more needs to be done on affordable housing development and the lottery process, it is essential that New York leaders take steps as soon as possible to regulate the tenant application process.
Smart and fair regulations will transform the New York City housing market by creating more opportunity for lower-income New Yorkers to qualify for quality housing. As Mayor Adams pursues more housing development on a large scale, he must be willing to sacrifice some of his popularity with developers and property owners by making the rental market fairer by removing income restrictions set by landlords and abolishing the precedent that landlords' broker fees are the tenant's responsibility. And the City Council should work with him or take the lead on this effort to create a fairer housing market.
New York City apartments are in high demand and rental prices reflect the market, but New Yorkers are being excluded from much of that market even when they can afford the rent. It's time for that to change.  It is time for the Mayor, New York City Council, Governor, and State Legislature to take this on in 2023.
***
Khiteriara Brown is the Founder and Director of Millennial Channel. Khiteriara is a xenophile, world affairs commentator, and philanthropist. She has a master's in Chinese translation from New York University, a master's in political management from George Washington University, and a bachelor's in history from the University of Alabama. On Twitter @millennialchannl
***
Have an op-ed idea or submission for Gotham Gazette? Email This email address is being protected from spambots. You need JavaScript enabled to view it.