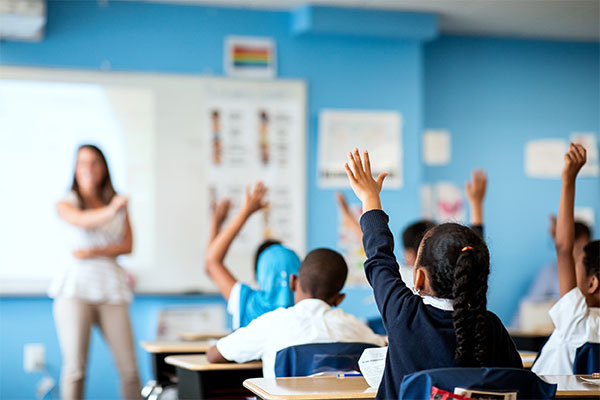 Classical Charter Schools
---
A random number in a lottery is chosen, and a parent breathes a sigh of relief. But I'm not talking about the New York Lottery – I'm talking about our education system. 
It's no secret that schools in some of New York City's poorest districts aren't getting the job done for students. That's why public charter schools were created in the first place, and the results for families have been promising. 
But as demand from families for seats in charter schools has grown, we're running out of space. Charters run a randomized lottery for admission, and for schools that receive more applications than available seats that means being forced to turn students away. The reality is that charter leaders want to be able to serve more students, but the charter cap – a state statutory limit on the number of charter schools – has kept new schools from opening their doors.
We can't accept a status quo where a lottery number determines a child's future. That's why it's time to lift the cap. Governor Hochul has the chance to do just that by including a cap lift in her budget proposal this week. 
The choices elected leaders make when it comes to policy can be complicated, but when it comes to education, it's simple – when you see something works, scale it. 
The one thing standing in the way of that for New York City students? The charter school cap. For me, lifting the cap is personal. 
I was a kid who, to put it lightly, did not do well in school, and was never instilled with the love for learning that students need to succeed. After high school, I became a truck driver, and quickly realized that it wasn't the right path for me. So, I kept working and enrolled in night school, ultimately earning a college degree. That's when I fell in love with education for the first time – and it changed my life. 
A decade later, that spark for education never left, so I quit my job in banking and became a New York City teaching fellow. That's where I got a firsthand look at the problems facing our students, and saw some of the same issues that I encountered myself. I knew we could do so much more, so I took my experience in education and the business world, and founded my own school network, Classical Charter Schools. 
In 2022, 90% of students at our schools passed the state's math test, and 88% passed English Language Arts (ELA) – double the rates of students across New York State, and triple the district average in the South Bronx. Our commitment goes beyond test scores. Our students learn how to become well-rounded adults by exploring their passions, building character, and learning how to navigate interpersonal relationships. 
We listen to families. We work to ensure that our teachers and deans look like the communities they serve. We know what works, and fix what doesn't. We want to do more. But the hard truth is that we remain forced to turn away thousands of families who apply to our schools every year because we simply don't have enough seats.  
It's not just our network of schools – public charters across New York City are offering working class families something that for far too long has only been available to the wealthy: a choice in where to send their kids to school. In fact, three charters (including Classical) were the only schools across the city to make the U.S. Education Department's list of 'Blue Ribbon Schools' last year. We did this by demonstrating that we go "above and beyond to keep students healthy and safe while meeting their academic, social, emotional, and mental health needs." This isn't just an award – it's a point of pride for our students who know that they can learn every day in a safe, supportive, and invigorating environment. 
From community nonprofit leaders and educators who are ready to bring their passion to life by starting a school for the first time to innovative charter networks that have been serving students for years, we all have one goal in mind: to provide a high-quality public education to as many students as possible. 
But until the charter cap is lifted, more of these great schools can't open and I can't provide more seats to students and families who want them. What do we have to gain by shutting the door on New Yorkers with the experience and vision to support and educate our kids?  
The decisions that lawmakers make in Albany are a reflection of our values. This session, our leaders can show New Yorkers that they value giving families a choice in their children's education. Governor Hochul has expressed support for lifting the charter school cap; she can move toward making it happen by taking the next big step of including it in her Executive Budget.
***
Lester Long is Founder and Executive Director of Classical Charter Schools, four high-performing elementary and middle schools in the South Bronx.
***
Have an op-ed idea or submission for Gotham Gazette? Email This email address is being protected from spambots. You need JavaScript enabled to view it.