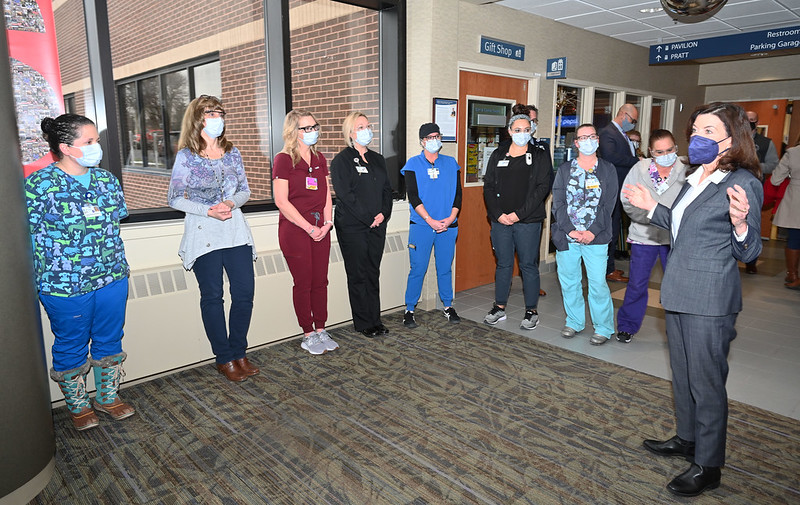 Gov. Hochul visits health care providers (photo: Kevin P. Coughlin/Governor's Office)
---
With her 2023 agenda, it's clear Governor Kathy Hochul wants to be seen as a champion for New Yorkers who face significant health disparities. But for all she pledges to do, she's failing to rise to the challenge to address a serious health care crisis coming this April.
On April 1, the state will divert funding away from safety net providers like mine — Alliance for Positive Change — and the New Yorkers we serve from under-resourced communities. This is funding we use to provide not only connection to health care, but the housing, food, behavioral health, and other wrap-around supports people need to stay healthy. 
Hochul's executive budget maintains what's known as the Medicaid pharmacy benefit "carve-out," an ill-conceived leftover policy proposal from the Andrew Cuomo era that will disrupt thousands of people's lives through service reductions and job cuts. Worse yet, some safety net facilities could even be forced to close completely if the Legislature doesn't now step in.
More than 1,000 people rely on Alliance for Positive Change for access to their prescriptions, treatment counseling, and other supportive services that help them take their medications. In all, safety net providers care for more than 2 million New Yorkers. They can't afford for implementation of the "carve-out" to move forward. 
Put simply, safety net providers rely on savings that come through the pharmacy benefit program to fund the myriad supports essential to overall health care for low-income New Yorkers. Under the proposed carve-out, the state will snatch away hundreds of millions of dollars. Rather than listening to providers who have presented a workable solution to her administration, Hochul uses her budget plan to create a convoluted payment mechanism that fails to adequately protect providers and the patients they serve.
This is a complex scheme with profound ramifications for the most vulnerable patients: Personalized, lifesaving care will be, at best, disrupted. At worst, it will disappear completely.
Alliance for Positive Change helps participants take their medications on time, get to their doctor appointments, and navigate systemic inequities to achieve health and well-being. We provide them a safe space where they can access pharmacy services and get structured support, including counseling, nutritional advice, and even MetroCards. They also have the opportunity to engage with a community of New Yorkers who face similar challenges. 
These are low-income New Yorkers living with HIV/AIDS and other difficult-to-manage chronic conditions. Many contend with additional challenges like homelessness. Incredibly, more than 95% of those enrolled in Alliance's Treatment Adherence Program maintain an undetectable viral load — the amount of HIV in the blood — meaning they cannot sexually transmit HIV to others.
One success story stands out for me. I helped a young man living with HIV get his prescriptions, stick with his treatment regimen, and access food and nutritional services so he could take his medication as directed. As a result of his commitment, and our support, he graduated from our peer training program, is now employed part-time, and has sustained his undetectable viral load. Most striking of all is what he said about our work together: "Before I met you, I was terrified of who I was. Now, I'm not scared. I am open about my status, and I can share my story with people."
Without the pharmacy benefit savings, I fear that the services for this person — and so many others like him — will disappear. Roughly 20% of Alliance for Positive Change's budget is built on these savings, but other safety net providers lean on the pharmacy benefit far more. 
The carve-out scheme will devastate the continuum of care for patients, resulting in a reduction in treatment adherence, increased hospitalizations, and higher health care costs. It would worsen already startling health disparities and cost the state tax revenue, as reported in a recent publication by the Wakely Consulting Group — ultimately thwarting our statewide efforts to end the HIV/AIDS epidemic. 
As early as this month, Medicaid recipients will begin receiving notifications of these impending changes, creating confusion and chaos. If the governor and legislative leaders don't cancel the carve-out as part of the final state budget deal due by April 1, there will not only be significant financial costs associated with poorer health outcomes, but also moral costs of sabotaging the safety net for millions of New Yorkers. 
Addressing health disparities is important work. But creating greater disparities in the process is a zero-sum game.
*** 
Samuel Rodriguez is a Treatment Adherence Manager at Alliance for Positive Change. On Twitter @thealliance_nyc.
***
Have an op-ed idea or submission for Gotham Gazette? Email This email address is being protected from spambots. You need JavaScript enabled to view it.