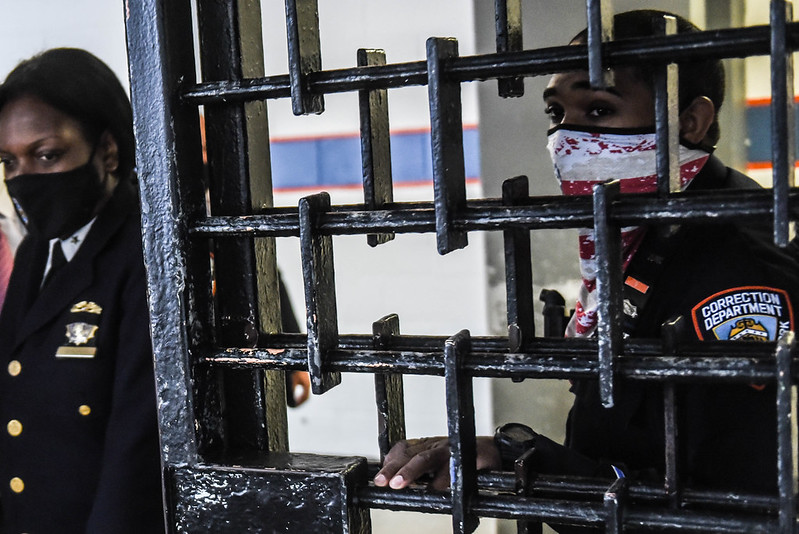 Guards on Rikers Island (photo: Michael Appleton/Mayoral Photography Office)
---
Mayor Adams says we cannot look away from New Yorkers who are suffering. Yet, his new preliminary budget suggests that he'll slash social services now and over the coming years. Yet, he continues to say 'yes' to luxury developers and dedicate limited resources to supportive housing. Yet, he questions the mandated closure of the Rikers Island jail complex.
New York City is required by law to close Rikers by 2027. The conditions at Rikers should prompt the administration to accelerate that timeline. Instead, our mayor is asking the City Council to extend it, or reconsider closing Rikers altogether. We don't need Rikers. We need plans for more community-based supports, more crisis respite centers, more hospital beds for those who need emergency care, and more investments in a culturally competent and linguistically appropriate workforce.  
People at Rikers – more than half of whom are affected by mental illness and almost 17% of whom have a serious mental health diagnosis – are far too often not receiving the treatment they need and are subjected to inhumane, unsafe conditions, including solitary confinement. They are not in the right place for the treatment they need. Rikers has been aptly described as a "torture chamber."
New Yorkers at Rikers don't have access to appropriate mental or medical health-care. They are already isolated in a place that takes their families hours to reach by public transportation, and soon may no longer have access to physical letters and other mail. Those who are incarcerated are still subjected to solitary confinement even though we passed the HALT Act and know that solitary confinement significantly increases the risk of suicide and self-harm. In 2022 alone, 19 of our fellow New Yorkers died at Rikers—many of them lost to suicide and preventable medical issues. Another 15 died in 2021.
Rikers is a death sentence.
What other reasons do we need to close Rikers? Why are we still debating this?
NAMI-NYC is a part of the Treatment Not Jails coalition, a group based on a bill with the same name. The Treatment, Not Jails Act would ensure that people living with serious mental illness are diverted from the criminal legal system and instead have access to therapeutic and trauma-informed care. Research shows that government saves money by investing in mental health and drug treatment courts, which both reduce recidivism.
We have also spoken with reporters, families, and many others about the mayor's problematic forced hospitalization directive. If we closed Rikers and provided actual mental health care – more crisis response teams, more psychiatric hospital beds, more crisis centers, more peer-based community centers – we wouldn't be in this position. To live healthy lives, people need treatment, not jail stays.
We are tired of false promises. Rikers is under a costly federal monitor, but not improving and as an institution, it is beyond repair. It costs far more to jail New Yorkers than to provide the health-care services and supportive housing they need. The mayor must move more aggressively to close Rikers as quickly as possible. It's clear to NAMI-NYC and over 130 organizations signed on to the Campaign to Close Rikers that it's the humane thing to do.
***
Matt Kudish is CEO of the National Alliance on Mental Illness of New York City (NAMI-NYC), helping families and individuals affected by mental illness for over 40 years. On Twitter @NAMINYCMetro.
***
Have an op-ed idea or submission for Gotham Gazette? Email This email address is being protected from spambots. You need JavaScript enabled to view it.