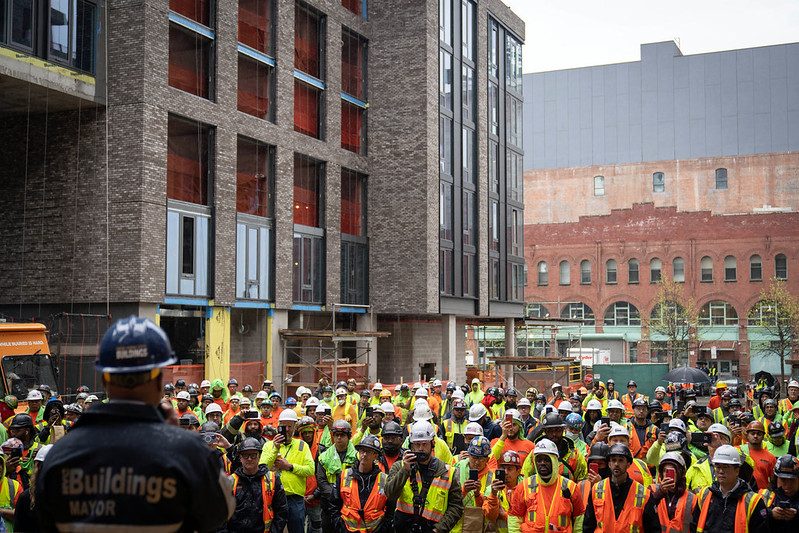 On the construction site (photo: Ed Reed/Mayoral Photography Office)
---
While it's no secret that the pandemic and looming recession have taken a toll on all New Yorkers, they have been particularly detrimental to low- and middle-income communities, as they've only exacerbated the ongoing shrinking of the middle class and troubling disparities in wealth and income.
However, with the inevitability of hardship comes the longevity of certain sectors that will always serve as catalysts for recovery and reinvigoration of the economy and subsequently, the middle class. One of these crucial industries is unionized construction.
Historically, construction has been an enduring and dependable sector throughout and immediately following difficult times, including the Great Depression, times of war, and the Great Recession of 2008. Since 1940, the construction industry has consistently added jobs, with some of the biggest increases coming immediately after these major events.
Following the onslaught of COVID-19, and throughout talks of recession, this pattern has remained the same. Despite the pandemic paralyzing our economy, construction has been able to valiantly bounce back and return to its upward trajectory.
This is why New York must remain committed to greenlighting large-scale public works and private development projects that are built union. If we're to fully recover from the pandemic and weather the storm of a possible recession, we'll need the economic stimulus and job creation that unionized construction uniquely drives forward.
Development is the leading generator of family-sustaining careers in New York's unionized construction industry. By creating reliable and honest work for our tradesmen and tradeswomen, projects that are built union, including clean energy and green infrastructure initiatives, give New Yorkers from a diverse range of backgrounds an opportunity to pursue the middle class and contribute to the betterment of the community around them.
Not to mention, as the barriers to education remain and starting salaries for many occupations struggle to keep up with the cost of living, let alone loan repayment, union construction remains an industry accessible for New Yorkers of all backgrounds, including those from diverse and disenfranchised communities.
Pre-apprentice, apprentice, and direct-entry programs have become the crux of the unionized construction industry. They provide entry-level workers with accessible, on-site, and in the classroom craft skills training, as well as safety training, and prepare individuals for careers in the construction industry by providing them with the skills necessary to succeed. These programs ensure that we will have a ready, safe, and productive workforce to build critical infrastructure for years to come and uniquely pave a clear pathway for hardworking New Yorkers to build a sustainable, middle-class career.
While Governor Hochul, Mayor Adams, Majority Leader Schumer, and the Biden administration are seemingly aware of the importance of union construction, and should be applauded for their collective focus on infrastructure, we must continue the progress made on pushing forward or commencing major initiatives like the Penn Station Redevelopment, the Hudson River Tunnel Access project, the new Buffalo Bills stadium, and the NYCFC soccer stadium in Flushing. It will be projects like these that create tens of thousands of middle-class union jobs, bolster and sustain our economy, and foster stimulus for other local businesses and industries, including hospitality, retail, transportation, culinary, real estate, and more.
When it comes to periods of uncertainty, history has undoubtedly repeated itself, and each time, unionized construction has played a role in leading us out of the dark. With our current situation, we must lean into what we know how to do best: innovate, build, and develop by training and mobilizing our dedicated and skilled workforce of union tradesmen and tradeswomen. Not only will this sustain and uplift our middle class, but it will also maintain New York's place as a leader in modernized infrastructure, fiscal opportunity, and forward-thinking ideas.  
 ***
Gary LaBarbera is the president of the New York City and New York State Building and Construction Trades Council. On Twitter @NYCBldgTrades.
***
Have an op-ed idea or submission for Gotham Gazette? Email This email address is being protected from spambots. You need JavaScript enabled to view it.