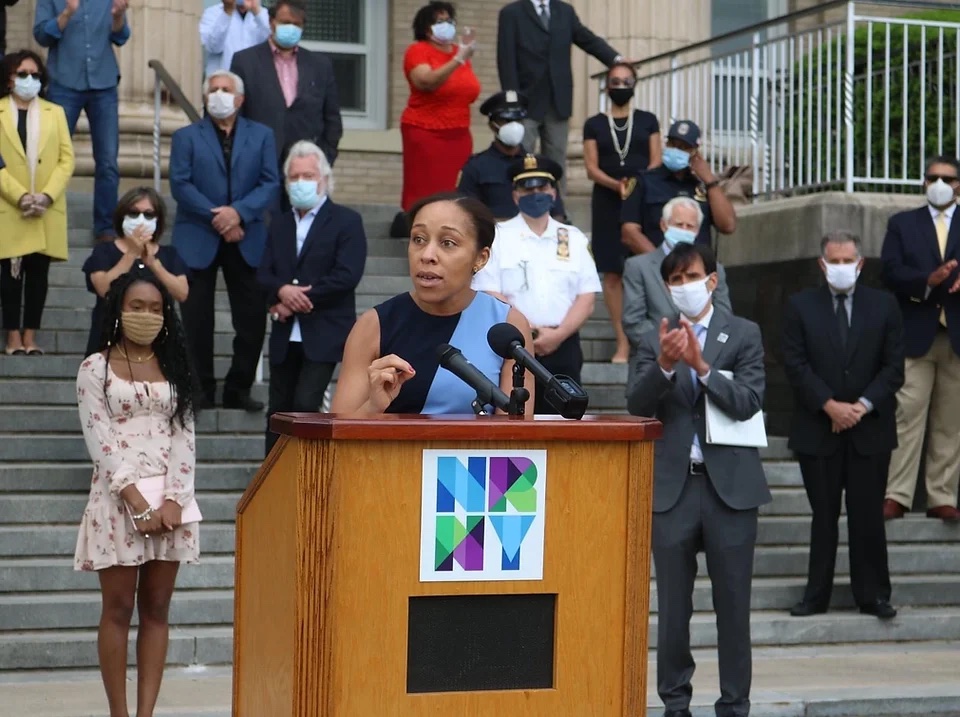 Yadira Ramos-Herbert (photo via campaign website)
---
On Thursday February 16, the New Rochelle City Democratic Committee made history by endorsing the mayoral candidacy of Yadira Ramos-Herbert in this year's election. An Afro-Latina of Puerto Rican and Dominican descent and currently a City Council member, Ramos-Herbert is the first person of color to receive a major party's endorsement for mayor in New York's seventh largest city. Ramos-Herbert's candidacy and the committee's endorsement helpfully remind us that Latino politics in New York is about more than New York City; the Latino presence has been and continues to be felt throughout the Empire State.
Truth be told, my columns for Gotham Gazette have focused exclusively on the Latino political reality in New York City or at the statewide level. That's for one key reason: because the overwhelming majority of the Latino population in New York resides in New York City — about 67%. Most Latino elected officials in New York represent parts of Gotham as well. Yet, that focus of mine (and sometimes others') overlooks a good portion of our peoples' political realities in other parts of the state — realities that point to growing Latino communities and their significant political achievements. It is high time I correct that oversight.
The achievements of Latinos in New Rochelle are one such example. In many ways, New Rochelle has been a city of firsts in New York. It is there where the first Mexican-born candidate was elected in New York — Roberto Lopez, elected to New Rochelle's City Council in 2007. Along with Ramos-Herbert, the current New Rochelle City Council also includes Latina Martha Lopez. 
The Latino population in New Rochelle has increased rapidly over the last few decades and Latinos now comprise a third of the population in that city. Most of those Latinos are of Mexican descent. The rise of Latinos in the overall population has also resulted in an increase in the number of Latino registered voters, who have now surpassed African Americans as the largest non-white ethnic group among registered voters, forming 20% of the overall electorate. Surely Ramos-Herbert as the mayoral pick for the New Rochelle Democratic Party reflects that the future of the city is Latino. 
Yet New Rochelle is not the only city in Westchester County with a growing Latino population. The city of Yonkers, the county's most populous, has the largest number of Latinos, according to census data, with 89,605 Latinos, a whopping 42% of its entire population. However, when it comes to the voting population, Latinos make up only 31% of the electorate. The city of Yonkers has one Latina in the City Council out of six council members, Corazon Pineda-Isaac, who has just declared her candidacy for mayor in this year's election. Yonkers also has a Latino representative in Westchester County's Board of Legislators — José Alvarado, who became the first Honduran to win election to a position in New York in 1982.
The Latino presence there led to the creation of the organization Hispanic Democrats of Westchester. Founded and still led by Robin Bikkal, the group has endorsed a slew of candidates up and down the county, including again supporting the candidacy of Luis Marino, who in 2021 became the first ever Latino mayor of the Village of Port Chester. 
But another county not far outside of New York City has more Latinos even than Westchester — Suffolk County on Long Island. With over 332,000 people, Suffolk's Latinos make up 22% of the overall county population, but only 11% of the voting population. Its legislature has two Latinos out of 18 total seats— Sam Gonzalez and Manuel Esteban. This represents just 11% of that legislative body. Suffolk County also sent the first Long Island Latino to the State Legislature: since 2002, Assembly Member Phil Ramos has represented Central Islip in the Assembly, and is now that body's deputy speaker. Suffolk has also sent to the State Senate Monica Martinez, a Latina who previously served in Suffolk's legislature. Her brother, Antonio Martinez, is a Councilman in the town of Babylon.
Next door, Nassau is the county with the third largest Latino population outside of New York City. Latinos now make up 18% of the overall population and 11% of the voting population. And yet the Nassau County legislature currently has no Latino representation.
Further north, the cities of Buffalo and Rochester also have a Latino presence. Buffalo currently has a Latino representative in the State Assembly with Jonathan Rivera, and David Rivera is the majority leader of Buffalo's Common Council. Rochester's City Council president is Latino, Miguel Melendez. Joining him on the Council is another Latino, José Peo.
According to the National Association of Latino Elected and Appointed Officials' last published data on New York's Latino political representation, there are 157 elected and appointed Latino officials in New York, outside of those elected to Congress and the State Legislature.
In short, Latino presence in political leadership is increasingly felt all over the Empire State. Yadira Ramos-Herbert's candidacy for mayor of New Rochelle is only the latest example of Latinos rising toward higher office.
***
Eli Valentin is a political analyst and author of the forthcoming book, Reinhold Niebuhr: A Political Life. On Twitter @EliValentinNY.
***
Have an op-ed idea or submission for Gotham Gazette? Email This email address is being protected from spambots. You need JavaScript enabled to view it.