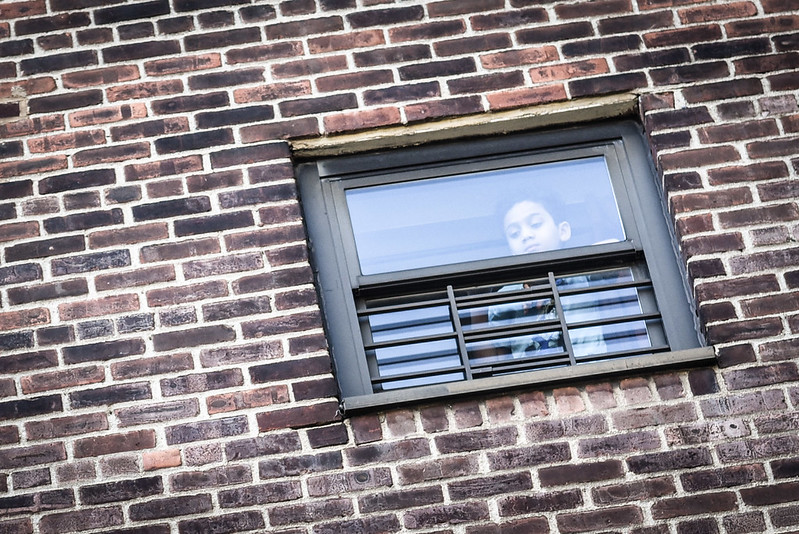 At NYCHA housing (photo: Michael Appleton/Mayor's Office)
---
When New York ended its moratorium on evictions a year ago, many people—from tenants to housing advocates to the public at large—braced for mass eviction filings in housing courts. One year later, tens of thousands of tenants in public housing are still waiting for the other shoe to drop.
When the federal and state governments provided funds to help tenants pay rent arrears, economically-stressed residents of the New York City Housing Authority (NYCHA) were an afterthought. Though nearly half of NYCHA households are behind on rent, to the tune of $454 million, there is still no policy or funding solution in sight. 
The problem is that state law placed subsidized housing tenants (including NYCHA residents) last in line for federal funds. And with the Emergency Rental Assistance Program (ERAP) closed to new applications since January, the remaining funds will likely be gone before a single NYCHA tenant makes it to the top of the list. 
Though NYCHA's 400,000 residents have their rent capped at 30% of their income before taxes, when your income is $24,000 a year (the average income for NYCHA households), there is already little financial room to make ends meet. Add record-setting inflation to the mix, and it's impossible for tens of thousands of tenants to pay off their arrears. 
This means NYCHA tenants like Carmen, a client of the Red Hook Community Justice Center, face the real possibility of eviction. Carmen has lived in the Red Hook Houses for over 25 years. It's where she raised her three children with her husband, who passed away in January 2021. She fell behind in rent after the death of her husband due to funeral costs and other hardships during the pandemic that were not offset by NYCHA's rent adjustment. Carmen applied to New York State's ERAP in July 2021, but has not yet heard back from the state about her request for help.
Virgen, another tenant in Red Hook, lives with a disability and is also experiencing the stress and fear of a potential eviction. With $10,000 due in back rent, Virgen has stretched her Social Security income during the pandemic to cover the basics like groceries, as well as medical supplies to protect herself from the virus. Her limited income also went to hiring an outside repairman to fix her kitchen sink after NYCHA workers told her that they didn't have any cabinets left in stock. Virgen applied to ERAP in August 2021, but is losing hope after months of hearing state workers tell her that private tenants are a higher priority. She regularly calls the neighborhood's housing court to check if NYCHA has yet filed an eviction case against her.
An eviction is a calamitous event for a family and community, impacting mental health, child development, and economic stability. Evictions also affect communities, disrupting the ties that make them resilient and safe. Through the Center for Justice Innovation's work at our neighborhood-based housing courts, we have seen firsthand that it is impossible to address other crucial issues like employment and education without ensuring housing stability. 
We cannot abandon NYCHA tenants or the buildings they call home. In the short-term, we must provide immediate relief to the nearly 50% of households who have fallen behind on rent. Far from a handout, emergency rental funds to public housing residents will not only ensure housing stability for thousands, but also give NYCHA urgently needed income to prevent the complete breakdown of its ability to fulfill its most basic obligation to provide habitable housing. As interim NYCHA CEO Lisa Bova-Hiatt has said, "Without money, we can't do anything else. We can't fund the much needed repairs. We can't handle emergencies."
The danger of inaction is substantial and disproportionately hurts women, as illustrated in Carmen and Virgen's experiences. For families evicted from NYCHA, the next stop is often the shelter system. Homelessness is associated with a wide range of harms, especially for children, not to mention the substantial cost to the city. In fiscal year 2022, New York City spent an average of $186 per day to shelter a family with children, and the average length of stay was 534 days. This means for every family evicted who ends up in shelter, the city will have to pay on average over $100,000 for temporary shelter, unequivocally more expensive than helping to keep adults and children stably housed. 
The problems facing NYCHA can seem overwhelming, but helping tenants pay rent arrears is a right-sized, money-saving step that will have a direct, immediate impact. Not only will it forestall a crisis for thousands of families, but it will give NYCHA an essential infusion to prevent its problems from getting worse. If federal money isn't coming, that means devoting city and state dollars to solving it. The health, safety, and well-being of hundreds of thousands of vulnerable New Yorkers is at stake. 
***
Courtney Bryan is executive director of the Center for Justice Innovation, which runs the Red Hook Community Justice Center and its Housing Resource Center in partnership with the New York State Office of Court Administration. On Twitter @innovjustice.
***
Have an op-ed idea or submission for Gotham Gazette? Email This email address is being protected from spambots. You need JavaScript enabled to view it.