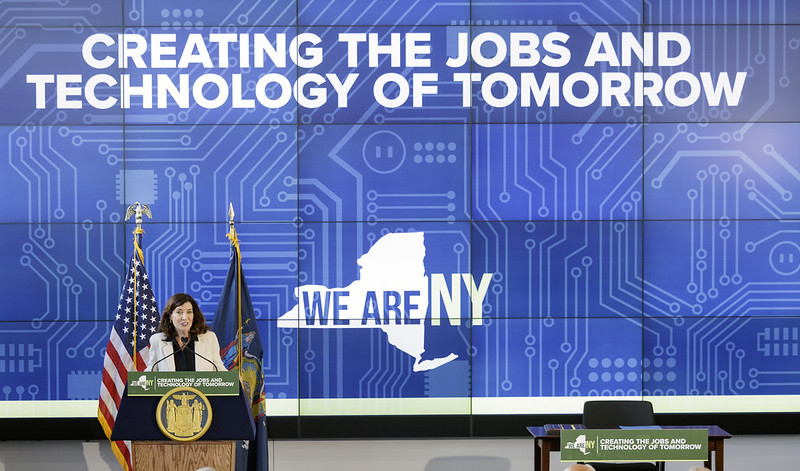 (Credit: Mike Groll/Office of Governor Kathy Hochul)
---
Sixty-thousand electric vehicle (EV) chargers on New York's highways. Dozens of large-scale solar and battery storage plants, many of them in the state's most disadvantaged counties. The largest planned deployment of offshore wind projects in the United States. Thousands of new good-paying green-energy jobs, with skills training programs to ensure they can be filled. 
New York's already robust clean energy economy has been soaring in recent months, especially when it comes to renewable energy and electrifying the transportation sector. Now, all that investment is slated to accelerate even further as the federal Inflation Reduction Act (IRA) – the most significant legislation in U.S. history to tackle the climate crisis and strengthen American energy security – takes hold, advancing economic development and industrial strategy on both the national and local stages. 
Our Kingston, New York-based firm, Miller/Howard Investments, has been integrating environmental, social, and governance (ESG) research into our investment portfolios since the early 1990s. For decades, as global temperatures warmed and extreme weather events worsened, we — along with many other companies and investors — have been calling for strong federal action to accelerate the transition to a clean energy economy, both to limit the business risks of the climate crisis and to capitalize on the immense economic opportunities in fighting it. 
Featuring substantial and long-lasting financial incentives for companies and consumers, along with unprecedented investment in key environmental justice initiatives for rural and disadvantaged communities, the legislation is expected to achieve a 40% reduction in U.S. climate pollution by 2030 — enough to keep us in striking distance of our national goals to prevent the worst impacts of this crisis.  
Working in tandem with New York's ambitious 2019 climate law, as well as the federal CHIPS and Science Act that passed last summer and the bipartisan Infrastructure Investment and Jobs Act approved by Congress in 2021, the Inflation Reduction Act will direct billions of dollars in new investments into developing advanced manufacturing capabilities, building domestic supply chains, and guiding infrastructure build-outs that promise to uplift every corner of the state. 
The Inflation Reducation Act has something for everybody: It will give utilities more reason to shift toward clean power generation, companies and consumers more options to stabilize and lower their energy costs, and workers more opportunities to find and fill good-paying jobs. And it will give entrepreneurs across the economy incentives to help build the innovative industries we need to solve our climate and energy challenges. 
All of this will keep the investment flowing. 
Of particular relevance to New York is the Act's substantial incentives for renewable energy production, including tax credits covering 30% of the costs for community solar systems with additional bonus credits of 20% for affordable housing properties and 10% for low-income communities. It also includes long-term tax credits for offshore wind development, including $30 billion in manufacturing tax credits to produce critical offshore wind components. 
Companies with a presence in New York are clearly paying attention to this massive opportunity. Eversource and Ørsted broke ground in 2022 on the South Fork Wind project, scheduled to be operational this year. A handful of other companies have received state financial backing to build a $350 million wind tower manufacturing facility at the Port of Albany. The federal investments will supercharge the ambitious local climate action that has already bolstered our state's clean energy industry. 
Many New York communities are participating in the clean energy surge, and we are happy to report that Ulster County, where Miller/Howard is headquartered, is right there with them. Our county's climate and clean energy plan has many green initiatives, some already in effect, including a two-megawatt community solar field in Saugerties, the purchase of three electric buses by Ulster County Area Transit, and the creation of a Green Careers Academy — an eight-week training program in partnership with SUNY Ulster. 
Elsewhere in the state, Governor Kathy Hochul announced awards for 22 large-scale solar and energy storage projects that will deliver clean, affordable power to more than 620,000 homes in all parts of the state, spur over $2.7 billion in private investment, and create more than 3,000 short- and long-term jobs.
Three months later, state officials announced a new competitive solicitation for another 2,000 megawatts or more of large-scale renewable energy. New York has also seized a leadership role in the transition to electric and other electric vehicles with forward-looking policies to guide the shift on the roads. 
Such initiatives not only invest in communities across the state, but also promise to reduce and stabilize energy costs for New York households and businesses. And thanks to the Inflation Reduction Act, even more investment is expected to follow. As these state and federal policies take stronger hold, the state's clean energy economy — and the more than 150,000 jobs that power it — is surely on the rise. That's great news for New York's economic prosperity and for protecting the future of our planet. 
***
Luan Jenifer is President & CEO of Miller/Howard Investments.
***
Have an op-ed idea or submission for Gotham Gazette? Email This email address is being protected from spambots. You need JavaScript enabled to view it.