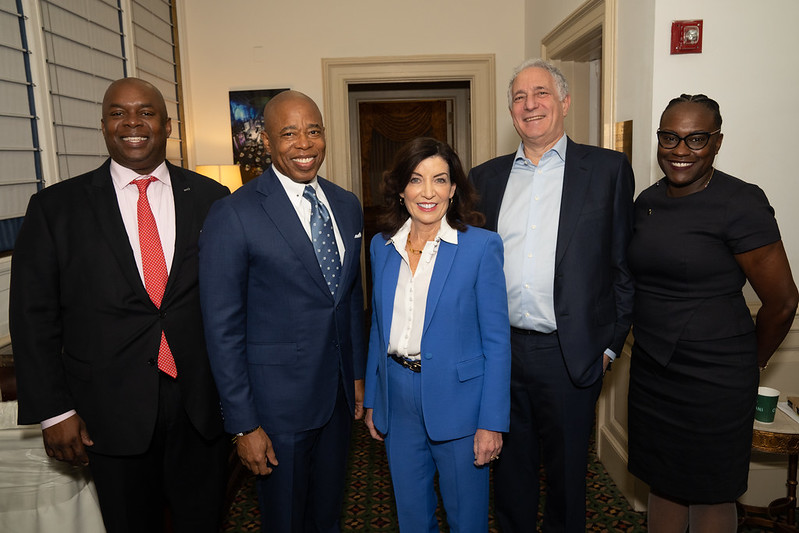 The co-authors: Richard Buery, left, & Dan Doctoroff, second from right (photo: Governor's Office)
---
In 2022, we co-chaired an extraordinary group of New Yorkers tasked by Governor Hochul and Mayor Adams to rethink the city's commercial districts. When the plan was announced in December, the once-in-a-generation alignment between our political leaders was on full display as they affirmed 40 specific initiatives in an action plan and policy agenda called Making New York Work for Everyone that rises to meet this moment of evolution of our city.
This plan both recognizes the importance of our business districts as the fiscal foundation of our entire downstate region and also acknowledges that solutions must address a wider range of interconnected challenges affecting all New Yorkers. 
And while some plans just sit on a shelf, this one is not. The goals, strategies, and initiatives may be bold, but already we are seeing the Governor and the Mayor make down-payments on the plan in their policy agendas for 2023, in financial commitments to initial projects, and in subsequent announcements of these initiatives.
Here are a few we are most excited about:
Reimagining New York's Business Districts as 24/7 Destinations
The 'New' New York panel recommended repurposing vacant office space in our business districts and fill them with a variety of uses that drive foot traffic and vibrancy in our core. In January, Mayor Adams released the Office Adaptive Reuse Task Force's 11 detailed recommendations for regulatory and legislative changes to facilitate the conversion of underused office space into new housing for New Yorkers. Governor Hochul made a down-payment on these necessary changes by proposing in her 2023 State of the State policy agenda and Executive Budget changes to make more buildings eligible to convert from commercial to residential as well as a new property tax exemption in New York City that would incentivize putting affordable housing in those converted buildings.
And as a first step towards creating a network of world class public space in Midtown, in December Mayor Adams announced a major new visioning process to reimagine 5th Avenue from Bryant Park to Central Park to prioritize pedestrians, cyclists, transit, and public realm. Furthermore, in Mayor Adams' State of the City, he outlined an over $375 million investment toward permanent public spaces citywide—new plazas, widened sidewalks, and inviting landscaping in core business districts plus a new permanent Open Street in all five boroughs. And to spearhead this investment, City Hall recently announced the appointment of a new Chief Public Realm Officer, a key recommendation from the 'New' New York plan. 
Making It Easier for New Yorkers to Get to Work
In her State of the State address, Governor Hochul prioritized transportation, furthering through her 2023 agenda key initiatives from the 'New' New York plan—securing the MTA's future, making the MTA's "City Ticket" available 24/7, continuing progress towards implementing congestion pricing, and improving bus reliability. 
Generating Inclusive, Future-Focused Growth
Building on the strategies from 'New' New York plan, Governor Hochul has made tackling the housing crisis a key pillar of her policy agenda this year, and her State of the State and Executive Budget highlight key regulatory and legislative changes that are needed to reduce barriers to housing growth in New York City and statewide. They include transit-oriented development so more people can live in walkable, mixed-use communities with good access to jobs; making it easier to move through the process to get approvals for housing developments that align with these goals; allowing New York City to locally determine appropriate maximum residential densities; and updated tax exemptions for preserving affordable housing; among others.
Mayor Adams echoed these themes in his State of the City, with housing a key pillar of his agenda. He has called out the need to address New York City's housing shortage in no uncertain terms. In addition to reaffirming his commitment to creating a "City of Yes," the Mayor announced new planning and engagement efforts for needed housing to Midtown Manhattan and the North Shore of Staten Island. The Mayor also recently announced the launch of the Small Business Opportunity Fund to support a more inclusive and diverse economy.
We need to grow, but we need to do it in a way that allows all New Yorkers to participate in and benefit from that growth. In her State of the State and Executive Budget, Governor Hochul announced key initiatives to reduce barriers to labor force participation—making childcare more affordable and accessible; expanding the Medicaid Buy-in Program for New Yorkers with Disabilities; and streamlining the Minority and Women Business Enterprise (MWBE) certification process by pursuing reciprocity with New York City's own certification system.
We are encouraged to see these immediate actions by the Governor and the Mayor to advance initiatives out of Making New York Work for Everyone – but we need to make sure we are following through with the upcoming state and city budgets. And we need to ensure that we are advancing strategies for truly inclusive and equitable growth — for example by investing in state and city programs to stabilize housing for vulnerable New Yorkers and ensuring that all New Yorkers can earn a living wage, especially in the face of sustained inflation. This is a multi-year plan, and these early items create the momentum and excitement we need to jump start implementation. 
In all our years in government, we have never seen stronger alignment between the Mayor and Governor—an alignment of policy agendas that can help catalyze meaningful change to truly make New York work for everyone.
***
Richard Buery and Dan Doctoroff were co-chairs of the 'New' New York panel formed by Governor Hochul and Mayor Adams. On Twitter @RichardBuery & @DanDoctoroff.
***
Have an op-ed idea or submission for Gotham Gazette? Email This email address is being protected from spambots. You need JavaScript enabled to view it.