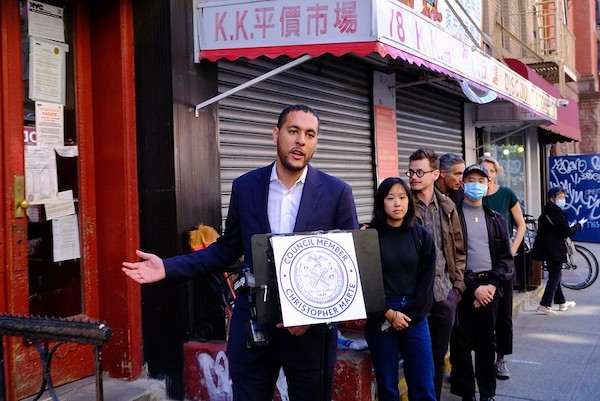 City Council Member Christoper Marte (photo: Gerardo Romo/NYC Council)
---
[Update: Less than 48 hours after the publication of this op-ed, Council Member Marte announced he had accepted Steven Wong's resignation]
It has been a month since a top aide to City Council Member Christopher Marte unleashed a vicious, misogynistic, profanity-laced verbal assault on one of the city's most prominent and respected Chinese-language reporters for the "crime" of covering the Democratic City Council primary in a way he did not like. 
And the Marte aide, Steven Wong, made these comments in multiple voicemails he left for the reporter, who transcribed the recordings, and turned it over to the City Council Speaker's office for investigation.
Despite all that time, and especially since the comments were recorded, there has been no action taken by the Council leadership or Council Member Marte. In fact, Marte said this week the comments were "not unforgiveable" as he said he would keep Wong on his staff and on the public payroll. Why?
Marte, whom I am challenging in June's Democratic primary, first said he could not remove Wong from his office payroll without a full investigation. But staffers in the City Council general counsel's office, and even the head of the union representing Council staffers, said that is not correct.
Wong is an at-will employee. Marte could have, and should have, fired Wong. He knows it. I know it. And voters now know it as well judging from the comments I get from constituents as I campaign across Chinatown and Lower Manhattan's Council District 1.
"This language would not have been tolerated in any kind of private employment environment, and it should not be tolerated on taxpayer-paid salaries," one constituent, Community Board 3 member Karlin Chan, told Marte at a meeting. "If he worked for a private company, he would have been terminated already."
The language Wong used is breathtaking, especially as we continue to commemorate Women's History Month. In his taped voicemails, he called the reporter a "c—t," and made a crude sexual comment about her mother, as well as comparable remarks about me.
The story that prompted Wong's outburst, as recounted in The Daily News, was Marte's feeble attempts to have it both ways when it comes to his position on the so-called defund the police movement, which is very unpopular among Lower Manhattan voters, especially those in Chinatown, who have been wrestling with increased crime rates, including an appalling rise in hate crimes targeting Chinese residents and AAPI residents more broadly.
Marte on one hand claims he does not support defunding the police, but signed on to the Progressive Caucus' pledge to "reduce the size and scope of the NYPD." Almost half of the members of the Progressive Caucus refused to sign that pledge and left the caucus, but Marte stayed.
It was a story on that attempt to straddle such a critically important issue that ran in Sing Tao Daily, one of the Chinese communities' most respected newspapers, that led to the grotesque sexist attack by Wong on reporter Lotus Chau. There were multiple voicemail messages; Wong knew what he was doing.
One of the great strengths of New York City is that, even as the traditional mainstream media has withered in the face of technological advances and corporate takeovers, independent media – in English as well as the variety of languages immigrants speak in their homes and on the streets – have become more and more important in hearing the voices of all residents, no matter where they come from. There is a vigorous Chinese language media, with competing papers that serve the community, as there are newspapers in Spanish, Yiddish, Russian, Creole, and other languages heard throughout New York City.
Wong's attack on this reporter is in many ways a threat to the independence of the alternative media where so many New Yorkers learn about civic affairs. The threatening tone and the abusive language can only be seen as an attempt to suppress and intimidate the independence of those outlets. Knowing the targeted reporter, I am sure she will not be intimidated.
As a woman, as an immigrant, as a Chinese-American and a member of the broader AAPI community, I am running to stand up to bigotry and misogyny wherever it rears its ugly head. 
I know that 'politics ain't beanbag,' as the saying goes. It can be rough and tumble, but there have to be limits to acceptable behavior. Steven Wong's crude, sexist, bigoted, threatening comments are not a close call. Christopher Marte should step up and do the right thing and dismiss Wong from the public payroll. If he cannot see his way clear to do that, maybe he should just step aside himself.
[Update: Less than 48 hours after the publication of this op-ed, Council Member Marte announced he had accepted Steven Wong's resignation]
***
Susan Lee is a candidate for City Council in Lower Manhattan's District 1 in the June Democratic primary. On Twitter @susanleenyc.
***
Have an op-ed idea or submission for Gotham Gazette? Email This email address is being protected from spambots. You need JavaScript enabled to view it.