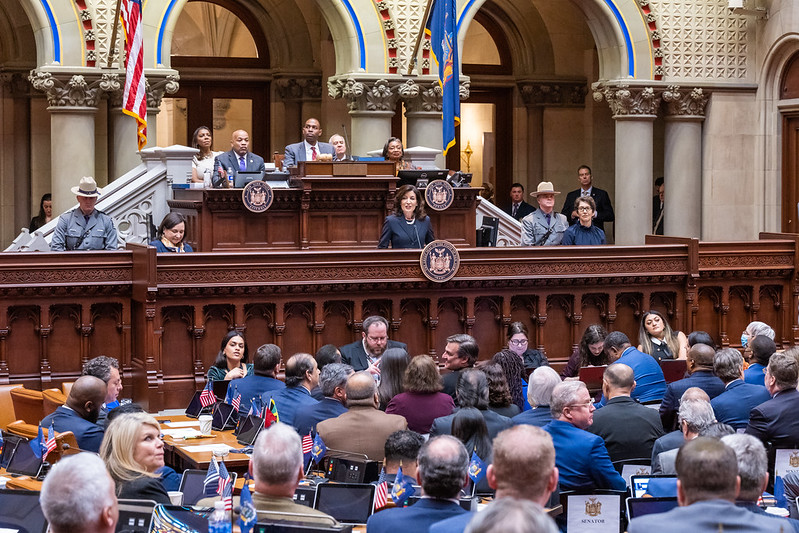 Gov. Hochul addresses the state (photo: Darren McGee/Governor's Office)
---
Policymakers in Albany sent a clear message to their constituents last week: we are not serious about solving the housing shortage that is driving rents up, causing extreme housing insecurity, and keeping our communities segregated. The housing growth strategy outlined in both the Senate and Assembly one-house budget resolutions is a weak, incentive-driven approach that replicates housing policies that have been tried and failed. Localities that want to remain exclusionary and not add housing can still opt out. It's all carrots and no sticks. There is not even a data collection requirement.
This isn't a plan. It's cowardly cover for inaction in a state with a severe housing crisis.
The Legislature's budget response serves as an ill-timed repudiation of the well-researched, well-informed Housing Compact plan put forth by Governor Kathy Hochul to end New York's crisis – a serious and realistic plan with policies that work – and could signal a major missed opportunity for the Empire State. 
The good news is that there is still time to negotiate and come to an agreement that meets the moment, or at least meets in the middle. The reason I am still optimistic is that every single legislator that I've met – Republicans and Democrats from rural, suburban, and urban districts – all agree that we have a desperate housing crisis and that something needs to be done. While I am concerned that the excuses that I hear each time I meet with legislators on the Housing Compact might win the day, there are a handful of points for negotiation that have come out of these many meetings that are worth exploring.
Often, legislators start with the lack of infrastructure and planning capabilities in the communities they represent, claiming an inability to support housing at the necessary scale due to pressure on traffic, schools, and sewers. While the Housing Compact has funding for infrastructure improvements ($250 million) and planning ($20 million) capability, I would agree that these sums are inadequate to support a growth strategy to add more zoning capacity for housing across the state over the next decade.
This is the first place for negotiations: doubling incentives, as proposed by the Legislature with the $500 million infrastructure fund in each house's budget resolution..
Critics also claim that the Housing Compact does not adequately prioritize affordability and will only produce luxury housing. To be clear, though, it is not an affordable housing plan – that was accomplished last year – but rather a much-needed housing supply plan.
But it does prioritize affordable housing by counting it at two times market-rate production for a community to reach growth targets. It also incentivizes affordable housing production with a tax abatement outside of New York City. And by adding density in communities dominated by single-family zoning, New Yorkers will have many more housing options than they do now – at lower price points than they otherwise would. The New York Housing Conference recently analyzed Zillow data to show that condos/co-ops are up to 40% less expensive than single-family homes in the New York City suburbs.
Affordability can be another point for compromise, whether it is in how growth is measured, where growth is encouraged, or incentives for creating new affordable homes. Both the Senate and the Assembly budget plans offer ideas on this. 
Others allege that the density requirements in the governor's transit-oriented development (TOD) proposal are a threat to areas dominated by single-family housing. While there are plenty of examples of developments that already exceed the proposed density levels right now, alternative minimum density requirements as proposed by the Senate should be considered too. Ultimately, striking a TOD deal will benefit the MTA, make New York greener, and create more multifamily housing – all while desegregating many downstate communities.
Some claim there is nowhere to build, but this is not true. As a region, data shows New York suburbs lag far behind other states – Long Island added just 7 new housing units per 1,000 residents from 2012-2022 and the Lower Hudson Valley added just 13 units per 1,000 residents. The New Jersey suburbs, by contrast, added 35 units per 1,000 residents; Virginia's suburbs added 39 units. It can be done.
There are a plethora of empty parking lots and innovative adaptive reuses of shopping malls, factories, and apartments that all represent opportunities. But for communities that did recently build new housing, they should have a longer look-back period to credit them for efforts and not be penalized with a higher growth goal. This is an easy fix.
On the issue of local control and the desire to maintain planning power, I would argue that the state does not want to control zoning but rather achieve local participation. Communities still decide where to put more housing, what it should look like, how it will best fit in with public spaces, and existing housing, and meet economic development goals.
However, if communities choose to take no action, then under the governor's plan the new State appeals board may approve a development that was previously denied. That's not an ideal outcome, but it reflects the nature of our housing crisis: we're at a point where such action is the only way to ensure every community does its part. Without this "stick," there is no plan – and it is where Governor Hochul needs to draw the line.
Still, there are plenty of ways to soften this approach. Negotiators could consider a longer compliance ramp, designation of additional exclusions from growth targets, or easing requirements around preferred actions.
Our world is changing, and updating outdated zoning offers an opportunity for the built environment to be responsive to how we want to work, shop, and live today. And it gets to the core of the affordability crisis: a supply shortage. Governor Hochul has put forth a real plan to solve that real problem with real solutions that work in the real world. Now, all that's left is coming together on a version the Legislature can agree to. 
And what will happen if they reach an agreement? We will create a more affordable, sustainable, and prosperous New York for ourselves and our children. Is there really any excuse to prevent that future? 
***
Rachel Fee is Executive Director of the New York Housing Conference. On Twitter @RachelFee4NY & @TheNYHC.
***
Have an op-ed idea or submission for Gotham Gazette? Email This email address is being protected from spambots. You need JavaScript enabled to view it.