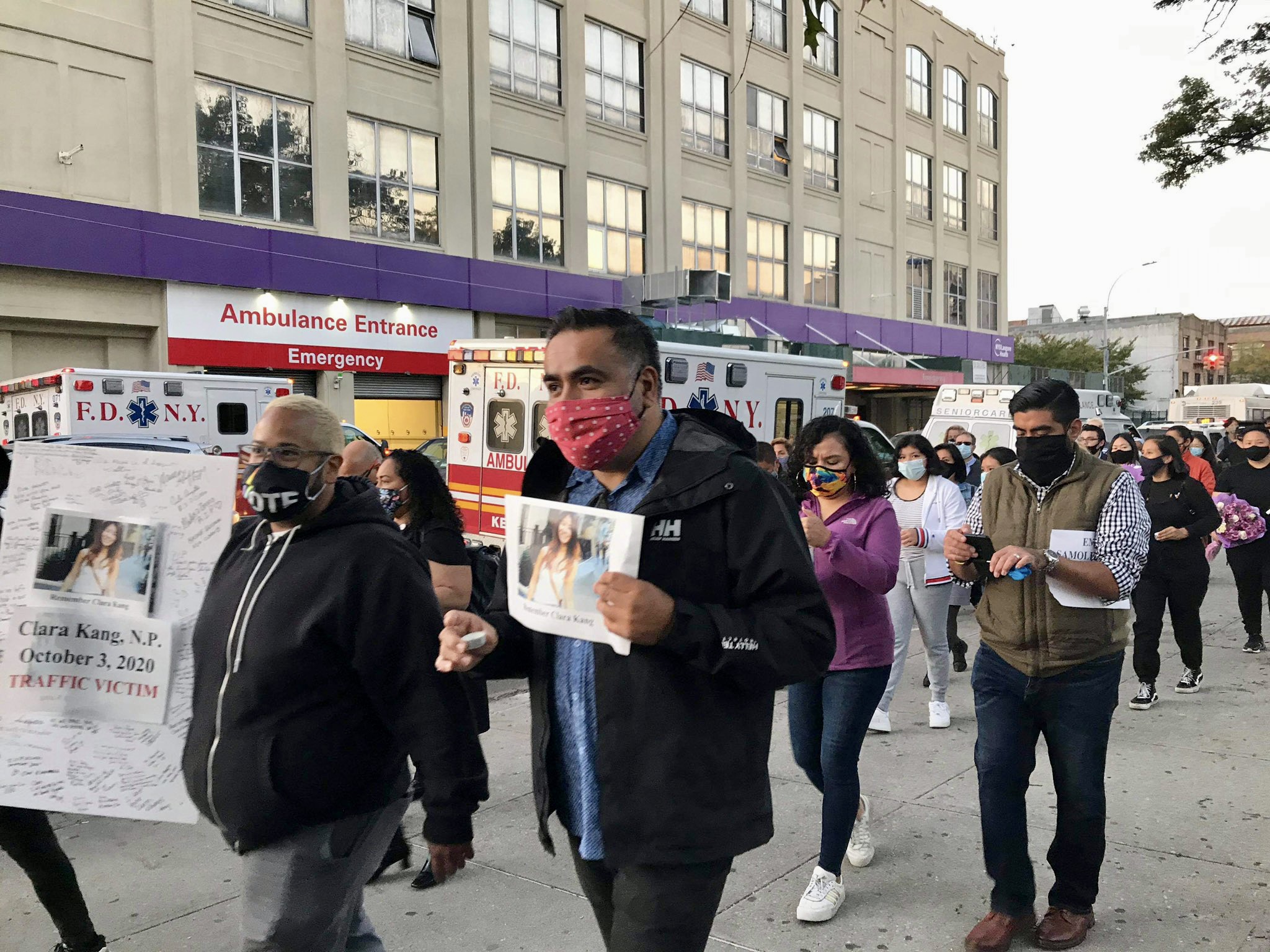 At the 2020 vigil for Clara Kang
---
Three years ago, my Brooklyn neighbors and I stood in Martin Luther Playground and held a vigil for Clara Kang. She was a nurse at NYU Langone Brooklyn (still called Lutheran Medical Center by locals). While we were at home during covid lockdown, Clara was literally saving lives. She was killed on 56th Street while bicycling home from a shift at the hospital.
Official after official stood in that park and told us not one more death on Third Avenue - but sadly, even after more crashes, accidents, and fatalities, little has moved the needle in fixing the corridor stretching from Prospect Ave to 65th St, leaving community members outraged and calling for change. Over the years, Third Avenue has seen an alarming number of crashes involving pedestrians and cyclists. In the last 10 years alone, there have been over 1,600 reported crashes along Third Avenue and more than 13 fatalities (see NYC Crash Mapper).
No more.
The New York City Department of Transportation (DOT) has finally heard these concerns and has begun a safety study for Third Avenue - beginning with two workshops, which are aimed at hearing about and addressing the safety issues along the corridor. The first was held on April 18 and the second and final workshop will be held on Thursday, April 27 at PS 503/506 (old school Sunset Parkers still call it PS 314). It is crucial that Sunset Park residents attend this workshop to ensure their voices are heard and that DOT understands the community's concerns.
The importance of community participation in this process cannot be overstated. The workshop organized by DOT presents a unique opportunity for the community to come together and work towards a shared solution. The workshop aims to gather input from community members on their experiences with Third Avenue and their ideas for improving safety. This feedback will be used to develop a plan for redesigning Third Avenue to make it safer for everyone who navigates the corridor — students, families, small businesses, and others. 
By participating, community members can provide valuable insights into how Third Avenue can be redesigned to be safer for pedestrians, bike-riders, and drivers alike. They can share their experiences of navigating the corridor, highlight problem areas, and suggest potential solutions. In addition, community participation will demonstrate to DOT the level of urgency felt by the residents of Sunset Park. It will show that we are invested in making our community a safer place for everyone, and that we are willing to work collaboratively to achieve this goal.
The final Third Avenue Workshop organized by DOT presents a unique opportunity for the Sunset Park community to come together and work towards a safer corridor. It is imperative that community members attend this workshop and provide input and feedback to ensure that the solutions developed are in line with community needs and concerns. By doing so, we can demonstrate our commitment to making our community a safer place for everyone, and help pave the way for a safer future on Third Avenue.
***
Julio Peña III is Chair of Brooklyn Community Board 7 and has been a member of the board since 2016. The final DOT workshop on Third Avenue is Thursday, April 27 at 6:30pm at PS 503/506, 330 59th Street — learn more about the workshops and provide feedback here. On Twitter @Julio_PenaBK.
***
Have an op-ed idea or submission for Gotham Gazette? Email This email address is being protected from spambots. You need JavaScript enabled to view it.