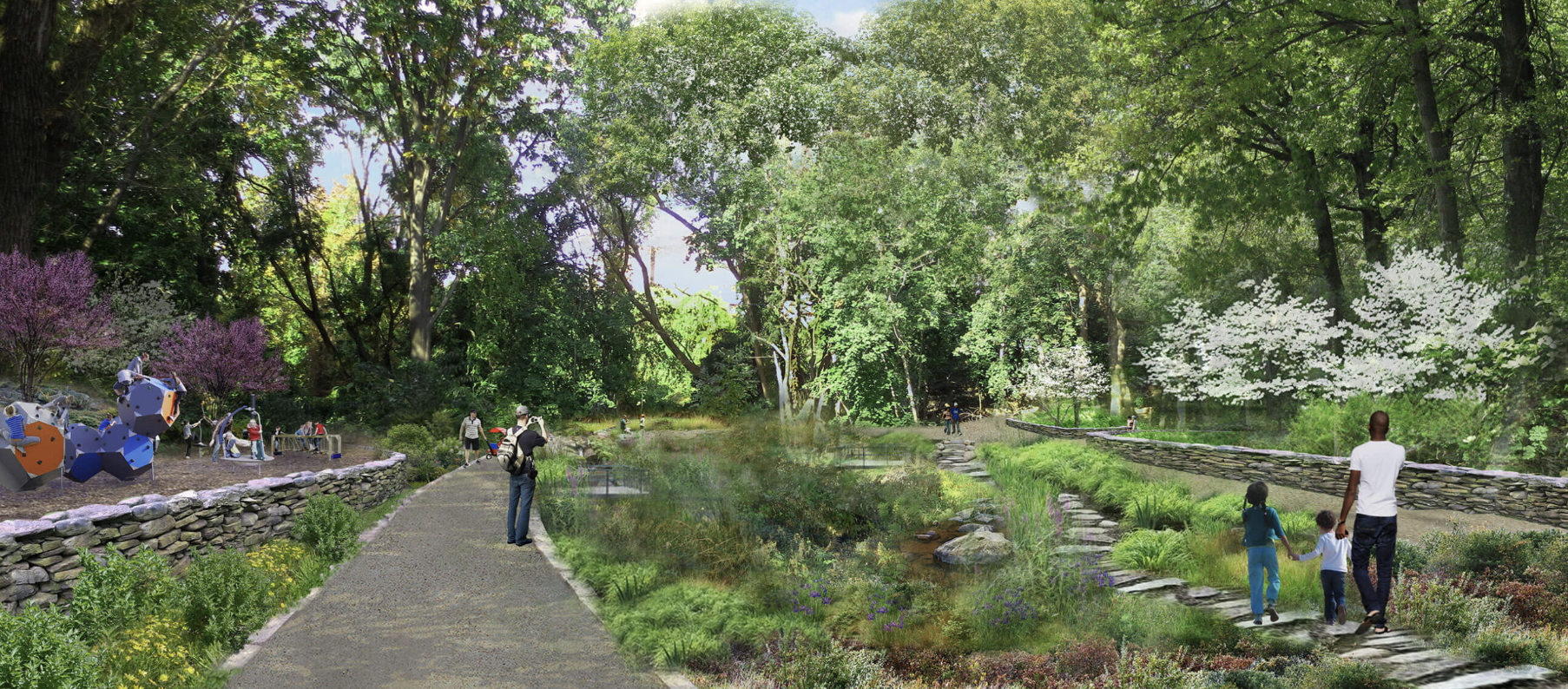 Queensway rendering (Trust for Public Land)
---
As Co-Principals of the Metropolitan Expeditionary Learning School (MELS) in Forest Hills, Queens, we place learning through outdoor experiences at the heart of our curriculum. We send our students out across the city and beyond, bringing in experts to give science, history, and other subjects real-life relevance.
Frustratingly, there's a huge, unused outdoor classroom sitting right in our backyard. Bureaucratic indecision has stymied progress on turning the QueensWay, a railway line abandoned 60 years ago, into a thriving park.
It has now been a dozen years since we, ourselves, first got involved in intensive community discussions about it. We engaged a now-adult generation of former MELS students in shaping the future of the project together with many members of the local community.
Mayor Eric Adams did recently announce $35 million for the first phase of QueensWay. It's for a section that adjoins our property and comes right up to the back of our school.
In the years since that past generation of our students first got involved in conversations about the future of the project, they've grown up, gone to college, and are now living productive adult lives. We, meanwhile, may have a few more gray hairs, but we haven't given up hope on the tremendous potential of the QueensWay as an essential part of our students' learning experience. We're glad the next generation of our students will get to benefit from the project while they're still at school with us. It can't happen soon enough.
The new entrance will give our students quick, safe access to the Forest Park area without having to walk across Union Turnpike, which is busy, has a small sidewalk, and is not conducive for large groups of students to safely walk. It will also give safe access to our school for many of our students who come from adjoining neighborhoods and currently have to cross other busy, wide, and dangerous roads like Woodhaven Boulevard and Metropolitan Avenue. The QueensWay is a safer option and connects neighborhoods and subway stops.  
The outdoor classroom portion of the QueensWay will provide a unique opportunity for students to learn about the environment, sustainability, and urban design. We believe the project has the potential to inspire the next generation of environmental leaders, as well as landscape architects, scientists, gardeners, and so many other career pathways.
Our students will be able to explore the QueensWay and its unique mature forest of 60-year-old trees to learn about the plants and wildlife that call New York City home. They will also be able to learn about the history of the space and the communities that have used it in the past, as well as its current benefits of providing shade during hot summers and absorbing stormwater.
The QueensWay also offers a unique opportunity for our students to learn about the impact of human activity on the environment. By studying the QueensWay, our students will be able to see firsthand the effects of pollution, climate change, and other environmental challenges. It will help them understand the importance of sustainability and the need to take action to protect our planet.
The QueensWay will provide a space for our students to engage in experiential learning. They will be able to participate in service projects, such as planting trees, cleaning up litter, and improving the habitat for wildlife, ideally designing and caring for natural spaces that are directly connected to our school campus and to apply their learning in an authentic real-world format. These projects will help our students to develop a sense of responsibility for the environment and a commitment to making positive change in their community.
Finally, the QueensWay project offers an opportunity for our students to connect with the wider community. The QueensWay will be a public space that is open to all, and our students will be able to interact with people from different backgrounds and communities. This will help to foster a sense of community and understanding among our students, and it will help to build bridges between different communities in Queens. Let's get it done.
***
Hillary Mills and Damon McCord are Co-Principals at the Metropolitan Expeditionary Learning School (MELS) in Queens.
***
Have an op-ed idea or submission for Gotham Gazette? Email This email address is being protected from spambots. You need JavaScript enabled to view it.