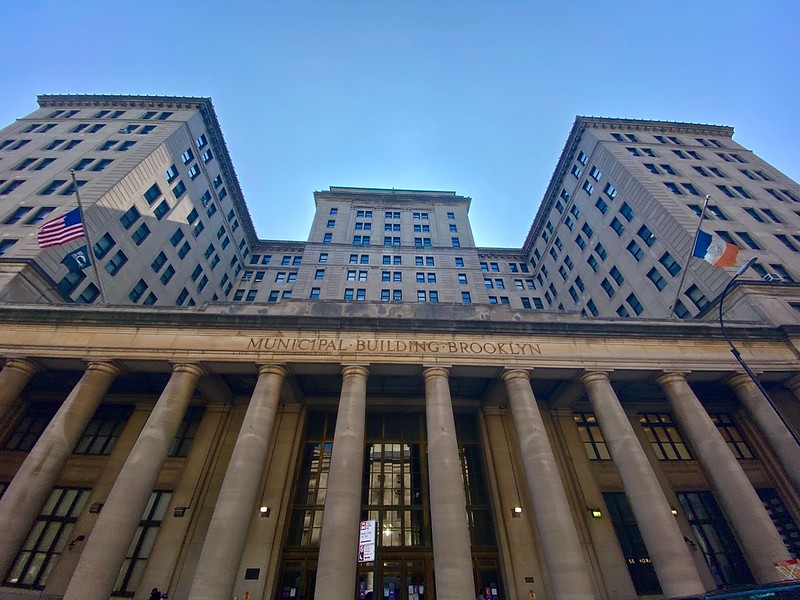 Municipal Building Brooklyn (photo: Michael Appleton/Mayoral Photography Office)
---
New York's broken civil justice system is holding back progress.
Civil justice reform is often unfairly maligned. In reality, most common-sense legal reform initiatives align with progressive goals and values that benefit all New Yorkers. 
Civil justice reform targets the financial incentives that often drive excess lawsuits. A relative handful of people currently abuse the civil justice system for economic gain. Lawyers rake in millions from the injured and most vulnerable members of our society. Personal injury firms advertise heavily on daytime TV, near construction sites, and even target emergency rooms with digital ads. According to a study published by the RAND Corporation, personal injury claims are disproportionately filed by residents of the poorest neighborhoods, with attorneys consistently taking 33% of every settlement.

Then there are the financiers, unregulated consumer lawsuit lending outfits and hedge funds that invest in lawsuits, turning the civil justice system into a tool for predatory lending. Interest rates on lawsuit loans have exceeded 100% interest and bankrolled some of the worst abuses of our civil justice system. In addition, these third-party lenders can drag out litigation, the judge and jury unaware that a third party is working behind the scenes. These practices incentivize speculative lawsuits that clog up the courts for those who really need them. Progressives seek to protect the vulnerable. Regulating predatory lawsuit lending would be a good place to start.
Due to our liability system, New York is the most expensive place to build on the planet. The state's unique Scaffold Law, dating back to the 19th century, holds property owners and contractors 100% liable for any injuries sustained on job sites, even when they were not primarily at fault. With money and resources tied up in liability, investments aren't made in progressive goals like repairing and updating schools, building affordable housing, or expanding wind, solar, and other renewable energy sources.
Any person or business causing harm to others should be held accountable, but due to our permissive laws, profit-seeking lawyers often target innocent people. If someone trespasses on private property, breaks the law, and injures themselves, the property owner will likely get slapped with a lawsuit. There must be changes made to the law prohibiting trespassers from suing for injuries sustained while trespassing, but we should also ensure that these reforms – which would reduce expensive lawsuits that increase homeowners' insurance and costs to municipalities – also protect children. This includes children who may have found the neighbor's unsecured swimming pool appealing and children hurt due to homeowners' negligence. 
A truly progressive state must have affordable and equitable health care in all communities. In New York, the threat of baseless medical liability lawsuits has driven doctors out of our state and contributed to the nursing shortage crisis. Fewer doctors threaten access to care for our most vulnerable communities. Doctors worry that just practicing in places like the Bronx can "destroy their careers."
Even when medical care is accessible, it is wildly expensive, due in large part to liability costs. New York has the country's highest medical liability payout costs, both overall and per capita. And some legislative proposals could make the situation worse. This is both expensive for patients and makes it difficult for New York to attract the best doctors.
The core of our civil justice system is to protect individuals and ensure the scales of justice remain balanced. Common sense legal reforms will prevent unnecessary lawsuits, reduce medical costs, improve access to the courts and medical care, and help us build more affordable housing and realize the state's renewable energy goals. The current system is weighted towards wealthy and politically connected lawyers. It needs to work for the rest of us.
***
Ruvi Lopez is grassroots manager at the Lawsuit Reform Alliance of New York. On Twitter @LawsuitReformNY.
***
Have an op-ed idea or submission for Gotham Gazette? Email This email address is being protected from spambots. You need JavaScript enabled to view it.