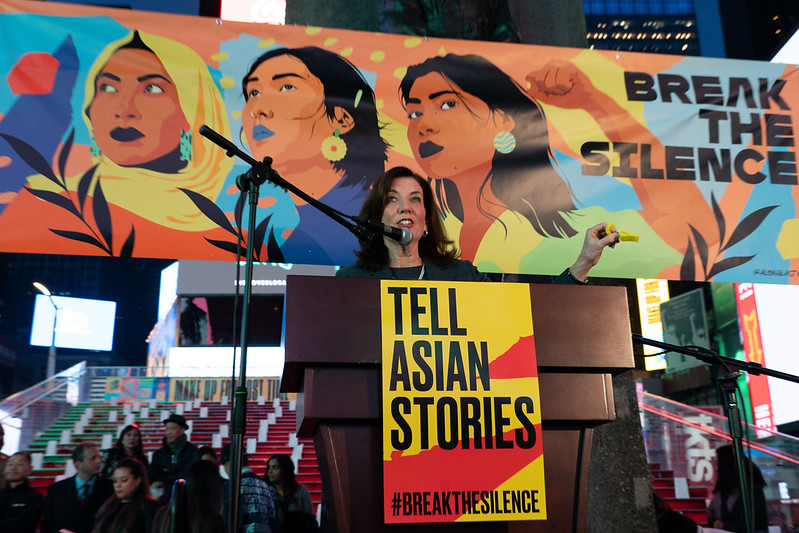 "Tell Asian Stories" (photo: Don Pollard/Governor's Office)
---
As Asian American and Pacific Islander (AAPI) women, May is a month of celebration. It is also a time to highlight Mental Health Awareness and commemorate Mother's Day. But while many of us are celebrating, some are coping with a gaping void left by those who died by suicide in the past year.
Though updated suicide statistics for 2022 are not yet available, we've seen the stories reported by community media outlets of individuals in our community who are no longer with us. It's all heartbreaking.
Take Flushing, Queens, where Asians make up more than 70% of the population. At least four high-profile Asian women have died by suicide in the neighborhood since last May. What's even more tragic is that family members or friends of most of them told the media that these individuals had shown some signs of distress before they were swallowed up by despair. As we know, these tragedies are often preventable if they had received proper care. But finding those necessary resources is not always easy for Asian American and immigrant women.  
Statistics and studies, although far from extensive, have shed light on AAPI women's critical needs for mental health services through the years. For example, data from the U.S. Department of Health and Human Services' Office of Minority Health shows that suicide was the leading cause of death for Asian Americans aged 15-24 in 2017-2018, and Asian American girls, in grades 9-12, were 20% more likely to attempt suicide compared to their white peers. 
An annual survey released by MetroPlusHealth this month sounds another alarm. The latest data from the city-owned affordable health insurance entity finds that Asian women face greater mental health risk than many others. Despite recent attention on anti-Asian violence, 41% of respondents had been called a racial slur in the past year. This prejudice was not only from strangers. For example, 48% of participants said they have encountered racial discrimination in the workplace, almost double the average for women citywide. 
With the backdrop of these devastating statistics, there is a positive note – Asian women have gained a greater awareness of mental health issues. The vast majority of respondents, 77%, said they would encourage their family members and friends to seek professional mental health services, 10 percentage points higher than last year. While 84% agreed that talking to a mental health professional would positively impact their life, 16 percentage points higher than the previous year. 
However, whether higher risks and greater awareness can transfer to obtaining help successfully is another story. The survey finds only 45% of Asian women said they know a community-based organization providing mental health services in their preferred language. The importance of linguistic and cultural competency in mental health services for immigrants and immigrant communities cannot be emphasized enough. How do you explain your sadness or trauma in your native language? How do you express and accept affection when it is not a cultural practice?  
The solutions are coming from community groups and healthcare providers who lower the difficulty of seeking help. To close the language gap, the Asian American Federation created a mental health directory serving nearly 18,000 people with a list of in-language professionals in various neighborhoods throughout New York City to ensure every Asian New Yorker who needs mental health care is able to receive it in the language they are most comfortable speaking.  
While providing access to professionals is a priority, we must also work towards more transparent conversations at home. In traditional Asian families, regular usage of the word "love" is unusual, and the term "mental health" simply doesn't exist in many Asian languages and dialects — and when it does, the counterpart often carries significant stigma. This is where representation can make an impact. 
The AAPI community has a long road ahead of us in tackling the mental health gap.  For us, perhaps the journey can start this month with some simple steps. Hug your mom, tell her you love her and ask how she's feeling. Open the lines of communication that normalize expressions of affection and care. It is also our hope that more people in broader society will work towards language inclusivity and accessibility to make mental health resources more equitable. That way, next May and thereafter all Asian grandmothers, mothers, and daughters who should be here to celebrate will be here.
***
Luna Liu is marketing manager of MetroPlusHealth, a New York City-based nonprofit health insurance company. Jo-Ann Yoo is executive director of the Asian American Federation. On Twitter @MetroPlusHealth & @AAFederation.
***
Have an op-ed idea or submission for Gotham Gazette? Email This email address is being protected from spambots. You need JavaScript enabled to view it.