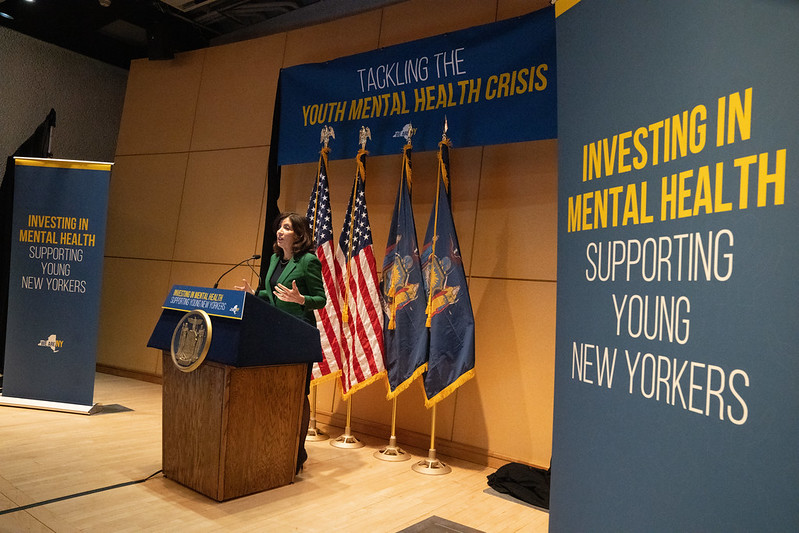 Gov. Hochul talks mental health care (photo: Don Pollard/Governor's Office)
---
The often competing interests of public safety and compassion toward individuals experiencing homelessness again collided violently in New York City. Jordan Neely, 30, a Black, homeless man, was fatally subdued on the subway recently by a young white former Marine named Daniel Penny. 
Some consider Mr. Penny a hero; others refer to him as a racist vigilante who put Mr. Neely into a chokehold until death. Many reference Mr. Neely's history of arrests, erratic behavior, and reports of autism and substance use.
I see yet another example of a phenomenon called "blaming the victim."
My experience as a disability advocate assisting chronically homeless individuals in New York State leaves me wondering why the homeless services system manages to emerge relatively unscathed whenever high profile incidents like this occur.  
If a municipal authority, social services official, or nonprofit organization makes a statement about such an incident, it is usually prefaced with "He didn't" or "She wouldn't" or "They refused." We have been conditioned to believe that homeless individuals are "services resistant." Yet in my work with this challenging population, I have rarely met anyone who didn't want a clean, safe home.
It is beyond time to examine key factors that relate to our ongoing crisis.
Approximately one third of the homeless population is disabled with cognitive impairments, psychiatric disorders, traumatic brain injuries, and often related substance use disorders. Nearly every disabled individual whom I've assisted had been kicked out of shelters for "noncompliance" with extensive rules with which they could not comply. For example, a nearly blind man with a brain injury was required to sign many pages of rules without assistance or eyeglasses to stay in a shelter.
Mr. Neely reportedly experienced a psychiatric disorder, autism, and a substance use disorder. He was at high risk of death on the streets and was on the "Top 50" list of people outreach workers viewed as most in need of assistance. He had been brought to hospitals voluntarily and involuntarily. 
We are relying upon an antiquated shelter system. Many shelters require residents to leave during the day, while others can be so unpleasant that residents prefer to leave. This forces libraries, gas stations, transportation systems, churches, and parks to accommodate their needs, thereby exacerbating their challenges and the homeless visibility issues that concern neighbors, commuters, and tourists. 
Lacking a permanent address, homeless individuals who encounter problems with the law often don't receive notices of court dates. Then, when arrest warrants are issued, they avoid shelters and soup kitchens where warrants may be served. 
Mr. Neely reportedly had been arrested over 40 times. Numerous arrests for misdemeanor offenses may have been unavoidable, like public urination and trespassing. A warrant was issued for Mr. Neely's arrest in February; notably, he referred to being hungry, thirsty, and tired on the subway prior to his death and indicated that jail may be a place he could get his basic needs met.
Some individuals whom I've assisted were treated with astonishing cruelty by homeless services personnel unqualified to work with psychiatric and neurocognitive disorders. This is a significant reason why people exit services.
There are immediate steps that we can take to improve conditions.  
Register all disabled homeless individuals in New York State for Medicaid. This will offer access to physicians and rehabilitation specialists who can provide expert diagnoses, so we no longer need to rely upon the opinions of homeless services personnel, outreach workers, and police.
Identify those at highest risk of death; house them and all individuals on the "Top 50" list in single-room accommodations. They should receive medical and legal services coordinated by a disability advocate who accompanies each person to all appointments.  This is how I assisted all of my people into permanent housing. It works. 
Develop a strong appeals process to reduce evictions from shelter.
Provide places for people to go - daytime drop-in locations equipped with computers, WiFi, TVs, beverages, and snacks, where people can also nap safely.
Stop blaming the disabled victims of a flawed homeless services system.
Vehemently denounce violence against homeless individuals.
Help is on the way.
Ten years ago, President Obama launched The BRAIN Initiative (Brain Research through Advancing Innovative Neurotechnologies). This project is generating fascinating insights into new treatment options for brain-related disorders. Recently, President Biden launched The White House Report on Mental Health Research Priorities, a federal initiative to study mental health issues intensively. These resources can guide us as we continue to navigate the challenges that psychiatric and neurocognitive disorders present, including within the homeless population. 
In the meantime, let us utilize those evidence-based practices that we know do work to help those experiencing homelessness. Sweeps, criminalization, court orders, and policing are not solutions. New York has led the nation in continuously affirming a right to shelter. We must continue our leadership by spearheading a path toward the compassionate and humane provision of permanent, appropriate, supportive housing for all in need.
***
Dr. Mary McLaughlin, PhD, is an advocate and researcher focused on disability and homelessness.
***
Have an op-ed idea or submission for Gotham Gazette? Email This email address is being protected from spambots. You need JavaScript enabled to view it.