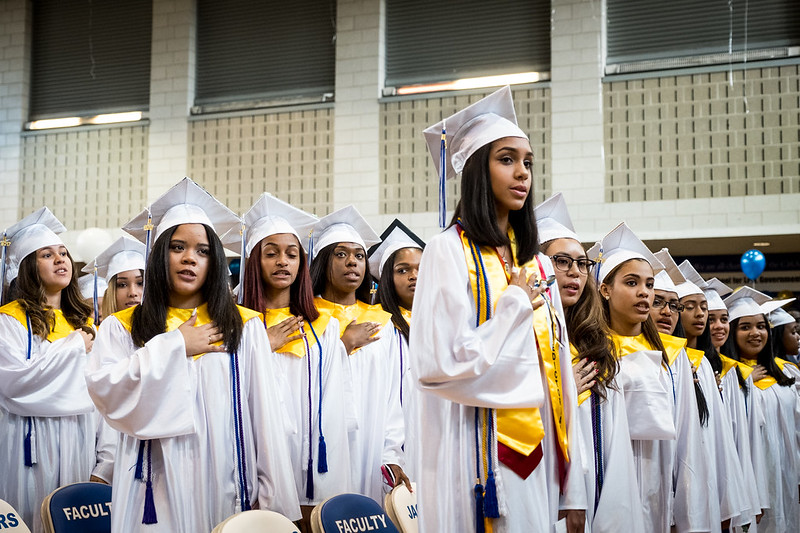 Heading to college (photo: Edwin J. Torres/Mayoral Photography Office)
---
Last year, the Supreme Court heard arguments in two cases that could fundamentally change how colleges offer admissions to historically disenfranchised students. A group called Students for Fair Admissions filed suit against Harvard University and the University of North Carolina, challenging the use of race as one measure of a prospective student's application for admission. The group argued that any consideration of race, even if non-dispositive, is unconstitutional. Most legal experts predict that the conservative majority on the Supreme Court is likely to agree. 
Ensuring that historically marginalized students can receive the same opportunities as privileged students is incredibly important. Just 27% of Black and 20% of Hispanic adults living in New York City have a bachelor's degree, compared to 45% of Asian and 64% of white residents.
While the Students for Fair Admissions cases are grabbing lots of headlines, there are actually more pernicious admissions practices that make it more difficult to ensure every student has equal access and opportunity to pursue higher education. The real culprits of fair college admissions are practices such as legacy preference and binding early-decision admissions that effectively work as a form of affirmative action for privileged students, who are allowed to take spots at selective colleges from equally (or more) qualified students of color and first-generation college applicants. 
For years colleges have given the family of alumni an advantage when they apply for admission, which they claim fosters a sense of "community and tradition" on campus, or that it helps raise money for their endowments. In truth, legacy preferences just favor wealthy, more privileged, and predominantly white families that have lived in the United States for generations and benefited from past exclusionary and discriminatory policies. 
More than 70 colleges in New York provide a legacy preference. Worse yet, more than a third of our public universities consider an alumni relation relevant in admissions. Almost none of New York's colleges publish data on how many legacies they enroll each year. The data we have, however, shows the disturbing extent to which legacy preferences undermine racial diversity at New York colleges.
Nearly a quarter of New York residents are immigrants and almost one-fifth are native-born citizens with at least one immigrant parent. This anachronistic policy of "legacy preference" shuts the door on many of these potential applicants, who may be the first in their family to go to college.
Likewise, early-decision admissions, which allow students to apply early to one school and commit to attending if accepted, is an equally, if not more exclusionary, practice. Forty-five New York colleges and universities offer an early decision option. Applying early-decision requires know-how and money, which may be why students attending private high schools are more than three times as likely than public school students to apply early decision. A student applying early is at a competitive advantage relative to other applicants because colleges and universities set aside a significant number of seats for early applicants, and those students who apply must be financially prepared to enroll if accepted without being able to consider financial aid offers.
What this means is that students without wealth and strong college counseling — students who disproportionately are Black, Hispanic, low-income, and/or first-generation — are likely to be at a disadvantage for early decision programs. You don't need any more proof than this: applicants from the wealthiest ZIP codes in the United States were twice as likely to apply early decision than all other applicants. 
Legacy preferences and early-decision admissions policies are by their very definition exclusionary practices that harm students without access to privilege and wealth. That's why we introduced the Fair College Admissions Act, which would prohibit the use of legacy preference and early-decision in all colleges in New York, public and private. Schools that continue to use these exclusionary practices would be assessed a penalty equal to 10% of their tuition revenue, which would then be used to bolster the state's Tuition Assistance Program (TAP), which provides financial assistance to students of lesser financial means. 
This idea should not be radical. In 2021, Colorado became the first state to ban legacy preferences in college admissions. And in recent years more than 100 public and private schools have voluntarily done the same, including Amherst College, California Institute of Technology, Pomona College, and Johns Hopkins University. Unsurprisingly, the sky did not fall and these institutions continue to thrive. 
Given the Supreme Court's expected decision in the Students for Fair Admissions cases, New York and the higher education institutions that call this state home can take bold action to dismantle the systems and traditions that bar underprivileged students from pursuing educational opportunity by enacting the Fair College Admissions Act and living the values of equitable inclusion that makes our diverse state so great. 
***
State Senator Andrew Gounardes and Assemblymember Latrice Walker each represents parts of Brooklyn. On Twitter @Sen_Gounardes & @TheRealLatriceW.
***
Have an op-ed idea or submission for Gotham Gazette? Email This email address is being protected from spambots. You need JavaScript enabled to view it.