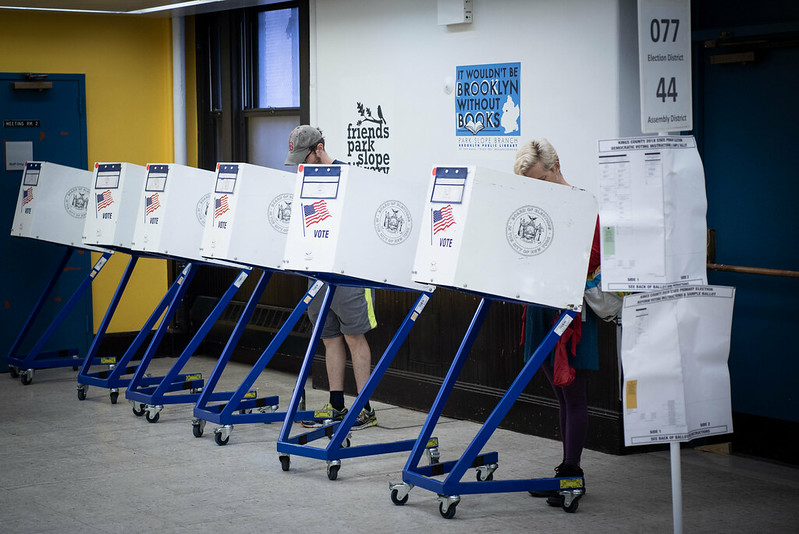 Voting is underway (photo: Michael Appleton/Mayor's Office)
---
New York is at a crossroad. Our state faces many challenges, including a resurgent virus, rising gun violence, and political turmoil. We need a Governor who is up to those challenges, who can build consensus in addressing them, who can restore ethics and integrity and honesty to our state government, and who can make us proud again.
Fortunately, there are such candidates running on both sides of the aisle. That is why Citizens Union, where I am Chair of the Board, prefers Kathy Hochul in the Democratic primary and Harry Wilson in the Republican primary for Governor.
For 125 years, Citizens Union, New York's preeminent, non-partisan "good government" group, has been endorsing state and local candidates who share its mission of promoting honesty, integrity, ethics, accessibility, transparency, and accountability in government. In 2020, because our democracy was literally at stake, we even chose for the first time in our history to endorse in a U.S. presidential race, recommending Joe Biden over Donald Trump.
And once again, this year, the stakes are high for New York, raising the importance of voters' choices.
Governor Kathy Hochul stands out in a strong Democratic field. She assumed the office under daunting circumstances, with covid raging and the state engulfed in a political scandal that forced yet another New York governor to resign in shame.
Since then, Hochul has proven to be an effective consensus-builder. One of her first promises was to "change the culture of Albany," and she indeed brought a new style of governing that was sorely needed. Her collaborative approach allowed her to build strong working relationships with the State Legislature and New York City's Mayor, a rarity in New York. And she has assembled a professional team of dedicated public servants to help her achieve her agenda.
Hochul has also taken steps to advance government ethics reforms that had no chance of moving forward in the previous administration, like restructuring the state's ethics watchdogs. She has signed legislation and committed to pursuing policies to strengthen New York's democracy, including modernizing the state's antiquated election administration system and supporting a public campaign finance program.
But there are challenges ahead, like reducing crime, fixing the problems with bail reform, preventing future gerrymandering, and protecting a woman's right to choose. And there is more to be done to be transparent and maintain the public trust. (Hochul admits, for example, she could have done a better job disclosing the plan to fund the Buffalo Bills stadium project.) She is learning on the job and proving to be a quick study. She understands the issues and seems poised to tackle them.
Hochul's Democratic challengers bring vastly different experiences to the race. Tom Suozzi, who has distinguished himself as a Congressman and Nassau County Executive, received support from some Citizens Union board members for his proven record of success as a government executive, his pragmatic approach, and his focus on public safety. Jumaane Williams, New York City's Public Advocate, has been a tireless advocate for progressive causes. But it is Hochul who has built a broad coalition and risen above the field.
Harry Wilson is by far the class of the Republican primary field. An outsider who wants to clean up Albany, he has a proven track record of success in business as a turnaround specialist, something that our state surely needs.
He was one of the leaders of President Obama's auto industry rescue task force during the Financial Crisis and later mounted a very credible race for State Comptroller, which he almost won.
Wilson brings a refreshing perspective to running state government and tackling its dysfunctions. Ethics reform is a top priority for him – he launched his campaign platform with a government reform and accountability plan – and he has proven to be a person of the highest integrity and an independent voice who speaks the truth to power within his own party.
Although he differs from Citizens Union on some major issues, such as public campaign financing, Wilson has demonstrated a willingness to cross the aisle and work collaboratively. For example, he would maintain New York law protecting a woman's right to choose. In short, he would be a formidable candidate in the general election.
The other candidates seeking the Republican nomination for Governor -- Lee Zeldin, Andrew Giuliani, and Rob Astorino – all continue to follow Donald Trump's lead and spread misinformation about the validity of the 2020 presidential election. That alone should be disqualifying. There's right, and there's wrong. And at this fragile time in our democracy, they are simply wrong. Harry Wilson speaks the truth, and that is why he is Citizens Union's preference in the Republican primary.
As the primaries are decided in the coming days, we urge all eligible New York voters to do their civic duty, exercise their right to vote, and give themselves great options for the general election to lead our state.
***
Randy Mastro is the Chair of Citizens Union's board and a partner in the law firm of Gibson, Dunn & Crutcher.
Note: Gotham Gazette is an independent publication of Citizens Union Foundation, sister organization of Citizens Union.