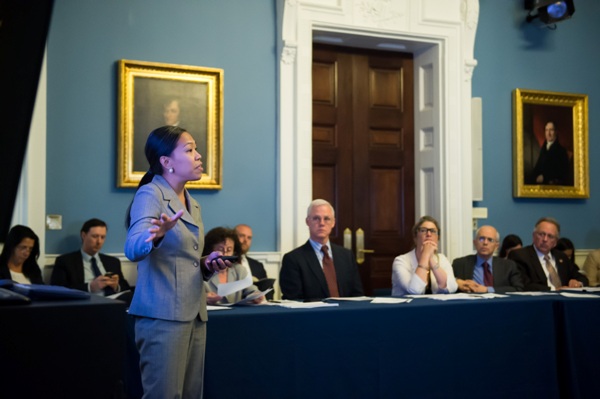 SBS Commissioner Maria Torres-Springer, the author (photo: Rob Bennett/Mayor's Office)
---
There are more than 200,000 small businesses in New York City, which represents nearly 98 percent of all businesses across the five boroughs. Small businesses give our neighborhoods their unique character, and employ more than half of New York City's private sector workforce. But they also achieve much more. As the daughter of immigrant entrepreneurs, I personally understand that for many people, owning a business can be their first chance for economic self-determination and a path to the middle class.
When Mayor de Blasio appointed me as Commissioner of Small Business Services earlier this year, he tasked me and the leadership of all City agencies with fighting inequality in all its forms, on all its fronts, and building a city where everyone can rise together. With this charge in mind, my vision for the Department of Small Business Services (SBS) is to ensure that every job seeker and business owner has access to the resources they need to succeed. I plan to achieve this by impacting three key pillars: good jobs, stronger businesses, and a fairer economy.
SBS is dedicated to addressing the unique needs of local entrepreneurs through a variety of free services that help businesses in all five boroughs start, operate, and grow. We work with business owners like Maggie Kwok, who utilized our agency's NYC Business Acceleration services to open her first restaurant, Shanghai Asian Manor, in Lower Manhattan. Maggie was so happy with the City's services, when she was ready to open a second location in Flushing, Queens, she knew to come to the City for help. NYC Business Acceleration guided Maggie through the City's regulatory process, helping her interface with numerous agencies to open both locations faster, providing jobs for more than 60 New Yorkers.
Small business owners like Maggie Kwok face many challenges. In my first few months at SBS, we have launched numerous new initiatives to ensure that government's infrastructure works better and harder for the small businesses and neighborhoods that most need our help.
- NYC Business Acceleration is one way we are helping small businesses cut through the City's red tape and open their doors faster. This service has helped more than 2,000 restaurants across the city open an average of 2.5 months faster, and we recently announced that we are expanding the program to serve small businesses in retail and manufacturing as well.
- Small Business First: We are not only providing direct services to small businesses, but we are also working with City Hall and more than ten partner agencies to help reduce fines and violations on small businesses through Small Business First. This multi-faceted inter-agency initiative is about changing the way government interacts with small business owners by improving the regulatory climate in New York City and helping businesses avoid penalties and fines through collaboration, simplification, and education.
- Immigrant Small Businesses: As we expand our services and collaborate with partner agencies to help small businesses, we are also working to fundamentally change the way government provides services to New York City's immigrant entrepreneurs, who make up nearly half of the city's small businesses owners. Already, we have doubled our agency's non-English business course offerings and are launching our NYC Craft Entrepreneurship program in Spanish, so unemployed and underemployed New Yorkers with craft skills can earn supplemental income from selling their crafts online. With support from Citi Community Development, we have launched the Immigrant Business Initiative, developing partnerships with community-based organizations to help identify and execute new services to strengthen immigrant-owned businesses, particularly in the Spanish, Chinese, Korean, Haitian-Creole, and Russian communities.
Stronger small businesses mean stronger neighborhoods and more good jobs for New Yorkers. Last year, SBS assisted more than 15,000 business owners, helped nearly 7,000 new businesses open across the city, and connected entrepreneurs to more than $45 million in capital. The City can help with free services including pro-bono legal advising, business courses, access to capital, recruitment services, certification, help navigating government, incentives, and more. I encourage anyone with an interest in small business services to call 311, visit our website, or drop by an NYC Business Solutions Center in one of the five boroughs.
***
by Maria Torres-Springer, Commissioner, New York City Department of Small Business Services
Do you have an op-ed idea or submission for Gotham Gazette? Send it to Executive Editor Ben Max: This email address is being protected from spambots. You need JavaScript enabled to view it.