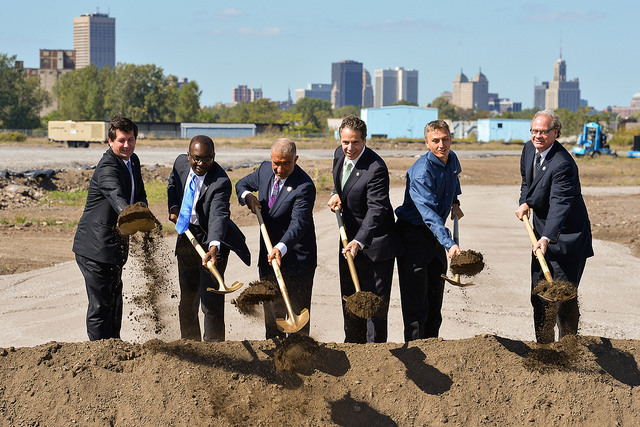 Gov. Cuomo at an event in Buffalo (photo: Governor's Office via flickr)
---
There has been much controversy and confusion over the Smart Schools Bond Act, which voters will approve or deny by voting on Tuesday, Election Day. Proposition 3 on the back of ballots, the Smart Schools Bond Act would authorize the sale of bonds to generate $2 billion statewide for capital funding. Each school district can use the revenue in the following ways:
· Purchasing educational technology equipment and facilities, such as interactive whiteboards, computer servers, desktop and laptop computers, tablets and high-speed broadband or wireless internet.
· Constructing and modernizing facilities to accommodate pre-kindergarten programs and replacing classroom trailers with permanent instructional space.
· Installing high-tech security features in school buildings.
While I and many other education advocates including Diane Ravitch are fervently opposed to using any bond revenue for the purchase of devices like laptops or tablets that have a useful lifetime of only a few years, as the interest on the bond act is repaid over twenty or thirty years, it is clear that districts will have the choice of how to use these funds and have a broad array of options.
New York City is due to receive about $780 million if Proposition 3 is approved. The Department of Education's five year capital plan makes it clear that if the bond act passes, $490 million of city funds previously directed toward technology would now be diverted toward building more schools to alleviate overcrowding for smaller classes, creating 4,900 more seats, and the rest toward creating 2,100 seats for pre-kindergarten.
As the analysis in our report Space Crunch makes clear, the city's school capital plan is badly underfunded as is. Though it will includes less than 40,000 additional seats if the Bond Act is approved – and even fewer if it isn't – the real need is at least 100,000 seats, given existing overcrowding and projections of increased enrollment over the next five to ten years.
Moreover, we have thousands of kindergarten children on waiting lists for their zoned school each year, and many thousands more sitting in trailers, temporary structures which are long past their expected lifetime and many leaky and rotting away. While the New York Times reported 7,158 students in trailers, the real figure is likely more than 10,000 students, since the lower number does not include any of the thousands of high school students or many disabled children attending classes in these substandard structures.
I understand the reluctance of parents outside the city who fear wasted funds on computer devices, as in the Los Angeles iPad scandal, which led to the resignation of their superintendent, or the Amplify tablet fiasco in Guilford, North Carolina. Like them, I also oppose the proliferation of online testing and instruction, which is motivated primarily by the desire to eliminate teachers and to benefit data-mining educational technology companies, eager to make a buck off our kids. Class Size Matters successfully led the fight to stop the state's plan to share personal student information with the corporation called inBloom Inc., designed to facilitate the incursion of data-mining vendors in schools, and inBloom closed its doors last spring.
Yet voters elsewhere in the state have elected school boards and should be actively engaged in the decision-making of how to best use the proceeds of the Bond Act. In addition, all parents have the right to opt out of any online data-mining instructional or testing program that collects personal data, whether their children participate in this program at school or home, according to the Children's Online Privacy Protection Act (COPPA). They should exercise that right if they so choose. Class Size Matters and the national coalition we co-chair, the Parent Coalition for Student Privacy, will work to make sure that all parents are informed of their right to do so. We will also continue to fight for the right of children to be able to learn in smaller classes where they receive the personal attention of their teachers in uncrowded schools – and that's why I'm voting for Proposition 3 on Tuesday, and urge others to do the same.
***
Leonie Haimson is the Executive Director of Class Size Matters. Follow her on twitter @leoniehaimson