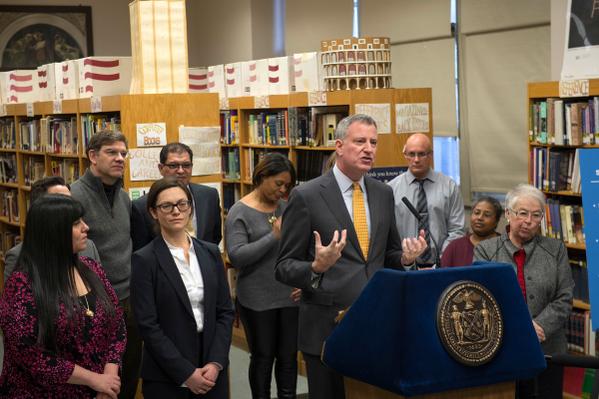 Mayor de Blasio announcing the cell phone policy shift (photo: @BilldeBlasio)
---
Those who favor a ban on cell phones in schools, including many educators, cite legitimate concerns: distraction, cheating, theft. Yet those who favor lifting the New York City ban, which Mayor Bill de Blasio and schools Chancellor Carmen Fariña announced their plan to do on Wednesday, make an overwhelming point: parents and their children must be able to communicate.
This is not nearly the only reason it makes sense to lift the ban.
De Blasio, Fariña, and others (including many educators), also acknowledge that not only was the ban not really being enforced at many schools, but that cell phones can actually be helpful in the learning process. Forward-looking educators are excited today that many more students will soon have internet access, calculators, and cameras in their pockets. There are a whole host of ways that cell phones can be used positively in the classroom, including for language translation, vocabulary look-up, topic research, and taking photos (of science experiments, for example). Not to mention many more sophisticated learning apps.

Yet, other than the must of parent-child communication, I argue that the most important aspect of allowing students their cell phones gets at the larger purpose of school: growing up.
In six years teaching high school history in a school district that does not ban cell phones, I faced all sorts of related challenges, especially that of distraction. Keeping students from using their phones in class when they weren't supposed to be (which was almost all of the time) was a daily struggle. But, it certainly did not dominate every day or even most class periods - as with everything, students respond to consistent expectations, and consequences.
The distraction problem is not exclusive to children, of course. As the years went on and I found myself both more attached to my phone and more distracted by it, I faced the need to self-regulate. So I did, though it wasn't always easy. Especially on Fridays.
Walk into just about any school in this city or elsewhere, and you'll find teachers on their phones when they shouldn't be. It's 2015. This is life. Ask any student you know if they have a teacher that's on their cell phone more than others, they'll spit out a name almost as quickly as they'd text it to you. In my experience, students, like the rest of us, come to resent what they see as a double standard. In the best learning or working environments, everyone's in it together.
It will be essential that students, educators, and parents are all on the same page as the new policy takes hold. It was also my experience that many parents texted their children during the school day more often than absolutely necessary. It can be challenging as a teacher to respond in the middle of class to a student with phone in hand saying, "What, it's my mom."
As the mayor and the chancellor explained on Wednesday, each school will be responsible for creating its own cell phone policy. This decision is with an eye toward allowing schools to best meet the needs of their communities and including parental input in the policy-making process.
Above all else, school is about growing up, about learning, about becoming a young adult ready to be independent in the world. School should be an authentic place, not one where we institute rules of convenience. We have to help students struggle through the growing pains, including learning how to self-regulate - we do this all the time already.
We don't really focus quite enough on authentic experience and executive functioning. We're often too distracted by mundane exercises of a bygone era, in many ways mandated, sadly, by our education standards and infrastructure - even in the Common Core Era. Still, working with students on being responsible, focused, curious learners who happen to have cell phones in their pockets could easily be the norm. Two of the most important skills any of us can learn are assessing the resources at our disposal and choosing when best to use them.
Unfortunately, in the first phases of the new city paradigm, which allows for school-by-school policy-making, it's likely that many will choose to make students turn their phones in at the beginning of the day and pick them up at the end. So be it, progress is usually incremental.
And I can't blame some principals and teachers for wanting it that way, considering that they are under such pressure to begin with that any significant shift can feel like too much to handle (see again core, common).
Ideally, teachers would have plenty of time to work with students on using their phones appropriately and helpfully, but that flexibility simply doesn't exist in the vast majority of cases. Teachers are already tasked with too much material to cover in too short a time with too many students. So, in many cases, at first at least, cell phones in New York City schools will likely have a very basic existence and be the source of lots of "put it away"s and confiscations.
But, the shift is certainly a step in the right direction as we help our young people stay safe and grow up.
***
by Ben Max, executive editor, Gotham Gazette
@TweetBenMax
From 2006-2012, Ben taught high school history in Malden, MA while and after earning a master's degree in teaching from Tufts University. Growing up, Ben went to New York City public schools in Queens.