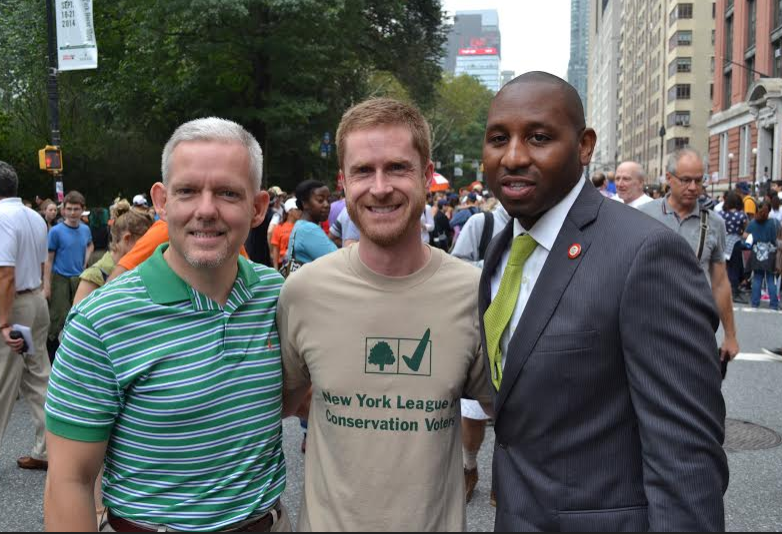 Council Members Van Bramer, left, and Rchards, right, flank an advocate
---
When Rockaway Peninsula's only subway connection to Manhattan – the A Train – was not in service for seven months after Hurricane Sandy, it shined a bright light on the inadequate transit options the outer boroughs rely on. The Rockaways, however, weren't just cut off from Manhattan, they were isolated from the rest of Queens.
Last year, 4.1 million people visited the Rockaways – a 25 percent increase over 2012. But the Rockaways are more than just a destination, they are a starting point for residents who travel to work, school, and doctor appointments throughout the city. As more people make their way to Queens, we stand at a pivotal juncture. Yet, we do not have the transportation infrastructure in place to support this kind of growth. From Far Rockaway and Arverne to Jackson Heights and Woodside, there is a need for something better.
In his State of the City Address, Mayor de Blasio not only outlined his support for improved public transportation, but specified the role that bus rapid transit would play in the borough of Queens.
An important step in solving the problem of inadequate transportation infrastructure is the introduction of a Select Bus Service (SBS) corridor that includes full-featured Bus Rapid Transit (BRT) where feasible along Woodhaven and Cross Bay Boulevards, extending to Far Rockaway.
SBS is designed to reduce travel time with off-board fare collection and bus lanes painted a different color than others. Full-featured BRT includes dedicated, center-median bus lanes, traffic signal prioritization, platform level boarding, and protected bus lanes - all of which cut down travel times even more than SBS. Carving out space for specific street users will not only reduce congestion, but will make boulevards safer for everyone.
The Department of Transportation (DOT) and MTA are developing a plan to improve Woodhaven and Cross Bay Boulevards for drivers, bus riders, pedestrians, and bicyclists. We are happy to hear that the DOT is planning to implement full-featured BRT where possible along the corridor and into Far Rockaway. Transportation options like BRT can make a significant, positive impact for the commuter who lives on Beach 25th and needs to get to their job at LaGuardia, the student who lives in Broad Channel and needs to get to York College for class, or the mom who needs to get from her job at Elmhurst Hospital Center to her home in Hammels in time to have dinner with her kids before they go to sleep.
Hurricane Sandy was a tragic event. Nearly two years later, we now have the chance to build a more resilient, more connected Queens. It is our hope that DOT and MTA follow through on their commitment to improve transportation along Woodhaven and Cross Bay Boulevards and in the Rockaways.
This past week the City Council's Committee on Transportation held a hearing on the state of transit where a number of our colleagues voiced their strong support for BRT and other initiatives to help move New Yorkers. We represent the length of the Queens corridor extending from the Woodside 7 Train-LIRR Station to the Far Rockaways and believe that better bus service – in the form of SBS and full-featured BRT – would provide the affordable, convenient, and reliable transportation options that our borough so desperately needs and deserves.
***
by Council Members Donovan Richards and Jimmy Van Bramer
Richards is Chair to the Committee on Environmental Protection and represents the neighborhoods of Far Rockaway, Laurelton, Springfield Gardens and Rosedale.
Van Bramer is Majority Leader and represents the neighborhoods of Astoria, Long Island City, Sunnyside and Woodside.
***
Have an op-ed idea or submission for Gotham Gazette? E-mail editor Ben Max: This email address is being protected from spambots. You need JavaScript enabled to view it.