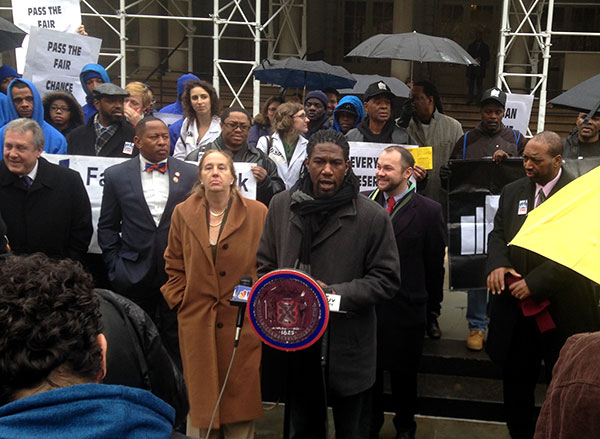 Authors Williams, center, and Brewer, to his right
---
Having a past conviction or arrest should not prevent someone from being able to put food on the table or pay rent. The Fair Chance Act ensures that all New Yorkers, including those who have become stigmatized because of previous convictions, will have an equal opportunity to compete for jobs for which they qualify. Today is a National Day of Action urging President Obama to adopt a fair chance hiring policy for federal contractors. To mark the occasion, the New York City Council is expected to vote on and pass the NYC Fair Chance Act and join 17 states and more than 100 cities and counties who have already adopted similar legislation.
This legislation will not hurt employers, as it does not require them to hire any particular applicant. It does, however, delay the background check, thus supplementing preexisting law that says employers cannot deny a job because of a record unless there is a direct relationship to the job. To be clear, it doesn't prevent an employer from asking about an applicant's history, it just specifies when they ask. Employers who are legally prohibited from hiring people with certain convictions must still refrain, and employers can still do state allowed assessment to determine which convictions conflict with the job. But by delaying background checks, this law will make it possible for some qualified applicants, who happen to also have a record, to make it through an initial screening process and thereby stand a better chance of being considered for a job.
Our city government already prohibits agencies and human service contractors from asking whether a job applicant has been convicted of a crime during the initial application process, but this bill will extend that policy to all employers, both public and private. This bill ensures that the current state law is being followed, since there is no real way to monitor this. The Fair Chance Act allows people with a conviction history to be evaluated on their merits, without compromising safety and security on the job. Under the act, employers must make a conditional job offer before inquiring into the criminal history of an applicant or conducting any criminal history search.
As co-lead sponsors of this legislation, also known as Ban the Box, we are proud to have built a supermajority of support in the City Council by working with a vibrant group of elected officials, including Public Advocate Letitia James, and Council Members Johnson and Torres. The initiative is also supported by a diverse coalition of community, faith, policy, and labor organizations.
Many big businesses and employers have also announced their support for The Fair Chance Act. This legislation empowers employers by making sure that they are able to consider all qualified applicants, rather than overlooking the person who might become their best employee. Large companies like Target have already voluntarily stopped asking for criminal history information on their job applications.
We are strong believers that we must remove barriers to success for those who are qualified to work, because not only does employment lower recidivism, but "banning the box" gives employers a broader range of candidates to consider. It is time we tear down this barrier for those seeking to get their lives back on track, and give every individual a fair chance at employment.
***
Brewer is Manhattan Borough President and Williams is a New York City Council Member representing the 45th District; together they are sponsors of Intro 318, The Fair Chance Act.