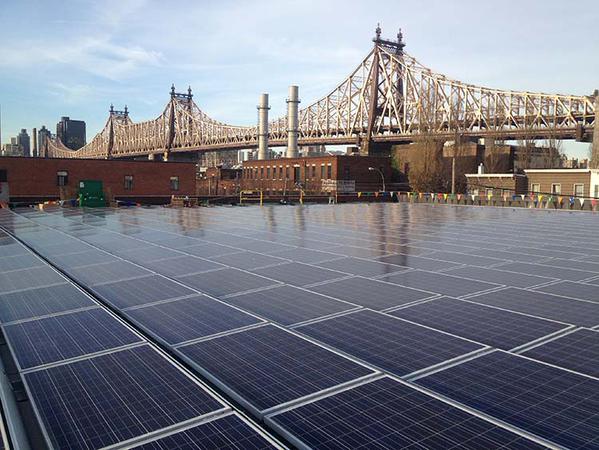 Solar panels (photo: @NYGovCuomo)
---
Cities are economic centers, engines of commerce and trade. Cities are also cultural centers, for everything from fashion and food to art and architecture. Now, thanks to a nationwide solar energy boom, cities are increasingly becoming centers for energy production, and New York City is no exception.
A new Environment New York Research and Policy Center report, Shining Cities: Harnessing the Benefits of Solar Energy in America, found that New York City ranks ninth in the nation for solar power installations. According to researchers who examined solar installations in 70 major American cities nationwide, New York City had enough solar panels online at the end of last year to power more than 6,300 homes.
Solar energy is transforming the way we view energy in America, as people convert their homes and businesses from passive energy consumers to active energy producers. And cities like New York, as centers of population and energy consumption, are taking the logical lead in this energy revolution.
Solar power makes sense for cities. From improving urban air quality and resiliency to power disruption to creating local jobs, solar carries real benefits for cities. And with the price of the average solar PV panel having dropped more than 60 percent since the third quarter of 2010, solar is now accessible to more New York City residents than ever before.
Cities across the country are wielding many different policies as tools to expand solar development. The city of Denver, for instance, has cut cost and time required to acquire solar energy permits. New York City has partnered with its local investor-owned utility to create designated "Solar Empowerment Zones" where solar energy can be most beneficial.
On Monday, Governor Cuomo acknowledged the important role of solar energy in accomplishing his ambitious plan to curb New York's carbon emissions by 40 percent by 2030. And right now, the New York Public Service Commission (PSC) is considering establishing a program, called Community Net Metering, to allow expanded access to clean energy. Following through on Governor Cuomo's commitment to expand access to renewable energy, the PSC is working to establish an innovative program that would empower low-income families, renters, and millions of other New Yorkers to choose solar. The program would allow energy customers to subscribe to a local renewable energy project and receive a utility bill credit for their portion of the energy produced.
Cities can most effectively promote solar power when city, state, and utility policies come together. That means we need state leaders to continue the policies that allow solar energy to shine.
With the cost of solar going down and concern about global warming going up, solar power is growing rapidly in New York City and across the state. By building on the progress already made, New York City can continue to be a center of solar growth in the state and an example for other cities to follow.
***
Heather Leibowitz, Esq. is the Director of Environment New York, a statewide environmental advocacy organization. New York City Council Member Donovan Richards represents the 31st Council District, in Queens.