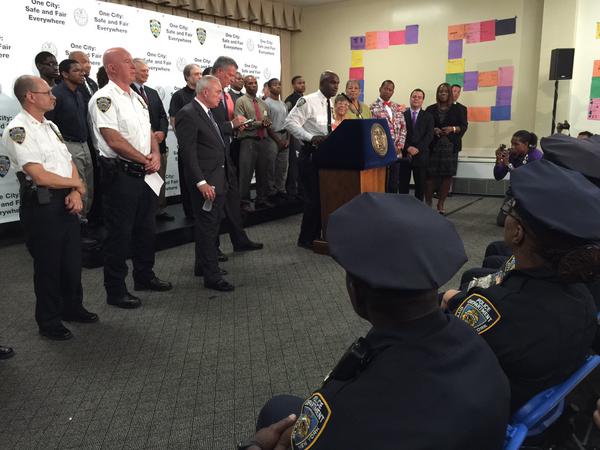 An NYPD press conference (photo: @NYPDnews)
---
For good reason, Eric Garner's last words are well remembered. "I can't breathe" -- repeated 11 times by the dying man and ignored by the officers who had jumped on him, choked him, and forced his body to the ground. These are words, along with "Black Lives Matter," advocates for police reform across our country chant while marching and put on their clothing and protest placards.
Also significant were the words Garner spoke at the beginning of the video that showed the officers' reckless and excessive use of force and Garner's last moments. "This stops today," he said with his hands raised. Although he probably did not conceive the meaning of the words in this way, he was clearly referring to harassment he felt he experienced from 'broken windows' policing and its harsh effects on his life. Police actions on July 17 of last year would have been the ninth time officers had arrested Garner for selling loose cigarettes. His "this stops today" was, in effect, his protest against this approach to law enforcement; his stating that he is not a criminal, he is not engaged in predatory conduct; his asking, in effect, 'why are you harassing me?'; 'why aren't you fighting real crime that threatens and disrupts my community?'
Many New Yorkers and Americans fervently hope that Eric Garner did not die in vain, that his death so powerfully imprinted on the public mind's eye will lead to changes in the practices that directly contributed to his brutal end. It is undeniable that, among the things that this tragic incident reflected, central was the reality that it was a dramatic case of 'broken windows' policing gone terribly, terribly wrong. So have the city's officials, led in this instance by Mayor Bill de Blasio and Police Commissioner Bill Bratton, taken meaningful steps to correct or abandon 'broken windows' or to make city law enforcement practices more fair? The answer, despite the superficial reforms rolled out periodically by de Blasio and Bratton, is an unqualified "No."
Training officers in how to take in New Yorkers resisting arrest or how to treat people more respectfully? Officers see the training as public relations exercises with little relevance to their day-to-day duties on the street. As long as the problematic policies persist — in this case, 'broken windows' policing — no meaningful change in cops' conduct will result from additional training.
Ticketing New Yorkers, rather than arresting them, for marijuana possession? This step does nothing to eliminate the racial bias associated with marijuana enforcement — over 85 percent of marijuana possession arrests and summonses still involve African-Americans or Latinos, although studies show that the majority of people who use and sell the drug are white. Besides, in our court monitoring work, PROP volunteers have seen many instances where people, almost always New Yorkers of color, have been arrested for possessing small amounts of marijuana, real or synthetic.
Body cameras on police officers? It makes sense that in some cases cameras might curtail aggressive policing. Of course, cynics could reasonably think and say that if the Garner video, with all its compelling visible evidence on display did not lead to any police accountability, why should we trust that film that remains in the NYPD's hands will have any benign effect?
De Blasio and Bratton have continued their enthusiastic embrace of 'broken windows' practices that involve mainly arresting and ticketing African-American and Latino individuals, sometimes on bogus charges, for engaging in minor infractions that have been virtually decriminalized in the city's white neighborhoods. PROP's Court Monitoring Project regularly visits the arraignment parts of the city's criminal courts where our volunteers observe and record who the police are arresting and on what charges. We have attended ten court sessions in the last two months in the Bronx, Brooklyn, and Manhattan - our findings reflect an up-to-date picture of NYPD arrest practices. Of the 268 cases observed, 250 - or 93.3 percent - involved New Yorkers of color. Charges included park after dark, open alcohol container, jaywalking, marijuana possession, and "unlawful solicitation" (usually when the police arrest someone who has asked another person to swipe him/her into the subway).
Police had arrested all these people, cuffed and confined them, and kept most of them locked up overnight. Some charges that the court officer or judge stated out loud in the courtroom included "man-spreading" on the subway; "the unauthorized selling of smoothies in Central Park"; "the unlicensed practice of massage"; and "the selling of bottled water on a public road." Current police practices are not only blatantly racist and wasteful, they sometimes border on the surreal.
In a July column published in the Daily News, Eric Garner's 20-year-old son Eric Snipes wrote: "I don't think things have gotten better because cops are still out there harassing people. I've been stopped by cops. They just come over and ask me for my ID and pat me down. But if I was white, walking in a white neighborhood, they wouldn't do that. They need to stop discriminating."
The challenge for us advocates and for every New Yorker, in Eric Garner's name and on behalf of justice for all people, is to keep the pressure on, to keep the spotlight on biased and abusive policing until city leaders fully and completely "stop discriminating."
***
Robert Gangi is the director of the Police Reform Organizing Project (PROP). Find PROP online at its website and on Facebook and Twitter.
***
Have an op-ed idea or submission for Gotham Gazette? E-mail editor Ben Max: This email address is being protected from spambots. You need JavaScript enabled to view it.