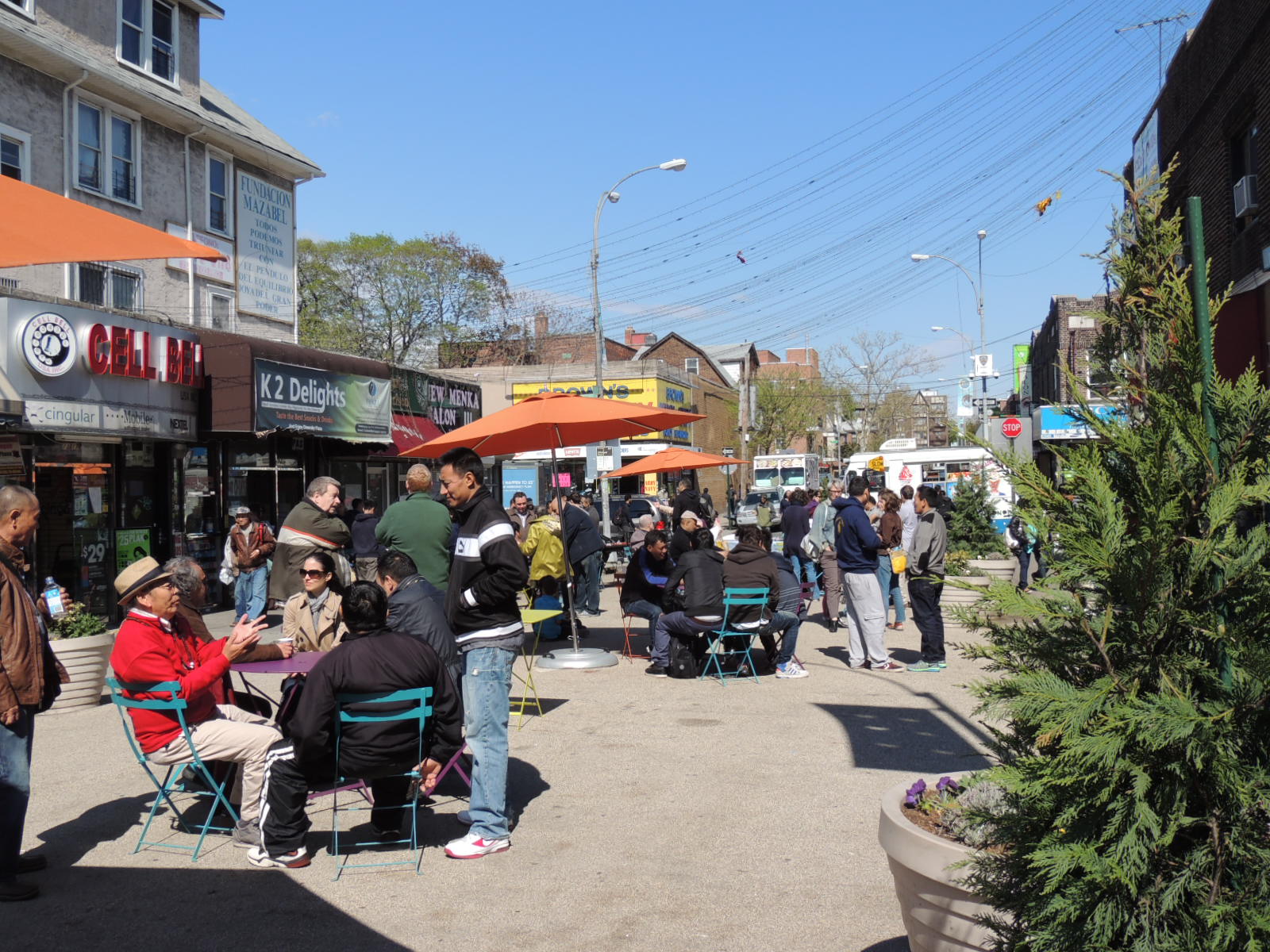 Diversity Plaza in Jackson Heights, Queens (@NPPNYC)
---
Police Commissioner Bratton's suggestion to remove the Times Square plazas in order to rid them of desnudas is not just about the future of one of the world's best public spaces. This regressive response could undermine a policy that has transformed New York's public realm.
Pedestrian plazas are an inexpensive, effective way to advance Mayor de Blasio's agenda for a more equitable city, addressing the essential tenets of his admirable OneNYC Plan. They improve public safety, promote health and wellness, cultivate arts and culture, create new open space (30 acres so far), and generate economic activity. Miles away from the crowds on 42nd Street, dozens of New York City neighborhoods have embraced their plazas and the civic benefits they deliver.
For every aggressive Elmo at Times Square there are a dozen children playing hide-and-seek among plaza planters in Corona; yoga classes in Brownsville; families reading together in Ozone Park; thousands of immigrants celebrating holidays in Jackson Heights; and the regulars playing chess in Clinton Hill.
More than 70 neighborhood plazas give people much-needed places to relax, meet with friends, eat lunch, or simply find a seat. Nearly half of those plazas are located in the city's densest neighborhoods, where parks and spaces for community events are scarce.
These plazas, including those at Times Square, are inherently different from both the pedestrian malls of the 1970s and the "privately owned public spaces" made possible by a 1961 zoning amendment and which proliferated in Manhattan in the 1980s and '90s.
The Department of Transportation (DOT) Plaza Program is consciously designed to address the challenges posed by those earlier models, by giving local organizations management responsibility. These new plazas reclaim streets for and with community input. Local non-profits take on the responsibility of managing the plazas, from programming to keep the space active to full-on maintenance. This gives them a decidedly community character, reflected in each plaza's daily rhythms and formal events.
New York's neighborhood plazas are the 21st century expression of Jane Jacobs' "sidewalk ballet," now playing out in streets reclaimed by citizen activists.
It is telling to remember that in 2009 when the DOT took the radical step of closing swaths of Broadway to vehicles, there was much hue and cry about the ruin of Times Square. That spring the streets were painted closed, and as a stop-gap measure while furniture was on order, the Times Square Alliance bought 600 lawn chairs and put them on the street. Two things happened right away: droves of people sat in them; and the lawn chair became a new symbol of Times Squares - loved and hated in equal measure.
There was pent-up demand for this kind of space, and the public conversation went straight to what kind of chairs the plaza should have, drowning out the debate over whether or not the street should be closed to cars. Now, seven years later, this backlash against the mayor's considered solution to the desnudas is clear: New Yorkers and tourists alike love their plazas.
Neighborhood plazas, especially those in high-need areas, are facing their own quality of life challenges, as well as significant financial stress in managing their upkeep. The Times Square controversy has ignited a long-overdue public conversation about our collective vision for public space and the equity issues it raises.
These problems are solvable. They simply require some new thinking about how to manage a new asset. We owe it to every neighborhood, and to the millions of New Yorkers enjoying this network of urban commons, to address these issues without undermining one of the city's most progressive amenities.
***
by City Council Members Daniel Dromm and Brad Lander, and Laura Hansen, Managing Director, Neighborhood Plaza Partnership/The Horticultural Society of New York
Dromm is the New York City Council Member, District 25, home to Diversity Plaza
Lander is the New York City Council Member, District 39, home to Kensington Plaza
Laura Hansen is Managing Director, Neighborhood Plaza Partnership/The Horticultural Society of New York