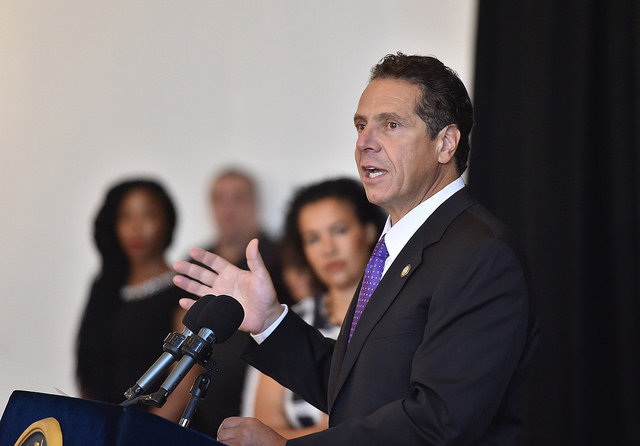 Gov. Cuomo (photo: Office of the Governor - Kevin P. Coughlin)
---
New York has been shocked by gun violence for a long time.
Recently, on September 7, Carey Gabay, former assistant counsel to Governor Cuomo and a deputy counsel at the Empire State Development office in New York City, was shot in the head near the site where the West Indian American Day Carnival parade was scheduled to kick off a few hours later. He died of his wounds on September 16.
"We must act and we must say we're not going to take it anymore," Governor Cuomo said at Gabay's funeral service. "The killing has to stop."
Since the shooting, Cuomo has called attention to the Secure Ammunition and Firearms Enforcement (SAFE) Act that he pushed through the legislature early in 2013, in the wake of the Sandy Hook Elementary School shootings in Connecticut. Gun rights activists continue to fight that law. Cuomo consistently declares it a national pacesetter and insists that federal action is needed.
Cuomo repeated his appeal after the October 1 killing of nine people by a gunman at a community college in Oregon. Calling gun violence "a sickness that continues to claim innocent lives and threaten our communities" while "our elected officials in Washington continue to sit on their hands." Guns continue to flow into New York from states with laxer gun laws, the governor added.
Today, New Yorkers continue to argue over the SAFE Act and the gun violence that plagues major cities, while state gun-permitting laws are complicated. New York's gun policies began over a century ago.
On August 9, 1910, New York City Mayor William J. Gaynor, who had taken office in January, was waiting to board the ship SS Kaiser Wilhelm der Grosse at the terminal in Hoboken for a trip to Europe when he was approached by James J. Gallagher, who had been discharged from his position as a New York City dock night watchman earlier in the year for dereliction of duty. Repeated letters to the Mayor appealing for reinstatement got no results.
Gallagher walked up to the mayor and shot him in the neck. Sanitation commissioner William Edwards, who had been there to see the mayor off, was also wounded. Gaynor's aides and bystanders wrestled the would-be assassin to the ground. A New York World photographer happened to be on the dock for what he had assumed would be a routine photo of the mayor. Instead, he snapped a picture an instance after the shot, capturing a bloodied Gaynor reeling from the shot. The photo was soon on the front pages of city newspapers and was widely reprinted. It was a graphic representation of the horror of completely unexpected gun violence.
Gaynor survived but the bullet lodged in his neck and could not be removed. He recovered slowly. It caused him pain and discomfort until his death in 1913.
"I shot him because he robbed me of my position," Gallagher told police who arrested him. "He could have put me back to work and he wouldn't."
At his arraignment, the prosecutor asked Gallagher if he had read about the assassination of other public men. He replied he had read about the assassination of President William McKinley in 1901. "Do you believe in it?" asked the prosecutor. Gallagher's chilling reply was: "Yes, if you have a grievance and can't right it any other way."
Apparently because of the mayor's slow recovery, Gallagher was not tried for shooting him but was sentenced to 12 years for shooting Commissioner Edwards. He died in prison in 1913.
David Graham Phillips was a prominent novelist living in New York City in the early 20th century. Phillips' novels often commented on social issues of the day and frequently chronicled events based on his real-life experiences as a journalist before he took up writing fiction. He wrote a series of articles entitled "The Treason of the Senate" in Cosmopolitan in 1906 that exposed corruption in the Senate. Phillips was something of a public figure, often seen strolling on New York sidewalks.
On January 23, 1911, Fitzhugh Coyle Goldsborough, an eccentric violinist and music teacher, gunned Phillips down outside the Princeton Club on the north side of Gramercy Park. Club members heard the assailant cry out "I've been waiting for six months to get you" and then "Here you go!" as he shot the novelist six times. He then muttered "Here I go!" before shooting and killing himself. Phillips succumbed to his wounds the next day.
Police searched Goldsborough's apartment; from diaries and papers they learned he had become fascinated with one of Phillips' novels, "The Fashionable Adventures of Joshua Craig." He believed it drew on Goldsborough family history and portrayed it in an unflattering way, and that the novelist had modeled the central character on Goldsborough's sister. He also believed Phillips could read his mind.
The shootings of Mayor Gaynor and David Graham Phillips provoked public outrage. But it was a rising tide of street gun violence that led to legislative action.
Timothy Sullivan, a Democratic state senator from the Bowery area of Manhattan, was appalled at the Gaynor and Phillips shootings. But he was even more alarmed about a rising tide of gang-related shootings in his district.
Sullivan, often known by his nickname "Big Tim," was unlikely to be mistaken for a do-good reformer. He was a Tammany Hall regular who was involved with gambling, prostitution, and corruption. But he was also concerned with the welfare of his constituents and Tammany Hall itself was becoming more reform-minded. In 1911, Robert F. Wagner was Speaker of the Senate and Alfred E. Smith was majority leader in the Assembly. They were both Tammany men but favored progressive policies.
Sullivan introduced a bill in the 1911 legislature to require licenses for New Yorkers to possess firearms small enough to be concealed. Possession of such firearms without a license was defined as a misdemeanor, and carrying one was defined as a felony.
Sullivan explained that "gun toters" (as the press often called gunmen) fell into three categories. The first was professional criminals. The second consisted of people who are deranged or commit gun violence in fits of rage. His law would help in those areas, he said.
But, Sullivan was more concerned with a third category, "...young fellows who carry guns around in their pockets all the time not because they are murderers or criminals but because the other fellows do it and they want to be able to protect themselves....those boys aren't all bad but they're in a mighty bad way. Just carrying their guns around makes 'em itch to use 'em."
The bill was opposed by some gun owners and gun manufacturers. One upstate senator told Sullivan that "your bill won't stop murders. You can't force a burglar to get a license to use a gun." Others warned that people would get guns from other states. But the bill found wide support among concerned New Yorkers in both parties who had been shocked by the assassination of a renown novelist and the assault on their city's chief executive.
Republican District Attorney (later Governor) Charles Whitman said that "carrying a weapon is an invitation to a crime. Reduce the weapons carried and you will reduce crimes of violence. There isn't any debating that point."
The Sullivan Act passed easily. It was challenged in court and debated for more than a century, but its basic provisions are still in place.
Gunfire that is completely unexpected is a frightening specter. Shortly before the shooting, a constituent had warned Mayor Gaynor against going around the city unescorted. "I do not think anyone would do me harm unless he was a lunatic," he responded, "and it is hard to guard against lunatics."
"I'm governor of New York and there's nothing I can say and there's nothing I can do," Governor Cuomo said, after visiting Carey Gabay at Kings County Hospital Center before he died. "Sometimes, it just hurts."
Yet the murder of the governor's aide and the killings in Oregon are certain to provoke more debate over gun violence in New York and elsewhere, and what can be done to curb it.
***
Dr. Bruce W. Dearstyne is the author of the book The Spirit of New York: Defining Events in the Empire State's History, published in 2015 by SUNY Press.
***
Have an op-ed idea or submission for Gotham Gazette? E-mail editor Ben Max: This email address is being protected from spambots. You need JavaScript enabled to view it.